The €389bn Dutch civil service scheme ABP is to offer participants a visual insight into the pension rights they have accrued under its defined benefit arrangements.
ABP wants to make clear how much is available to pay for the future benefits of each individual participant in order to restore faith in – and loyalty to – their pension fund.
From 2018, ABP will illustrate how much each participant and his or her employer have contributed. It will also show how much those contributions have increased through returns on investment, and how much it is likely to amount to at retirement. The information is to be shown in a simple diagram – simplicity is key, according to ABP.
"During the past years, we have seen many of our participants worrying about their pension prospects," said Nicole Beuken, director of ABP, during the plan's presentation.
"There is a real need among them to know what happens with the money they have paid in.
"Many people, for example, wrongly assume that the Dutch system is a pay-as-you-go system, and don't know that the employer usually contributes more than the worker."
ABP said it also found "widespread misconceptions": many young participants expected the scheme to run empty, while some assumed their premiums exceeded future benefits.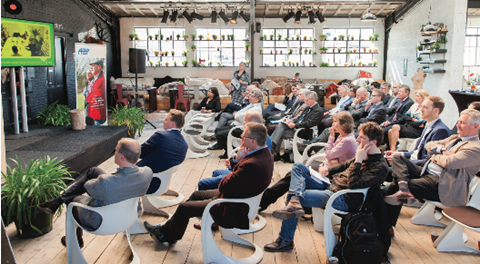 To address the problem, a broad team – made up of ABP, its provider APG, and a select group of participants – has developed a prototype of a "personal pension pot".
During research, they discussed how to tempt participants into additional savings in case of a potential shortfall. They subsequently consulted 3,000 participants.
The interaction confirmed that the complexity and the distant nature of pension payouts stopped people from engaging with their savings. It found participants preferred a simple overview, which included their future benefits as well as their currently accrued balance.
"The personal pension pot made them more interested in their pension. It triggered their curiosity, and made them start to think about their financial future"

Raoul Willms
Raoul Willms, APG's programme director, said that, across all age groups, 94% of the 3,000 surveyed participants wanted to receive a statement annually. He concluded that the concept was effective, adding that 80% of the focus group said they found the information "clear, useful and interesting".
"The personal pension pot made them become more interested in their pension, and willing to check their pension details in ABP's individual portal," Willms said. "It triggered their curiosity, and made them start to think about their financial future."
Willms described the personal pension pot as an "ongoing experiment", which would evolve further in co-operation with APG's other pension clients and participants.
He said the plan was to expand the information accompanying the graph with questions and answers, explaining why people cannot take out their pension entitlements immediately, and what the fund's environmental, social, and governance credentials are.
However, ABP and APG still have to find out how participants would respond to a shrinking pension pot – and subsequently shrinking benefits – resulting from economic headwinds, Willms said.
He said research into neuromarketing was being used to establish what effect such a scenario would have on the human brain.
Both Beuken and Willms emphasised that the concept of the personal pension pot would only work if it remained simple and involved co-operation with participants.
"What matters to participants is the general picture, not their accrued pension in detail," Beuken said. "They will pull out if exceptions and disclaimers are included. For the same reason, we have refrained from adding scenarios, as this would have made things too complicated."
Beuken suggested that the personal pension pot would be more effective than the uniform pension statement (UPO), the mandatory information about accrued pension rights that each employer must issue annually to its employees. In her opinion, the UPO was too complicated given the information it provided, including good and bad scenarios.
Responding to Beuken's comments, the pensions supervisor De Nederlandsche Bank made clear that it was pleased with ABP's communication experiment. The regulator also indicated that it would support simplifying the UPO, if the pensions sector wanted this.
Beuken added that IT costs of introducing the personal pension pot would be limited. "It could be done within our regular budget for communication," she said, adding that it could also replace other means of communication.
A personal pension pot would work only for a single employer, however: Willms conceded that workers who have also accrued a pension at other employers would still need to consult the national pensions register to get a comprehensive picture of their entitlements. Using the required digital safety feature for logging into APG's personal pension portal had also proved to be a barrier to some participants.
The Pensions Federation has said it plans to establish a dedicated working group tasked with gathering information about similar initiatives. It will make the results available as a service document for all pension funds. Beuken said that the pension fund was keen to share the results of its ongoing experiment with the entire sector.
She added that ABP wanted to introduce the personal pension pot soon, despite the Dutch government's plan to update the pensions system in the future – once it has concluded coalition talks.
"Participants need the information, and it would also be a practice run for a future pensions system," Beuken argued. "If individual pensions accrual were to be introduced as part of a new system, the concept of the personal pension pot would work even better."