Rebounding equity markets over the third quarter bolstered year-to-date (YTD) returns at many European pension funds, particularly in the Nordic region.
In Norway, the NOK7.1trn (€707bn) Government Pension Fund Global (GPFG) saw its YTD return rise markedly over Q3 as equities performed strongly. Equity investments returned 6% and fixed income 0.9%, with returns for both these asset classes beating the benchmark by 0.2% over the period.
In Finland, Varma , the €42.8bn pensions insurance company, saw its returns bounce back, bringing the YTD return to 3.1% after posting a loss of 0.3% at half year.
Returns at Ilmarinen broke into positive territory for the first time this year, with the €36bn scheme generating a 2.3% return over the first nine months. Chief executive Timo Ritakallio said the positive development in the equity markets was a key factor behind the improvement.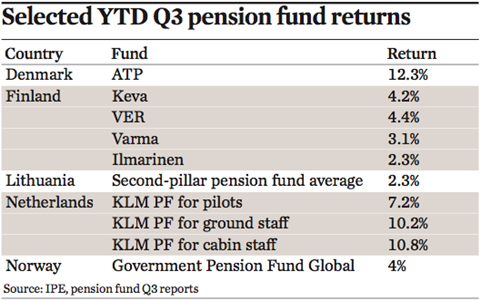 Fixed income was also a strong performer for some Finnish schemes. Keva , the €46.6bn pension fund for local government staff, said its investments returned 4.2% YTD, with fixed income returning 5.7% over the period, while listed equities and equity funds returned 2.6%. And the State Pension Fund (VER ) reported a marked acceleration in YTD returns, helped by a surprisingly high return on fixed income. It said investments returned 4.4% in the first nine months of the year, with the return in Q3 alone at 3.5%. "What in particular exceeded expectations," said chief executive Timo Viherkenttä, "was the 5% return on fixed-income instruments as interest rates kept falling and risk premiums decreasing."
Danish pension fund ATP made a 5.8% return on its return-seeking investment portfolio in Q3. This return for the quarter relative to the investment portfolio brought the YTD return to 12.3%. The investment portfolio's strong return was driven mainly by private equity, which contributed DKK5.3bn (€712m) towards the portfolio's DKK12.5bn return in absolute terms.
Denmark's Danica Pension said business made good headway in the first nine months of this year, while investments in its new strategy of investing directly in companies generated more than 15% in returns over the period.
In the Netherlands, the largest pension funds at airline KLM benefited from improving equity markets. The pension fund for pilots return 7.2% YTD; the scheme for ground staff returned 10.2% and the scheme for cabin staff 10.8%.