In October 2013,1 I wrote that the UK's former minister for pensions, Steve Webb, had challenged the industry to seize the gap in the market for innovative pension products. Since then, in 2015, the UK government has deregulated to make room for a radical reshaping of the private pensions industry, through the so-called 'freedom and choice' policy.
As a result of this, as Sharon Bellingham, then senior consultant at the UK consultancy Hymans Robertson, wrote in 2017: "The market is crying out for product innovation in decumulation and directive investment strategies as we see in accumulation."2
Two retirement income solutions developed in Denmark, iTDFs and smoothed income annuities (SIAs), can fill this vacuum.
They can, for example, deal with:
• A low-interest-rate environment that can be likened to 'termites in the basement'.
• Inflation risk that erodes any fixed pension income (by nearly a third with 2% per year compounded over 20 years).
• Longevity risk: retirement will typically span beyond age 85 for more than half of 65-year-old people.
• Market volatility risk: retirement income should not fluctuate with market conditions.
iTDFs
For the millions of retirees who feel anxious about market volatility, it is a significant shortcoming when today's retirement income products cannot take into account questions like 'How much do markets have to decline before I should cut spending in retirement?' and 'How much should I reduce my spending in order to get back on track?'.
As Jaconetti et al at Vanguard have pointed out: "If a portfolio is to rely on the capital markets for growth, then investors must either accept continuous, relatively smaller changes in spending or else run the risk of having to make abrupt and significantly larger adjustments later."3
Indeed, such "continuous, relatively smaller changes in spending" are what we are proposing and our Danish start-up company, Linnemann Actuarial Consulting ApS, has designed investment-based products that we call iTDFs. These are a hybrid between target date funds (TDFs) and life cycle products (which use glidepaths that reduce equity and so-called risk asset exposure over time) and smoothed income annuities. A life insurance company does not need to be involved.
Traditional TDFs with pre-determined glidepaths at the fund level are 'one-size-fits-all' and lack customisation. Moreover, Nobel Prize winner Robert Merton has said the use of an investor's age as the sole determinant of a TDF's glidepath does not pass even a "minimal test of common sense"4 .
In contrast, iTDFs give each investor a personalised, dynamically self-adjusting glidepath where asset allocations are automatically adjusted between a risky investment fund and a riskless investment fund. Investment risk exposure is reduced as investors get older.
In our iTDF products, the full market-linked return is passed on to the investment account of the individual investor during both the accumulation and decumulation periods. Over time, the allocation between the two diversified (multi-asset) funds fluctuates around a so-called neutral glide path. It varies according to market fluctuations, the degree of smoothing, and the relation between the value of the assets and the value of the liabilities.
The level of retirement income is managed in a capital-efficient way using an innovative formula-based shock absorber that smoothes payouts by adjusting to fluctuations in investment portfolio value over time. The products do not require additional assets as buffer capital (assets held in a side account to store gains or compensate for shortfalls), and the manufacturer assumes no investment risk.
Conceptually speaking, we have added intelligent shock absorbers and an automatic transmission to existing TDFs and life cycle products. These new features are used to convey account owners seamlessly from the accumulation stage to the income stage and provide a smooth retirement journey managing point-in-time risk. The initial income is protected from sudden market swings and the design relieves participants of the need to lock in unfavourable interest rates when they convert savings to income.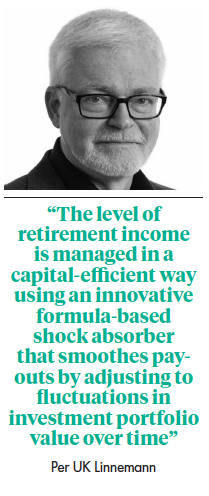 Moreover, where traditional TDFs never convert savings to income, iTDFs are designed to produce smooth income during retirement, either for a pre-defined period or, if combined with optional longevity insurance, for as long as the account owner lives.
iTDFs may offer a pre-defined liquidity period (for example, between ages 65 and 85), followed by an optional longevity pooling period with seamless transition between the two phases. This may provide survivor benefits when they have the biggest impact later in life – a compelling 'investment' case.
The retiree may maintain flexibility and control of all of the savings during the liquidity period. During the longevity pooling period the participants share individual longevity risk and an experienced return on survival (mortality credits that typically increase with age) is added to the investment return as a result of the reallocation of wealth from those who die to those who live longer. The provider assumes no mortality risk.
The smoothing of the life-contingent retirement incomes is supported by an innovative actuarial risk-sharing and equalisation mechanism where experienced return on survival is distributed equitably between the participants, avoiding abrupt changes in the retirement income level – a compelling actuarial case.
Relying on a formula-driven framework, our iTDFs will fit easily into an increasingly digitalised and mass-customised world. They can be delivered as fully automated solutions. The algorithm-based product design allows scalability, portability and low cost. Different versions of iTDFs can be tailored to market conditions and purposes in the US, Europe, Australia and Asia.
A choice between payment profiles can be offered. For instance, income could be weighted towards the early years of retirement, when retirees tend to be more active. It could be weighted toward the latter years to offset the effect of inflation. iTDFs can also provide smoothed retirement income profiles that are steeply increasing and tontine-like as well as more horizontal and levelled out.
Significantly, our iTDF design can accommodate the creation of a family of products with a range of risky assets, various levels of investment risk and different degrees of smoothing.
The iTDF framework can also be structured to provide a 'smoothed' lump-sum payment at retirement.
Finally, iTDFs can be combined with an ongoing floor and ceiling approach on withdrawals – for example, for fulfilling minimum and/or maximum required distributions.
iTDFs are an innovative savings and retirement concept based on principles that are both simple and robust – a few formulae explain everything. Although compatible with modern portfolio theory (MPT) and managed volatility control on the sub-portfolio level, they do not rely on any capital market model – for example, the (multidimensional) log-normal probability distribution.
For those who want a guaranteed income in the later part of life, we can combine iTDFs with deferred or immediate smoothed income annuities providing lifelong guaranteed minimum retirement incomes.
Smoothed income annuities
Smoothed income annuities fit into the category of 'ideal' annuity products, which have the following features, according to a report published by the Actuarial Association of Europe (formerly the European Actuarial Consultative Group):5
• Protection against outliving pension capital
• Ability to capture higher investment returns during (part of) the decumulation phase
• Potential for increasing payments
• Stabilisation of income payments
• Downside protection, for example a guaranteed minimum retirement income
• A 'money back' feature such as, for example, a guaranteed 20-year payment period
• Co-ordination between the different phases such as the transition from accumulation to decumulation and at the end of a guaranteed payment period.
SIAs may be offered by life insurance companies or pension funds. They can provide upside investment potential and optional downside protection, such as lifelong guaranteed minimum retirement incomes.6 Unfavourable interest rates are not locked in at retirement.
These products also offer an enhanced income-payment profile with 'more money when you need it' based on realistic assumptions of future investment returns and longevity, avoiding conservative margins ('keeping more of your own money').
SIAs are based on an innovative formula-based approach to sharing of investment risks between the individual customer and the provider. The investment risks and mortality risks (if there is any) are alleviated for the provider by equalising across different contracts issued at different times.
On top of this innovative formula-based collective smoothed-income annuities may be designed especially for occupational DC pensions. Formula-based risk-sharing between the participants may create an attractive and capital-efficient balance between costs and benefits. It would be possible to show to each participant exactly how much this form of solidarity would cost. Moreover, individual retirement accounts may show each individual's savings, including contributions and investment returns. The individual accounts can also reflect any insurance premiums paid, such as disability insurance, as well as the survivor benefits of longevity pooling with the added return on survival.
A presentation of smoothed-income annuities was included in a chapter in Handbook of Insurance (2013), by Profs Gatzert (Germany) and Schmeiser (Switzerland). The new product category is supported by peer-reviewed scientific research in Jørgensen and Linnemann (2012) and Linnemann et al (2015), which are published in Annals of Actuarial Science.
Final remarks
US-based TIAA-CREF launched variable-income payout annuities in 1952. This was an impressive achievement – see It's My Retirement Money Take Good Care of It by William C Greenough (1990). Several decades later in a new millennium, smoothed-income annuities were launched in Denmark to overcome concerns over both fluctuations in payments from variable-income payout annuities and the lack of transparency of participating and with-profits policies.
Moreover, iTDFs can already be offered today – where the manufacturer assumes no risk – for the mass-market. 'Danish' smoothed-retirement-income solutions may benefit millions of people around the world, which is why I have dedicated my work to developing these products and on making them known internationally.
There are many ways iTDFs and SIAs can be designed. For providers, it will take little effort to test and try out prototypes before any decision to implement and launch such new products. Moreover, it is possible to conceive of the right level of communication during the design phase to ensure they are as 'simple as possible' but 'as complex as necessary'.
Per UK Linnemann is founder and principal of Linnemann Actuarial Consulting ApS. Following a 20-year career at PenSam, where he was actuarial director and chief risk officer, he has also been chief advisory officer at SEB Pension
---
1. 'Smoothed income annuities could revive the pension fund industry', IPE, October 2013
2. See here
3. See here
4. Huebscher, Robert, 2015: Robert Merton on the Promise of Reverse Mortgages and the Peril of Target-Date Funds. Advisor Perspectives. Available here
5. From a press release in 2009
6. Cf. Carver, Laurie, 2009: Innovation of the year. Life and Pensions, October 2009, pages 18-19