Liberté, egalité, diversité: an outline of France's pension regimes
Key points
• French PAYG retirement system includes three dozen different compulsory schemes
• Coverage depends on working status and sector
• Financials and asset pools vary tremendously
• A few second-pillar pension schemes are fully funded
Every year, compulsory pay-as-you-go (PAYG) French retirement regimes pay out more than €312bn pensions to about 16m beneficiaries. Where does the money comes from? Who pays for these pensions? Which insitutions manage them? How many contributors and beneficiaries do they have?
The French pension system is made up of at least 35 different mandatory pay-as-you-go pension plans, including some 20 so-called 'special' schemes (see main article in this section). Understanding these plans is important when assessing the issue of harmonisation – President Macron's big project.
First, the 35 schemes are unbalanced – in terms of financial and reserves, but also in demographic and social terms, in terms of membership, and bargaining power. A second peculiarity of the French system is that although almost all pensions are from PAYG schemes, the schemes fulfil different functions.
Depending on the categories of workers and industries, some provide only a basic pension, or first pillar, such as the National Old Age Insurance Fund for Salaried Workers (CNAV); others only a supplementary second-pillar pension, such as AGIRC-ARRCO, while other schemes provide full coverage without distinction between the first and second pillars, such as the regimes of the public railways companies, SNCF and RATP.
• The civil service regime, the third-largest with more than €52bn pensions paid out annually, services nearly 2m retirees of central administrations, civil and military, including 1m veterans. It provides 75% of the last gross salary for a full career, but is less generous than one might think, as it does not account for the bonuses that make up a large part of civil servants' income. Outside the civil and military administrations, the National Pension Fund of Local Government Agents (CNRACL) pays €18.7bn per year to 1.2m pensioners.
Another French paradox is that in a country of PAYG, civil servants are among the few workers whose supplementary pension is financed by capitalisation, through the RAFP scheme, created by the 2003 Fillon pension reform. Some 4.5m civil servants pay €1.8bn in contributions per year to the RAFP, whose assets are now about €30bn, up 39% since the end of 2014, through a combined effect of inflows and rising markets. As of the end of February 2018, 32.5% of RAFP's assets were invested in equities, 56.2% in fixed-income and the remaining 11.2% in real estate and diversification assets.
While the government is being pushed by the insurance lobby to promote retirement products with annuity payouts, the RAFP supplementary plan for civil servants already paid more than 47,000 pensions in the form of annuities in 2015 – but it pays out three times more benefits in the form of capital.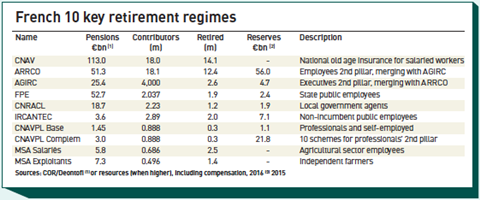 • The Mutualité Sociale Agricole (MSA) is the second-largest social protection regime in France, providing social security health coverage and old age insurance to 5.6m beneficiaries, either employees in the agricultural sector or independent farmers. MSA's trick, to have a greater contributor base than just the diminishing population of farm employees, is that it covers all employees of credit and mutual insurance in the agricultural sector, which means leading banks and insurance players, such as Crédit Agricole and Groupama.
• Other smaller regimes are worth mentioning, as they enjoy comfortable reserves. The Banque de France has its own generous retirement scheme. With 12,500 contributors, it pays about €470m pensions a year to 16,000 retirees, and sits on a war chest of €4.9bn long-term reserves, representing more than 10 years of pensionable service, according to the Retirement Orientation Council (COR). Among other asset-rich regimes, the old-age insurance fund of pharmacists, CAVP, is another rare funded second-pillar pension scheme in France, with about €5.6bn in assets. The French doctors complementary pension regime, CARMF, has more than €6bn in reserves.
• More anecdotally, other regimes show the variety of the French pension landscape. The Caisse de retraites de l'Opéra has 1,952 contributors and 1,771 retirees, while the special regime of the Comedie Française, originally Louis XIV's theatre company, only claims 352 contributors and 403 retirees. But the tiniest is probably the Autonomous Port of Strasbourg, on the Rhine river, with only 156 contributors and 203 retirees.
Loi PACTE: Seeking workplace simplicity
1

2

3

4

Currently reading

Pension Regimes: Compulsory schemes