The second-pillar pension regime for private sector employees, AGIRC-ARRCO, is entering a new phase of its development
Key points
France's complex web of retirement institutions has been consolidated
President Macron aims to introduce further efficiencies
AGIRC-ARRCO may lose its contribution collection function
Its €65bn reserves may be transferred to a new universal pensions agency
Five years ago, AGIRC-ARRCO's future was buried by French media announcing its death. France's main complementary pay-as-you-go scheme, covering 18m private sector workers and 12m retirees, faced a huge deficit and shrinking contributions, bitten by the financial crisis and a growing burden thanks to the life expectancy of baby-boomers. The shortfall was about €5bn a year.
"Without the social partner agreement signed in October 2015 to save the complementary pensions system, AGIRC reserves would have dried up in 2018, and pensions would have had to be lowered by 13%. Even mutualising reserves with ARRCO would have only postponed the dry-up to 2022," says François-Xavier Selleret, managing director of the GIE AGIRC-ARRCO central body.
Five years on, the regime has been secured by curtailing entitlements, such as early retirement, and by management cuts. These reforms and the economic rebound have reduced AGIRC-ARRCO's technical deficit to €2.9bn in 2017 and €1.9bn last year. The system is expected to reach equilibrium in 2019, two years ahead of schedule.
Relieved by this turnaround, social partners forged a new agreement this May to reduce the burden on scheme members. "Pension de-indexing is over for the next four years. Retirees will get new raises protecting their purchasing power from inflation, with a coming increase this November," says Jean-Louis Deroussen, AGIRC-ARRCO board member and negotiator for the CFTC trade union.
Yet employers have refused to abandon measures to encourage later retirement and as a result people are working longer. The proportion of those retiring with the greatest rights is now 13% compared with 8% a few years ago.
Towards universal management
Starting this year, AGIRC-ARRCO has merged its two schemes – AGIRC, the complementary pension scheme for private sector executives, created in 1947, and ARRCO, a general complementary pension scheme for private-sector employees, launched in 1961.
This merger is a milestone for a universal pension regime. Before President Macron promised to create a universal system, social partners and public bodies had been working on bridging gaps and improving convergence between the various organisations and in information provision.
A challenge for convergence is co-operation between the largest pension regimes in France – the first-pillar old-age insurance scheme (CNAV), and the complementary pay-as-you-go scheme AGIRC-ARRCO, two schemes with different rules (annuities versus points), governance and cultures.
Nevertheless, the result has been the launch of a single-point access portal Unique Career Management Directory (répertoire de gestion des carrières unique, RGCU). Since spring 2019 about 30% of the retirement requests received by AGIRC-ARRCO have been from people who have not recently contributed to the schemes.
France's valuable financial reserves
At a time of uncertainty for the future of French pensions it is reassuring to be able to demonstrate financial solidity by having financial reserves.
At AGIRC-ARRCO, long-term financial reserves have been replenished, despite cumulative drawdowns of about €35bn to cover successive annual deficits over the last decade. After rebounding to €62bn by the end of 2017, long-term reserves were hit by the fall in markets at the end of 2018, dropping to about €59bn. They are expected to rise to about €61bn by the end of 2019. The reserves are managed with a medium-term horizon that forces it to retain a cautious asset allocation with 70% in bonds and 30% equities.
As AGIRC-ARRCO is engaged in a cost-cutting plan, it is reducing its financial management costs. They will have been halved over the past five years.
Securities services has been another area of cost reduction. For the first time, all of AGIRC-ARRCO assets were pooled on tender for custodian-depositary providers. Every French bank competed for this mandate and the competition was tough.
But good management might not be enough to save AGIRC-ARRCO's reserves from the proposed universal fund.
In a recent report, the high commissioner for retirement reform, Jean-Paul Delevoye proposes retaining existing managing institutions, albeit "under unified control". A second step envisages taking over all reserves and financial responsibility from existing pension institutions, including AGIRC-ARRCO.
On average, people in France have contributed to three or four retirement regimes and 96% have worked in the private sector, therefore accumulating pension rights with AGIRC-ARRCO. That adds up to about 55m accounts.
"Our job today goes well beyond supplementary pensions as it embraces the whole career and retirement life of our clients," says Selleret. If the universal regime is a large-scale project, AGIRC-ARRCO experts and players have been working on mergers, not only combining its two component schemes, but also many of its managing institutions.
Over the period from 1970 to 1999, AGIRC and ARRCO have gradually merged their 47 professional regimes into just two, before now forming a single regime. This has impacted the AGIRC-ARRCO retirement institutions, with the number of social protection groups (GPS) reduced. There were 115 GPS in the 1980s but now just main large groups remain, with seven smaller specialised institutions.
AGIRC-ARRCO is the first universal retirement regime in France, guaranteeing that one euro of contribution gives the same pension rights and covers 96% of French citizens.
Further financial reforms will be needed, however, with adjustments to maintain the current equilibrium and to prevent the drift of technical deficits between contributions and pensions, in the face of demographic pressures and the rise of self-employment.
Contributions collection
Each year, AGIRC-ARRCO social protection groups collect €62bn from employers to pay pensions, totting up each worker's contribution with its associated pension rights. However, this may be outsourced to the Central Agency for Social Security Organisations (ACOSS) or the social security collection agencies URSAFF, which collects contributions to the public insurance system. Despite a good record, URSAFF also has a reputation for errors.
For its part, AGIRC-ARRCO has a good history of collecting retirement contributions it asks of its 1.5m employers, with a success rate near 99% this year. It also has a competitive advantage for calculating contributions and pension rights with the highest precision at an unequalled scale. This ability is the result of two tax modernisation steps – the Digital Social Statement of contributions (DSN), compulsory for all companies since 2017, and the introduction of withholding tax in 2019.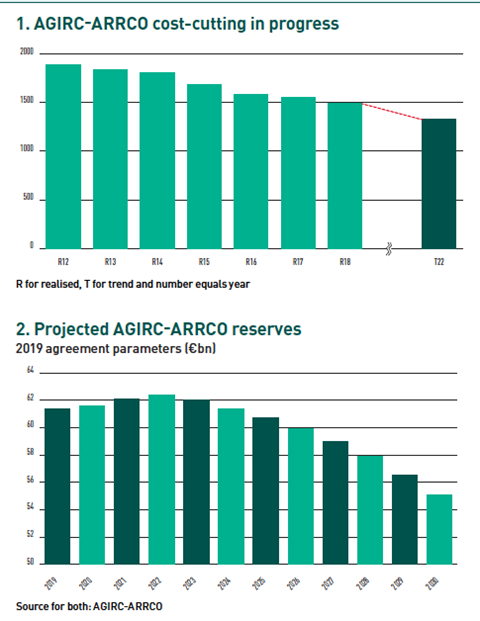 Given its solid record, AGIRC-ARRCO claims it would be a mistake to transfer this responsibility to ACOSS and URSAFF.
Nationalisation and dilution
With the universal retirement regime project taking shape, AGIRC-ARRCO could be taken over by a new public pension agency and then merged into it. This is what a recent report by the high commissioner for retirement reform, Jean-Paul Delevoye, proposes, with the creation of a National Fund for Universal Retirement (CNRU).
The report states: "Ahead of the operational work required to create the universal scheme, the universal fund will be installed as a foreshadowing entity as soon as the law is passed (2020)."
As of January 2025, the proposed CNRU would replace the main national structures currently managing pensions, with CNAV and AGIRC-ARRCO regime merged into it. Ircantec, the complementary regime for public service employees, will also be integrated, as will the national pension fund for liberal professions (CNAVPL). Statutory pension managers would thereby be taken over by the CNRU.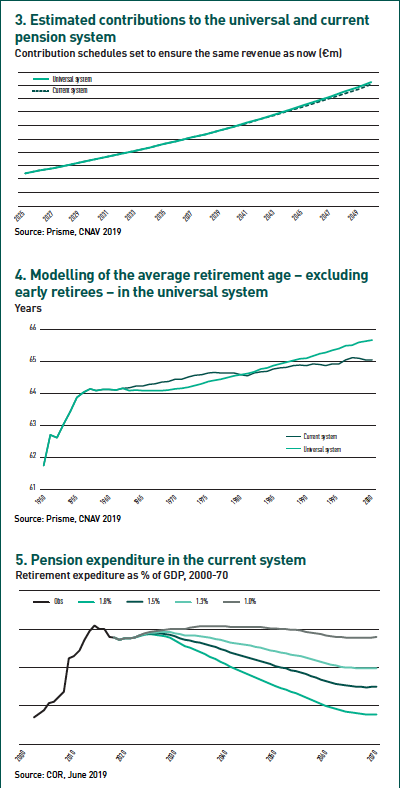 "This management approach will enable organisations providing coverage for a variety of social risks, including retirement, to continue to play their role as privileged interlocutors for insured persons belonging to specific professions or sectors," the report says.
However, the management bodies would then be subsumed within the universal pension system. The system would have to have a unified network to consolidate the pension activities of the general pension insurance funds (CASART) and the entities attached to AGIRC-ARRCO. The necessary recategorisation, which will require legal changes and territorial reorganisation, "will have implications in terms of human resources management", according to the report.
France: PACTE changes the landscape
1

2

3

Currently reading

Pension regimes: The second pillar evolves

4