Portfolios are facing up to the challenges of the economic environment. But there is still room to improve expected returns
Key points
Last year's performance by German pension vehicles was worse than expected
The complexity of the regulatory and tax environment in Germany can hinder portfolio changes
Investors increasingly embracing increased outsourcing of selected asset classes
The conservatism of portfolios is difficult to change
The Willis Towers Watson Pension Risk Management Study of 2018 and the German Pension Finance Watch of 2018 outline how German pension investors positioned themselves to invest in 2018. Both reports also show, at least for corporate investors, how they performed during the year.
The participants in the Pension Risk Management study came from a range of corporate and first pillar pension investors, with 59% being (quasi-insurance) regulated, utilising differing funding vehicles (Pensionskasse, Pensionsfonds, first pillar industry-wide funds) and 41% being unregulated. The bulk of the latter were German corporates with a so-called contractual trust arrangement funding vehicle, which broadly mirrors an Anglo-Saxon pension fund. The German Pension Finance Watch study investigated the funding level of the pension entities of DAX (blue chip) and MDAX (mid cap, non-technology) companies.
Study participants said they were more than satisfied with their investment results in 2017, with more than 86% having reached their target returns over the past three years. They also expected their strategic asset allocations to lead to similarly positive results over the coming five to 10 years. Last year's results undoubtedly proved a shock to the system.
Looking first at the mark-to-market driven investors – namely the corporates that track their asset/liability progress in line with IAS19 – the overall funding levels decreased over the year. Discount rates rose over the year by 10bps to 2%, with inflation expectations remaining broadly unchanged. This led to a fall in IAS19 liabilities of 1.7% for DAX firms and 1.9% for MDAX firms. However, disappointing asset returns more than offset these "gains", with estimated returns in the Finance Watch study of about -4% on average. With funding levels at the end of 2017 of 67.5% for DAX firms and 56.8% for MDAX firms, the net impact has been a reduction of funding levels to 65.8% and 54.9%, respectively.
Regulated investors face a different asset/liability framework, using discount rates which are typically set with reference to the long-term expectations of the return on assets. Many such discount rates were set a long time ago when return expectations were considerably higher, leading to discount rates ranging typically from 3-4%. A few funds have adjusted their discount rates downwards (taking a one-off balance sheet hit as liabilities correspondingly rose) reflecting a less rosy assessment of their future portfolio returns. Regulations stipulate that investors are required to maintain funding levels above 100% at all times; this has led to an approach of looking to beat the discount rate year-on-year to build up reserves, or alternatively to eat into these reserves when returns are lower than the discount rates. Many investors will have suffered a reduction in reserves last year, and indeed the reserves for several regulated investors look lean.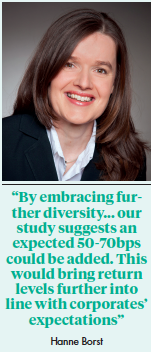 Our 2016 study noted that German portfolios had return expectations of about half of their previous values. To address this they needed to improve how they spent risk, embracing far more diversity, including illiquidity, and indeed consider whether their risk budgets could be expanded.
The 2018 results show that our call for change has led to some diversity improvements, and risk budgets slightly increased. Indeed, return expectations have increased year-on-year at about 50bps, with unregulated investors expecting 2.9% a year and regulated investors 2.7%. Two thirds of these increases reflect the embracing of more complex, diverse portfolios, as well as more use of illiquid strategies. The difference in expected returns between investor types can be explained by the additional regulatory constraints facing regulated investors.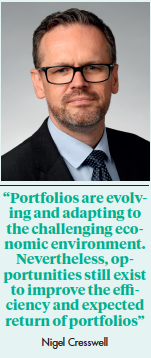 Nevertheless there is more to be done. By embracing further diversity, even at the current risk budget levels, our study suggests an expected 50-70bps could be added. This would bring return levels further into line with corporates' expectations, and to the levels required to meet or beat the discount rate, for the regulated investors.
Furthermore, many investors are still to reassess their need and willingness to increase risk budgets. Risk budgets continue to be considerably lower than those of international peers. Based on the Willis Towers Watson Global Pension Asset Study 2019, German funds on average show the highest allocation to fixed-income instruments, resulting in average lower allocation to higher performing assets, and one of the lowest allocations to diversifying assets.
Barriers to change
What are the barriers to further portfolio changes? One is Germany's complex regulatory and tax environment. Many modern portfolio investment themes are difficult to implement without considering (typically Luxembourg-domiciled) structuring solutions or, alternatively, are limited in their scope of use via prescribed limits. This regulatory/tax framework is out of line with the requirements of other countries. German pension investors are ultimately disadvantaged in their search for returns in a competitive market. Such investments not only can enhance returns but also lead to more robust portfolios with less overall portfolio risk.
Governance is another barrier to portfolio change – with increased diversity comes increased governance requirements. Whereas some of the larger corporate investors have created in-house teams to address this, it is not a viable option for most corporate investors. Similarly, whereas larger, regulated investors have built dedicated resources, smaller companies find this challenging. Indeed, a particular problem facing many regulated investors is that they bought direct long-dated, fixed-income investments which yielded more than the discount rate.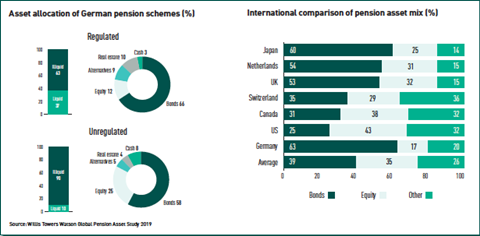 However, on maturity these instruments can no longer be replaced by similar paper, as the yields in a lower-interest-rate environment are no longer attractive relative to the discount rate requirements. This has led to a gradual whittling down of the reserves as higher yielding assets have left the portfolio. This leads to an even greater need to re-align portfolios to meet return requirements and embrace new asset classes, which in turn requires more governance.
Our study suggests that investors are looking to address these challenges by more outsourcing of selected asset classes or, indeed, full fiduciary solutions. In our 2017 study, 20% of respondents were looking to delegate more. In 2018 this was 16%, which reflected that some of the 2017 intentions had been implemented. Regulated investors have undertaken most of such outsourcing. Study participants listed the leading reasons for outsourcing: improved cost effectiveness and transparency; improved portfolio returns; relieving the burden on internal resources; improved portfolio diversity; and, improving risk management.
Portfolios in Germany are evolving and adapting to the challenging economic environment. Nevertheless, opportunities still exist to improve the efficiency and expected return of portfolios. This creates additional governance requirements but solutions exist to address these and there is increasing evidence of these being adopted.
The conservatism of the portfolios appears more difficult to change. Perhaps this simply reflects a higher degree of comfort required by German investors and ultimately the willingness of sponsors to pay more than their peers for funding the equivalent benefits.
Nigel Cresswell is head of investment Germany, and Hanne Borst is head of actuarial consulting Germany, at Willis Towers Watson
Germany: BRSG beyond the new DC plans
1

2

Currently reading

Pension risk management

3

4

5