What lies ahead for pensions in the coming year?
Key points
EU member states have until January 2019 to implement the revised IORP Directive
A key theme in pensions at present is the individualisation of pension wealth management
The shift to DC pensions is an example of this trend
UK local government pension schemes face an April 2018 deadline to start moving assets to six new asset pools that local authority funds are developing
The shift to defined contribution (DC) schemes, regulatory and commercial pressure on defined benefit (DB) schemes, intense scrutiny of costs and charges, the financial sustainability of pensions systems full stop, the list goes on.
There is no shortage of developments that have been preoccupying the pensions world this year and will continue to do so.
Leonique van Houwelingen, EMEA asset servicing and executive director at BNY Mellon in Amsterdam, says the key shift is to more individual pension wealth, or individual pension wealth management.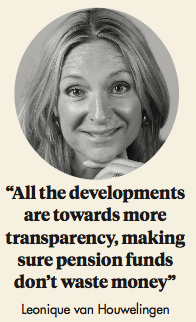 She lists developments and discussions linked with this: "All the developments are towards more transparency, making sure pension funds don't waste money of the individual premium payer, the governance around pension funds, regulatory intervention because all these elements have not been really well managed over a number of years, and then there is a need to perform and some systems are out-of-date."
Although already well known and a feature of concrete action in pensions this year, many of the above will, to borrow wording from Francois Barker, partner at law firm Eversheds, be "manifesting themselves in specific ways" next year.
The shift from DB to DC, which is familiar to many, will be accentuated by new German legislation coming into force in January that, for the first time, will allow DC schemes to be established. No guarantees will be allowed under this model, which can also only be offered under certain conditions. It is not clear what the take-up will be, but the move is significant.
The focus on fees and transparency of costs and charges, is unlikely to disappear from the agenda, and will probably move up it.
Pablo Antolin, principal economist at the private pension unit of the OECD financial affairs division, says: "One of the big things, I think we can expect next year is the issue of fees. That is becoming quite important.
"It's all over Europe and we are producing work on that at the OECD as well. We think it's quite important and that applies to DB and DC."
At the European Union, its supervisory authorities will next year be working on a study of the costs and performance of pension, retail investment, and insurance products. A first report is due towards the end of 2018.
Products to be covered include UCITS investment funds and third pillar personal pension products, but the intention is for it to also cover DC occupational pension schemes.
IORP II implementation
But some themes have been less trailed, says Barker. They have to do with an important piece of pensions legislation, the revised EU Directive on Institutions for Occupational Retirement Provision (IORPs), known as IORP II.
It came into force in January 2017, and member states have two years from then to transpose it into national law.
One set of changes made to the IORP Directive relate to environmental, social and governance (ESG) factors as part of the investment decision-making process.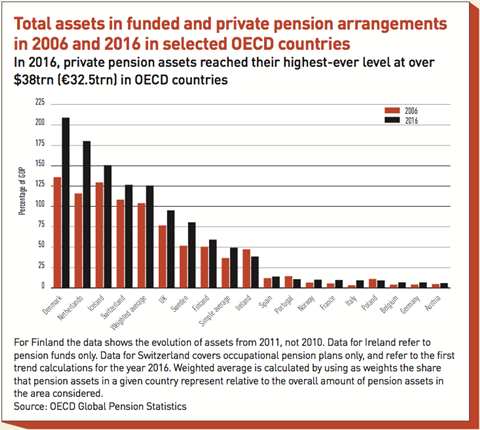 The language of the directive around ESG is not consistent and in some cases the provisions are voluntary or only imposed where ESG is already considered, but in several instances ESG-related provisions are mandatory.
For example, IORPs will be required to have prudent scheme governance arrangements that include consideration of ESG factors in relation to investments, and a scheme's statement of investment principles will need to outline how investment policy takes ESG factors into account.
There are also provisions referring to climate change, rather than ESG more broadly.
Barker says this amounts to an "upping of the ante that we haven't seen before".
He says: "Ultimately I also believe that it will become increasingly unsustainable for scheme trustees to completely set their face against any consideration whatever of ESG or climate change factors and risks.
"Whilst the directive might not change the approach of trustees on day one, it is likely to have an increasing impact over time."
ESG-related impulses could also be forthcoming in European Commission responses to the work of a High Level Expert Group (HLEG) on sustainable finance.
The group was appointed by the commission to advise on developing a comprehensive EU strategy on sustainable finance for its Capital Markets Union project. The group is due to present its final report this December: but there has already been some overlap between the recommendations made by the HLEG in its interim report and steps taken by the Commission. More action from the Commission on sustainable finance, which encompasses ESG but is broader than that, may see the light of day next year.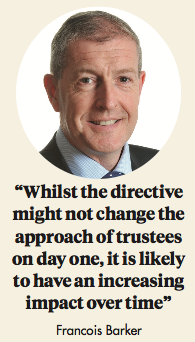 Going back to the IORP II Directive, Barker says intergenerational fairness is another theme the law introduces and has flown under the radar.
"The article in the IORP Directive is woolly, but it does say trustees should have regard to the need to minimise the impact of intergenerational unfairness," he says. "I'm not sure how trustees and other fiduciaries will discharge that obligation being put on them."
The directive refers to IORPs "aiming to have an equitable spread of risks and benefits between generations in occupational retirement provision".
Shareholder rights
Also coming towards asset owners and asset managers are new rights and obligations stemming from the revised EU Shareholder Rights Directive (SRD).
Intended to redress perceived shortcomings in investors' stewardship of listed companies that helped pave the way for the financial crisis, the directive came into force in June. Member states have until June 2019 to transpose it, although there is another deadline in relation to certain implementing acts.
Said by some to be more about shareholder obligations than their rights, the SRD introduces a set of transparency requirements.
These include an obligation for asset owners and asset managers to disclose a shareholder engagement policy, or explain why they have not. Asset owners also have to disclose to the public certain key elements of their arrangements with asset managers. For example, how the latter are incentivised to align their investment strategy and decisions with the profile and duration of the institutional investor's liabilities.
Companies, meanwhile, will have the right to identify their shareholders, potentially only those holding a certain percentage of shares or voting rights, and obtain information regarding their identity.
Bram Hendricks, client relations manager for Europe at the class-action law firm Kessler Topaz Meltzer & Check, says there is a good balance between "making the shareholder toolkit more effective" and shareholder obligations.
Speaking to IPE a few months ago, he said that, based on the text of the directive, he would anticipate it having a positive impact on corporate governance.
As to asset owners and asset managers, more effort on their part would be required: "There will be pressure mainly on those institutional investors and asset managers that do not do anything at the moment, to step up their game and become involved, to take their stewardship responsibilities," says Hendricks.
Many other factors will be preoccupying those in the pension world in the short term.
For example, the European Central Bank (ECB) and the European Insurance and Occupational Pensions Authority are both moving to require the reporting of pension fund statistics to them.
The ECB, for one, has said there is a need for "better quality, more granular and comparable data" on the pension fund sector. The goal: to increase transparency "in this fast-growing sector of the financial services industry".
In the UK, local government pension schemes face an April deadline to start transitioning assets in the six new pools that have emerged since the government called for consolidation. Two pools have already been accepting assets.
Across the EU, a new data protection framework, in the form of the General Data Protection Regulation, will take effect in May.
The coming into force of MiFID II in January is likely to drive debate and change in the investment industry, although, it is of indirect relevance to pension funds and a preoccupation for asset managers.
Last but not least, the European Commission's June proposal for a pan-European personal pension product (PEPP), can also be expected to be a topic of conversation in 2018. The European Parliament's Economic and Monetary Affairs committee is due to issue a preliminary decision on PEPPs in June.
Outlook 2018: Heading for regime change
1

2

3

4

5

6

Currently reading

Pensions: Costs, ESG moving up a full agenda