Germany's discussion on new pension vehicles without guarantees has revealed a much deeper challenge with promises, disappointments and misunderstandings, finds Barbara Ottawa
At a glance
• Germany's new law on pensions, introducing pure defined contribution, is on track to come into effect by 2018.
• However, the upper chamber of parliament has approved an amendment to retain guarantees.
• Pension providers are lobbying for further change.
• There is still discussion on which companies to include in the new system.
The English word guarantee is similar in German (Garantie) and French (garantie). But the understanding citizens of these countries have when reading the word are very different, especially in the financial sector.
Guarantees are, of course, welcomed but also known to come at a price in regions with more of a tradition of personal investment in the stock market, like the UK or the US.
In Germany, financial literacy and experience with private investments is at a much lower level. For decades, guaranteed savings accounts were all that many people knew and this type of security was also sought in occupational pensions.
The government's plan to introduce defined contribution (DC)-like pension vehicles has caused much debate and uncertainty among not only employees but also providers of guaranteed products.
The initial DC idea
The government presented parliament with a draft bill in November 2016 for the Betriebsrentenstärkungsgesetz (BRSG) – a law to strengthen occupational pensions.
It is set to allow the creation of pure DC plans under sector-wide collective bargaining agreements. Each could then set up a pension scheme in which traditional guarantees cannot be granted. These schemes could be established either from scratch or within existing provider frameworks.
They may also include auto-enrolment (opting out) if chosen by employer and employee representatives. Only companies included in the collective agreement can then join their industry's pension plan. About 30% of companies have signed such an agreement, while a further 30% have committed to basic standards in these contracts.
The new pension plans would free employers from offering a guarantee, which deters many companies from offering a pension plan.
The law also aims to boost participation in any occupational pension plan among lower-earners and SMEs by means of subsidies and tax benefits.
Instead of guarantees it would be up to the negotiating parties to set up pension plans with long-term sustainability and possibly a defined ambition target for pension payouts – in other words, some form of soft guarantees.
In a speech this year, Heribert Karch, chairman of the German pension industry association aba, said comparing guarantees with security was a "translation error". It is also wrong, he said, to claim a real pension promise could only be given by insurance guarantees. "In fact, insurance guarantees are often used for a better sales argument," he pointed out.
Karch quoted social partner representatives who said occupational pension plans might turn into a sales show if guarantees are re-introduced to the draft law.
What is happening now
It seemed these fears were founded after the upper chamber of the German parliament, the Bundesrat, first debated the bill in February.
Most of the federal states represented in the Bundesrat decided to re-introduce guarantees for a certain form of occupational pension plan under the new law. If a purely insurance-based pension plan (such as a Direktversicherung) is created under a collective bargaining agreement, the Bundesrat wants to allow full or partial guarantees.
At a conference on the law organised by the think tank Pensions Akademie, lawyer and pension expert Marco Arteaga warned about misinterpreting guarantees. He says: "Guarantees offer a false security in two ways – first, there is no absolute guarantee as there are multiple ways of adjusting the promises, and second, they hinder useful, long-term asset allocation, thereby lowering the payout."
A government-sponsored survey of employers last year found that costs are the biggest hurdle for half of those that do not offer an occupational pension scheme.
The Germany-wide survey also revealed that many employers as well as employees are still not aware of the legal obligation for companies to introduce pension plans, if employee representatives demand it. However, this can also be for an employee-financed insurance-vehicle and need not be a pension fund as such.
Disappointed by parliament
Overall, the Bundesrat amendments have disappointed the pension sector. In a statement, the think tank Deutsches Institut für Altersvorsorge (DIA) noted that the Bundesrat's decision on guarantees was hard to explain: "The Bundesrat argued that without guarantees there would be fewer choices for the new vehicles. But they were intended as an alternative to already existing occupational pension instruments with various guarantee levels."
What also surprised many pension specialists was that this topic was the only one the Bundesrat included in its recommendations for amendments to the law. Several parliamentary committees had previously drawn up a list of changes they thought were necessary to render the BRSG effective.
Among those proposals were ideas to include all companies and not just those that have signed collective agreements. Further, the committees would have liked to see a solution to the dispute on tax-based discount rates for book reserves (Direktzusagen). Currently, such pension promises have to be discounted at a rate of 6%, which is too high given the low interest rate. Many analysts argue that this rate is discriminating against unfunded pension schemes.
However, none of these and other recommendations were included by the Bundesrat. It will now be up to the lower chamber, the Bundestag, to discuss these (see Timetable for Germany's pension reform law).
Michael Karst, head of legal at Willis Towers Watson 's pensions division in Germany, says the upper chamber had "missed the opportunity" to improve the law. But he welcomed the fact that the Bundesrat had not followed recommendations by its committees to increase the regulatory framework for investments made by the new pension vehicles.
Who bears responsibility?
While parliament was debating the law, experts continued to warn of loopholes and possible hurdles in the current version of the regulation.
At the Pensions Akademie event, Oskar Goecke, professor at the Technical University of Cologne, sees a "possible weakness" in the fact that the law does not specify what collective risk compensation should look like in the new vehicles.
This means the collective agreement parties negotiating the new plans hold considerable responsibility but also a lot of freedom in their design, says Goecke.
This is one of the reasons why the government wants to limit the new vehicles to collective bargaining agreements negotiated by employer and employee representatives.
However, DIA spokesman Klaus Morgenstern says all companies should be allowed to establish pension plans without guarantees if employer and employees agree. Fears that opening the new vehicles to all will create some kind of anarchy have been exaggerated, he says: "The Wild West scenario feared by the labour ministry is fiction."
In addition, Pensionsfonds, which already manage non-insurance based liabilities, already have the skills to calibrate risk compensation on a collective rather than an individual level.
One area still open for discussion is auto-enrolment, which several parliamentary commissions have proposed to make available to all companies. The Bundesrat did not touch on the subject in its first debate, but the Bundestag may yet do so.
Chance for a new cost regime
And then there is the question of money. Some union representatives have demanded a requirement for employers to forward the money they are saving on social insurance contributions in certain pension plans to employees.
However, the Bundesrat did not pick up on this proposal. Karst welcomes this decision because a decision would have "created legal uncertainty".
Another question is whether the new pension legislation should touch on the thorny issue of paying health insurance contributions twice on certain pension payouts. The problem was created in 2004 when health insurers needed money. But the finance ministry itself notes it is unlikely that this double-contribution would be scrapped because of the sums involved.
Where the new pension vehicles really could help save money is when it comes to asset management costs.
Henriette Meissner, CEO at the pension service provider Stuttgarter Vorsorge Management, proposes that all new pension plans should adopt a system of cost benchmarking. She argues Dutch cost-benchmarking standards could be used as a model to ensure comparability of reporting. "Self-regulation is important because the new pension vehicles will operate outside the competitive arena," she says.
Timetable for Germany's pension reform law
• 10 February: The Bundesrat – the upper chamber of the German parliament with representatives of the 16 federal states – started discussions on the government draft bill presented in November 2016.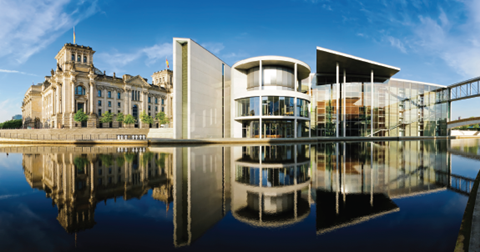 • Early March: First reading of the law in the Bundestag – the lower chamber.
• 27-28 April: Second reading scheduled in the Bundestag.
• 2 June: Second round of discussion in the Bundesrat scheduled.
• 1 January 2018: Law is planned to take effect – subject to parliamentary approval.
• Possible hurdles: If either chamber of parliament demands changes that the other or the government cannot agree to there might be a delay. This could mean the law has to be passed by any new government after the elections scheduled for September 2017.
Pensions In Germany: Draft law under discussion
1

Currently reading

Pensions In Germany: Draft law under discussion

2

3

4

5

6