Despite promising comprehensive pension reform and after five years in government, Ireland's Fine Gael-Labour-led coalition is months away from an election without a significant road map for change. Jonathan Williams looks at the way ahead
At a glance
• The minister for social protection convened the universal retirement savings group in early 2015, including representatives from government departments, the Central Bank of Ireland , the National Treasury Management Agency and others.
• A road map laying out future triggers for the introduction of a universal system was promised by the end of 2015.
• A consultation exercise has examined broad policy ideas, the appetite for compulsory system, scheme design and operational matters.
After five years in power, the Fine Gael-Labour-led coalition government has steered Ireland towards growth and gained plaudits for the way it has effected its economic turnaround following the 2009 bailout.
As promised, the coalition has transformed the National Pensions Reserve Fund into the domestic-facing Ireland Strategic Investment Fund and reinstated the minimum funding standard for defined benefit (DB) schemes.
Changes to the regulatory architecture also saw the launch of a consumer-focused Pensions Council and the Pensions Board has become the Pensions Authority in a bid to avoid regulatory arbitrage. The introduction of a now-expired levy on pensions assets was not welcomed by the industry but shored up Treasury income. The Department of Social Protection also introduced a long-awaited change to the priority order upon wind-up for DB assets.
But despite these reforms, the coalition has yet to live up to the only explicit pension promise contained within the 2011 coalition agreement, namely to "progressively achieve universal coverage" of pension savings. Despite this, 2015 saw the launch of the Universal Retirement Savings Group (URSG) – comprising representatives from government agencies and departments. It was tasked with designing a road map for the eventual reform and introduction of the Universal Retirement Savings Scheme (URSS).
A long, winding road
The road map's scheduled publication date has passed, after only one informal consultation with stakeholders. "The concern now is that there's no indication anything is going to be published any time soon, or any recommendation is going to be made," says Jerry Moriarty, chief executive of the Irish Association of Pension Funds (IAPF).
As an election is expected to be called by February, Moriarty does not expect proposals to be published before the politicians begin campaigning. "I think the election is going to supersede any progression, or advancement, on the URSG," James Kavanagh, managing director of Trustee Decisions, agrees.
Tony Donohoe, head of education and social policy at the Irish Business and Employers Confederation (IBEC), argues that the road map is unlikely to see the light of day during the campaign, as the three main parties have more weighty issues to discuss so soon after exiting the bailout.
Joan Burton, minister for social protection, has previously indicated that the road map will lay out the economic requirements needed to be met before the launch of the URSS, and Moriarty is insistent that greater detail of these is required: "I think they need to spell out what those triggers would be and actually get on and do something."
"I think the election is going to supersede any progression, or advancement, on the URSG"
James Kavanagh
Despite this, conclusions can be drawn from previous consultations. The system is almost certain to rely on defined contribution (DC) funds to provide the benefits in light of the Pension Authority's ongoing work in the area (see panel) and the volatile funding situation facing what remains of Ireland's DB sector.
It will fall to the URSG to propose the architecture but despite a 2014 OECD report on the pensions system, which recommended the introduction of a compulsory system, an auto-enrolment system is more likely to be politically viable.
Stakeholders and political parties alike are willing to throw their support behind auto-enrolment, and the previous Fianna Fáil government, the present opposition, suggested precisely such a model in 2010.
The challenge associated with selling a compulsory system becomes apparent when looking at the views of the Irish Small Firms Association (SFA), which is concerned about how any mandatory levy would increase employment costs. Instead of even an auto-enrolment system, it argues for a campaign to encourage voluntary savings "as a matter of urgency". While IBEC views auto-enrolment favourably, it argues for enrolment after a year of work, exempting temporary and seasonal workers.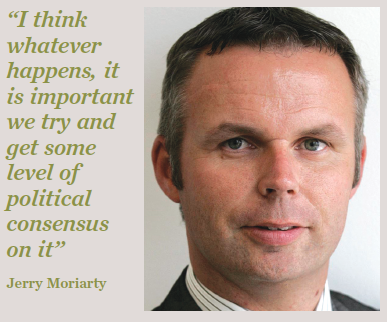 However, there is still some appetite for compulsory saving, not least for practical reasons. The IAPF's response to the URSG highlighted the administrative burden associated with soft compulsion as one of the arguments against such an approach. "Overall, [compulsion] should be less complex and costly to administer," it said last May, adding that there was less need for compliance checks when the system applied to everyone.
Additionally, the industry body noted that an auto-enrolment arrangement would require tax incentives, costs that could be avoided with compulsory savings. The Society of Actuaries in Ireland also backed compulsion, arguing in its submission that the approach was "superior" – citing compliance, but also the desire to see pension coverage become universal.
Matters of practicality could see the state take on a greater role than in the UK where, to date, the otherwise successful introduction of auto-enrolment has been plagued by administrative challenges. IBEC suggests the government follow New Zealand's example and let the distribution of contributions to funds be overseen by the Revenue office. The IAPF has also suggested this, believing it would help with compliance rates.
Future (in)action
Regardless of design, Moriarty is less certain if past commitment to auto-enrolment will translate into future action, noting that the three parties most likely to form the next government are Ireland's historic parties of power – all of which have a history of commissioning and welcoming reports proposing ambitious, long-term pension reform, then ignoring them. He concedes that the current government has been weathering the economic crisis, but hopes that an opportunity for far-sighted policy is near at hand now that the worst of the crisis has passed.
"I think whatever happens, it is important we try and get some level of political consensus on it," Moriarty says. "Particularly, if it's auto-enrolment, if you want it to be successful, then there's got to be trust in the system and that's got to be built. I think that can only be achieved with consensus."
Trust will be instrumental if Ireland emulates the UK in establishing a provider of last resort, in Britain the National Employment Savings Trust. The IAPF says it accepts there could be a need for such a provider, but warns that the pensions levy and the use of pension reserve assets to bail out Ireland's banks could undermine trust.
Despite the lack of action, the matter has been on Burton's mind, and she has publicly floated several names for the system even before announcing the URSG – christening it Shamrock Saver, Celtic Saver and MySaver on different occasions. But Burton's ministry includes welfare payments, an area requiring much attention during a recession. Her commitments increased from mid-2014 when she was elected leader of her party and became Tánaiste, or deputy prime minister.
Kavanagh speculates that the minister has found it hard to balance her responsibilities and urges that the next government introduce a minister dedicated to pensions. "I think what they now need to do is have a specific, senior minister for pensions who will solely deal with tackling the whole pensions agenda – not just for private industry but for the state as well."
Debate on trustee qualifications clouds future of defined contribution pensions
Jonathan Williams
As Ireland examines the possibility of a future with auto-enrolment, issues of quality and cost efficiency invariably receive further attention. To this end, the Pensions Authority has been considering the ideal size of a future defined contribution (DC) market, the Department for Social Protection (DSP) has been gathering data on charges, and trustees have been presented with minimum standards with which they will be expected to comply.
The regulator has worked on DC reform since 2013. It has liased with the industry and trustees about a code of governance since last spring. The resulting document will be published in stages this year. However, the consultation has also covered trustees' approach to risk management, investment reviews, cost disclosure and how value for money should be assessed.
Jerry Moriarty, chief executive of the Irish Association of Pension Funds (IAPF), argues that the proposed code would formalise existing best practice. "Basically, well-run schemes would see those as minimum requirements, and would probably be doing more than that anyway."
However, more onerous changes face trustees, in an effort to bring legislation in line with the European Commission's draft of the revised Institutions for Occupational Retirement Provision (IORP) Directive. Moriarty is less generous in his assessment of the new rules, put out to consultation in September, which he criticises for risking "group think" on pensions boards. "It's about implementing a system that doesn't set the bar so high, that you can only be a trustee if you're a professional trustee – because we don't think that's good for the overall system."
And criticism of the proposed qualifications is not limited to the IAPF. "Whatever we are going to do, we need to bring in qualification criteria that encourage, support and reinforce lay trustees," says James Kavanagh, executive director of Trustee Decisions. He argues that the role played by trustees is crucial to ensuring a fund's strategy is aligned with the goals of the sponsor.
"Being an independent trustee," Kavanagh says, "I go in with an objective perspective." But, he adds that despite the importance of such an approach, professional trustees will spend their time attempting to fully understand sponsor and members' needs. He contrasts this with member-nominated trustees often having firm views on matters such as member communications, based on the level of expertise employees may possess.
Both Kavanagh and the IAPF back the idea that a trustee board possesses the skills and knowledge required under law. This approach is in contrast to that pursued in the Netherlands, but resisted in the UK, where individuals cover all areas of expertise. Moriarty is in favour of a separate level of qualifications for professional trustees to ensure a step change between classes of trustee.
But, looking beyond the needs of individual occupational funds, the authority has stressed its desire to see market consolidation. It favours a reduction in the number of DC funds to the hundreds. Such consolidation will require a shift away from individual funds to master trusts.
Moriarty also advocates a different rule book. He says the IAPF would view master trusts differently from single-firm schemes, and would be much less resistant to the proposed trustee standards if such consolidation began. He says master trusts would "hoover up" smaller schemes currently not engaging with the governance standards put forward, and that member trustees would be hard-pressed to maintain a tie with each sponsoring company. "I struggle to see how the lay trustee model can work in that master trust arrangement effectively."
As master trusts need to meet minimum standards before they enter the market, or once established, ape the approach of the UK, they are likely to be set up by domestic insurance companies eager to gain access to a new market once auto-enrolment starts. This distance from the union movement diminishes the likelihood that lay trustees will be involved.
Pensions in Ireland: No universal solution
1

Currently reading

Pensions in Ireland: No universal solution

2

3

4

5