Most Italian pension funds are new to alternative investment. However, the wind is changing, with several pension funds making the first significant allocations, writes Carlo Svaluto Moreolo
Italian pension fund portfolios appear significantly risk-averse by modern standards, judging by figures from COVIP, the country's pension regulator. At the end of 2015, 62.6% of of second-pillar pension fund assets were invested in fixed income, 78% of which was sovereign debt. Only 16.7% was invested in equities, while 12.8% was held in UCITS.
At a glance
• Italian contractual pension funds are beginning to use alternative investment strategies.
• The focus is on private debt and equity investments. Diversification is driving the agenda.
• The market for 'minibonds', listed credit instruments issued by SMEs, is growing.
• One fund, Eurofer, is finalising its first infrastructure investment.
• Investors lament a lack of domestic opportunities.
The overall allocation to alternative assets, including real estate, private equity and private debt, is negligible. However, the past 12 months have seen a flurry of mandate activity in alternatives, fuelling hopes that Italians are beginning to embrace modern investment strategies.
Eurofer, the €883m pension scheme for the rail sector, was the first fondo negoziale (collective labour contract-based second-pillar fund) to enter the alternatives market when, in 2012, it invested in a pan-European real estate fund.
The scheme can also claim to be the first to have invest in infrastructure. As of mid-June 2016, Eurofer was on the verge of completing the search for a core diversified, pan-European infrastructure equity fund. It was aided by Clifford Chance and Willis Towers Watson in the search for the vehicle.
A target allocation to alternatives of 15% was set in 2014, with the aim of diversifying the portfolio as well as extracting value from the illiquidity premium, says Raffaella Pistilli, CIO of Eurofer.
She says: "We had a preference for direct investment in funds that are in a fundraising stage. We met around 40 managers initially, and subdivided the market into three categories: private infrastructure debt, core diversified infrastructure equity and opportunistic strategies. We felt the core diversified approach met our requirements. We wanted to maximise diversification but also the opportunity to take advantage of the tax credit available to Italian pension funds."
However, she stresses that diversification is key. Italian infrastructure managers are biased towards renewable energy, whereas the scheme wanted to invest across sectors. The board did not set a fixed time horizon for the funds, but focused on funds with a high expected internal rate of return (IRR) and stable cashflows, adds Pistilli.
The target risk/return profile for its infrastructure portfolio, says Pistilli, is similar to Euforer's existing real estate investment. The pan-European property portfolio has performed well, with an IRR of over 10% so far.
To complement the asset allocation strategy, the scheme has given more freedom to existing managers to diversify across credit markets. The credit portfolio now contemplates small allocations to high yield as well as emerging market equity.
Eurofer's story matters because Italy's contractual pension funds, being relatively young, under-staffed and tightly controlled by the social partners, as well as by regulation, are known for their reluctance to diversify portfolios.
But at least three of Eurofer's peers have taken steps in the alternative investment market.
Laborfonds, the €2.2bn regional pension fund for workers in the Trentino-South Tyrol region, was among the first to invest in private debt issued by regional firms.
The scheme invested in local small and medium enterprise (SME) private debt through Fondo Strategico del Trentino Alto Adige, a €214m fund backed by itself and the region's two provinces, Trento and Bolzano. The two provincial authorities accepted a subordinated position in the fund's structure, providing a guarantee that the pension scheme will recoup at least its invested capital.
Ivonne Forno, CIO of Laborfonds, says that the investments became operative in January 2015, and that the results are more than satisfactory. "The fund has yet to deploy all the capital, but the existing investments are already recording positive returns, and we are already past the negative side of the j-curve," says Forno.
But Laborfonds does not intend to stop there. Forno says the fund is working to reach its target allocation to alternatives of 10% which means investing a further €85m. Laborfonds is working with Prometeia, an Italian consulting business, to evaluate options in terms of sub-asset classes. But as a starting point, the scheme will only invest directly.
Forno adds that the board will consider funds that invest in Italy, but that it values the quality of the product above domestic bias. She stresses that another requirement is that they offer Laborfonds maximum transparency. "If the fund manager is international, we will ask that they have a connection with Italy, which will make it easier for us to interact with them. We need foreign asset managers that are knowledgeable about Italian pension fund regulation," concludes Forno.
Another entrant is Priamo, the pension scheme for public transport sector workers. This January, the €1.3bn scheme began a search for a private debt manager. Alessandra Galieni, the scheme's CIO, explains that the fund aims to invest €15m, or just over 1% of AUM, in private debt through a fund-of-fund structure. Despite the small target allocation, she says, the due-diligence work was significant.
At Priamo, the allocation to private debt followed a review of asset allocation. This resulted in a shift from a benchmark-oriented approach to an absolute return strategy. The scheme also implemented a convertible bonds mandate, which was awarded to Union Bancaire Privée, and is finalising a small and mid-cap equity manager search.
Meanwhile Solidarietà Veneto, the €992m regional fund for workers in the Veneto region, has invested in the private debt and private equity of local SMEs.
The scheme's private equity portfolio consists of a fund managed by Milan-based manager Assietta Private Equity. Its private debt holdings are stakes in a private debt fund managed by Finanziaria Internazionale, another local asset manager that has developed strong capabilities in SME investing.
The Finanziaria Internazionale fund focuses on minibonds, an instrument introduced in 2012 to relaunch the Italian economy by increasing sources of financing for SMEs. Minibonds are small-sized, short-maturity credit instruments issued by SMEs and listed on ExtraMot PRO, a dedicated platform on Borsa Italiana, the country's stock exchange.
Within three years, the market has around 140 issuers, who have issued €5.5bn of debt. As well as an attempt to revive the SME sector, minibonds are one of the few alternative investment opportunities in the domestic economy.
Mauro Sbroggiò, CEO at Finanziaria Internazionale, explains that the key is building relationships with local networks of companies, as well as the banks that serve them. His company is a leader in collateralisation and has invested heavily in linking institutional investors and SMEs in recent years.
That link, he says, is vital for both firms and investors. "Issuing minibonds or private debt forces entrepreneurs to think hard about the future of their businesses and to build more solid business processes." Entrepreneurs can be reluctant to engage, which can limit the depth of the market, but have learned that during times of crises, financing from banks can stop abruptly, he adds. From the investors' point of view, allocating to illiquid, uncorrelated assets such as minibonds is actually adding protection to portfolios, argues Sbroggiò.
Not all institutional investors are just moving into alternatives. Casse di previdenza – privatised first-pillar funds for white-collar workers – are well versed in the asset class. They have previously enjoyed less stringent investment limits, which has prompted them to access alternative markets earlier than their second-pillar counterparts.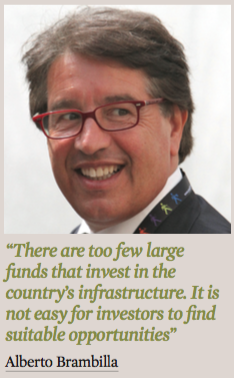 INARCASSA, the €8.8bn pension scheme for self-employed engineers and architects, already has a complex alternative investment strategy. CIO Alfredo Granata explains that the alternative portfolio is split between absolute return investments and real economy investments. Real estate falls outside the alternatives category, because the scheme has a history of investing in the asset class, due to its vicinity to the sector.
The absolute return bucket consists of six hedge fund-type UCITS strategies, each managed by different asset managers in segregated mandates. In terms of real economy investments, Inarcassa has invested in private equity for over a decade. It started with international fund-of-funds managers, moving to single managers that invested locally and internationally.
In private debt, Granata says, the scheme is trying to focus its strategy on domestic investments, not just minibonds, but also direct lending. However, the fund does not currently allocate to non-performing loans, an asset class that has attracted institutional investor interest, partly in response to the government's urgency to clean up the balance sheets of the country's banks (see separate article in this section).
The best results, adds Granata, have been in infrastructure. Inarcassa has teamed up with two other casse di previdenza, the surveyors' and the industrial engineers' pension schemes, to form Arpinge, a vehicle dedicated to domestic infrastructure investments. Granata says the scheme is evaluating plans to team up with other investors to set up further collective infrastructure investment vehicles.
The reluctance of pension funds to work together is one of the reasons why Italy's capital market lag behind, according to Renato Guerriero, president of the European Association of Paritarian Institutions and global head EMEA client relations at Candriam.
Borsa Italiana is trying to develop the link between institutional investors and SMEs. Alessandra Franzosi, head of pension funds and asset owners at the London Stock Exchange Group, explains that the exchange is working on several projects to this end. There are two important steps to the process: one is educating firms how to access capital markets, the other is providing information to asset owners on corporates that are looking for alternative sources of financing.
The first step is taken care by the Elite programme, a pan-European education programme on listing that has already engaged with 250 Italian firms. Through ExtraMot PRO link, an online platform, investors can gather detailed information on the ExtraMot PRO segment free of charge. Thanks to this increased transparency and willingness to share information, pension funds, Franzosi says, are increasingly inquiring about listed and non-listed investment opportunities.
Nevertheless, the lack of suitable funding vehicles remains a problem, argues Alberto Brambilla, chairman at Itinerari Previdenziali, a pension think tank, and former undersecretary in the labour ministry. He says: "There are too few large funds that invest in the country's infrastructure, such as renewable energy, water or energy efficiency programmes. It is not easy for investors to find suitable opportunities."
COVIP looks for greater role for second-pillar schemes
Italy's second-pillar pension fund regulator, COVIP, is pushing for further reform of the country's pension system, writes Carlo Svaluto Moreolo. In its annual report, published in June, COVIP made a case for improving the effectiveness of the Italian pension system by increasing the role of second-pillar pension funds.
As shown by the regulator's annual report, the complementary pension system is growing healthily. Membership increased by 12.1% in 2015 to more than 7.2m members. Assets grew 7.1% to €140bn.
These figures, however, are not rising quickly enough to alleviate the effects of the 2012 public pension reform. The reform was among the measures approved to avoid default by the technocratic government at the time. It streamlined the system, raised the retirement age and completed the switch to a notional defined contribution (NDC) system.
Four years on, Italy's public pension spending is still among the highest in the EU. It is projected to reach 15.3% of GDP in 2020. However, the spending pattern is deemed sustainable and the ratio is expected to decrease from 2036, according to the European Commission's 2015 Ageing Report.
But the country is faced with a system-adequacy problem. The planned decreases of public pension benefits, coupled with the requirement for people to stay in work until later in life, are placing huge pressure on society and politics. The debate in Italy has centred on negotiating flexibility of retirement age, which is rising gradually and will reach 66 years of age for every type of employee by 2018.
Meanwhile, the second-pillar system is not able to bridge the gap between incomes before and after retirement. Most people simply do not have a complementary pension.
This is where COVIP proposes to act. According to its annual report, last year the authority put forward its set of proposals, which were integrated in a draft bill on market competitiveness (DDL 2085) now under discussion in parliament.
In essence, COVIP proposes two measures. First, that contributions to second-pillar funds are made more flexible. Currently, employees can contribute through their severance pay package (trattamento di fine rapporto, or TFR) in full, or leave the monies on their employers' balance sheet, to receive them at retirement or termination of employment. Contributions can be topped up by both employers and employees, but because the burden of state pension contribution on salaries is high, collective contracts have focused on the TFR as the main source of pension contributions.
COVIP proposes that, as part of collective labour contracts, a partial contribution of the TFR is allowed. This way, employees could continue to rely on part of their severance pay package in case of redundancy, or as a lump sum after retirement. However, part of the funds would be channelled through second-pillar schemes. The proposal is consistent with the few recent cases of pension funds implementing automatic enrolment measures. These schemes, however, are only receiving small contributions from employers at the moment, and TFR contributions are not being directed to them.
The other major proposal by COVIP is to allow prospective retirees to access their pension pots before retirement. This would be a safety cushion for those who are too old to work but too young to receive the state pension.
The government has taken a somewhat different view on flexibility, having discussed the possibility for future retirees to borrow money to fund early retirement.
The draft bill under discussion also establishes a collaboration between the labour ministry, the social partners and COVIP to discuss these issues. It is too early to say what the discussion will yield, but it is clear that some potentially significant changes are looming for the Italian pension system.
Pensions In Italy: Auto enrolment all'italiana
1

2

3

4

Currently reading

Pensions In Italy: New alternatives exist

5

6