Icelandic funds are looking to step up their foreign exposure now that exchange controls are being lifted. But they are in no rush, as Rachel Fixsen finds
At a glance
• Icelandic pension funds have invested almost €650m abroad since capital controls were partially lifted in 2015.
• Non-domestic holdings currently stand at just over 20%; most funds have a long-term target to reach 30-50%.
• But funds are not in a rush to diversify abroad given the strengthening of the króna, which has actually led to a small drop in overall non-domestic holdings.
• Although pension funds continue to be subject to capital controls, these are seen as effectively defunct.
Iceland is a country where the ground you stand on reminds you that disasters happen. While interviewing Marinó Örn Tryggvason, the CIO of Frjálsi pension fund in Reykjavik, the floor shuddered beneath my feet. "It happens all the time," he assured me.
Risk awareness may run in the blood, but few could have expected the explosion in lending by the country's three main banks to result in the catastrophic financial and economic crisis of 2008.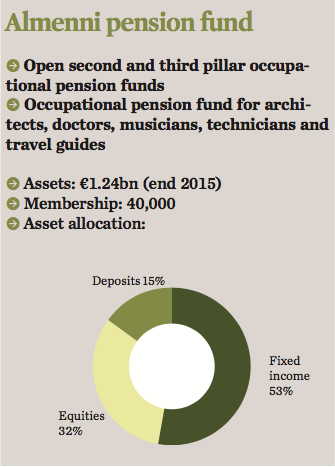 In relation to GDP, the Icelandic pension system is one of the largest in the world. It has assets of ISK3.3trn (€26.9bn) as of June 2016, which means pension assets outstrip a GDP of €18.4trn by 146%. The pension system as a whole is growing, and despite strong economic performance, pensions asset accumulation will continue to outstrip GDP.
Iceland's pension funds played a crucial role during its financial crisis, and its aftermath, stepping in to recapitalise the aforementioned banks after their collapse. One of the consequences was the imposition of capital controls in 2008 to stem the Icelandic króna's freefall. This had the effect of freezing pension funds' non-domestic investment exposure in absolute terms.
In the eight years since, the strength of the króna and an economic boom have diminished non-domestic holdings as a proportion of total assets.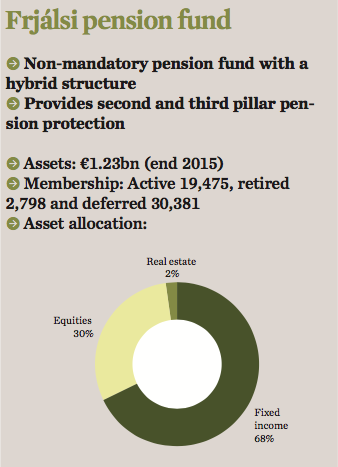 Since mid-2015, the Central Bank of Iceland has allowed the pension funds to invest limited amounts in non-domestic assets – a total of ISK80bn so far in four tranches. However, non-domestic holdings still only account for 21.3% of investments at the end of June 2016, according to the central bank's stability report. In 2010, pension funds held foreign assets totalling 30%.
The partial lifting of capital controls for pension funds began a year before they were liberalised for individuals and companies, when parliament (the Althing) voted unanimously in October this year to amend the Foreign Exchange Act of 1992.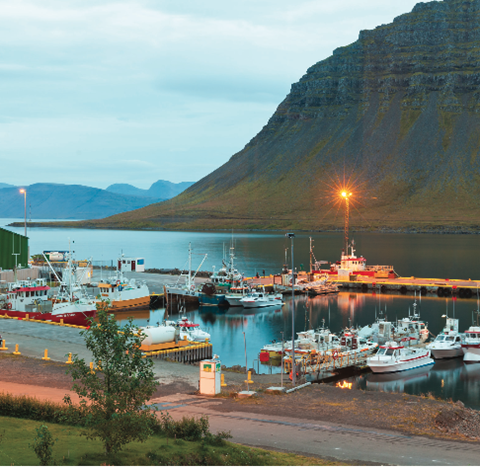 In fact, the average non-domestic allocation of pension funds dropped 2.1 percentage points in the year to June 2016, according to central bank data, despite the allowances amounting to more than 10% of foreign assets in króna terms. This is not surprising, as the currency appreciated by around 10% against a basket of currencies during 2016 (figure 1).
But it still leaves Icelandic pension funds no closer to their preferred level of diversification. The Icelandic Pension Funds Association has voiced its members' concerns about the situation, and says the controls are a threat because they have left them unable to diversify assets.
The pensions funds say their ideal foreign allocation is between 30% and 50%, but there is certainly no rush to get there. "We have decided to use a dollar-cost averaging strategy, investing the same amount every month," Örn Tryggvason says. "This could lead to an increase in our foreign asset allocation 5-10 percentage points over the next three to five years, and it's likely that we will increase the allocation to 35%," he says. Given that the Frjálsi pension fund has been growing by 10% a year, this allocation is a fast-moving target, however.
Softly, softly
That pension funds are adopting a gradual approach is borne out in further central bank figures, which show that the institutions in fact only used 77% of their latest non-domestic investment allowance. This is more restrained than their use of the previous three tranches, which totalled 87%.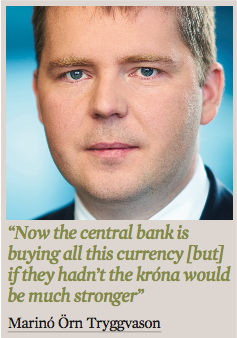 Örn Tryggvason says that while it is better to invest abroad when the króna is strong, most people think the currency will continue to appreciate – a view that supports waiting. At the moment, Frjálsi has 25% of its assets in foreign investments, which is higher than the average. Since 2008, it has made new non-domestic investments with the returns generated by its existing foreign holdings, and has invested most of the allowances granted by the central bank.
Even though pension funds are not included in the foreign exchange liberalisation package passed by parliament in October, Örn Tryggvason believes that funds will be allowed to invest as much as they want abroad, not least because of the high foreign currency inflows into the island, mostly due to tourism. "Now the central bank is buying all this currency [but] if they hadn't the króna would be much stronger," he says, adding that the appreciation of the currency is one of the biggest economic problem facing Iceland.
Almenni pension fund would like to get back to its strategic allocation level for foreign investments within a decade. The fund runs seven portfolios, three of which are invested solely domestically, with the rest holding a mix of Icelandic and foreign investments.
At the moment, the allocation of these portfolios is around 25% to foreign investments, but this proportion should be between 35% and 40%, says Kristjana Sigurðardóttir, the fund's CIO.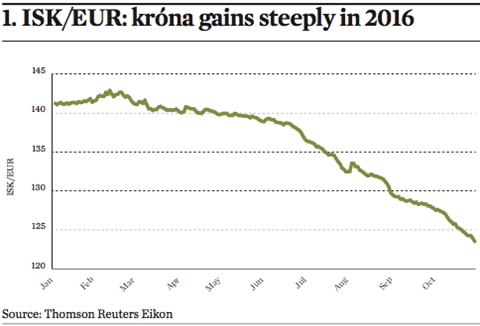 Sigurðardóttir also believes capital controls are effectively a thing of the past, and that funds will be permitted to invest more than required, even if they technically continue to be subject to quotas. "Looking ahead, a high proportion of our inflows will be used to build up foreign assets, although of course we always look at what is happening day to day. "We will need to invest more than half of our inflows abroad, and perhaps up to 70%," she says.
Meanwhile, Björn Hjaltested Gunnarsson, CIO of Lífeyrissjóður starfsmanna ríkisins (LSR), the Pension Fund for State Employees and the Pension Fund for Nurses, Iceland's largest pension entity, says his fund currently has about 30% of assets invested abroad, mainly in global listed equity funds. It aims to raise this to an optimal allocation of 40% of total assets, but expects it to take ten years to get there. "It's a challenge to pinpoint one specific moment in time to invest abroad, and we are not specialists in this," Gunnarsson explains.
Housing investments
One change in the investment strategy of Icelandic pension funds is a move into direct mortgage lending. This opportunity has arisen as result of the Housing Financing Fund (HFF) – a government institution and traditionally the main provider of mortgage loans – shrinking its mortgage lending.
Pension funds have been keen to fill the gap by buying bonds that yield around one percentage point more than government bonds, while being a safe investment with a loan-to-value ratios of 50-65%.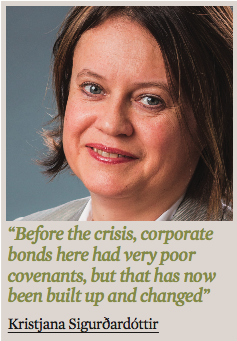 Frjálsi, for example, has increased investments in mortgage debt to around 5% of its €1.4bn of total assets by September, from 2% in the first two months of this year, and expects its exposure to rise above 10% in 2017.
LSR and Almenni have also been concentrating upon direct mortgage lending, although Sigurðardóttir points out that since pension funds were one of the main sources of financing for the HFF as buyers of its bond issues, the investment shift does not actually change their exposure to the mortgage market. Instead, it makes it more direct and cost-effective.
Icelandic pension funds have been active in reforming their country's corporate bond market by insisting on greater investor protection through covenants. The pressure for change arose after bond holders lost out heavily during the crisis, discovering to their surprise that banks had secured a higher place in the creditor pecking order for direct lending than corporate bond holders.
"Before the crisis, corporate bonds here had very poor covenants, but that has now been built up and changed," says Sigurðardóttir. "The impetus came from pension funds, but also from other investors in the bonds and from mutual funds, all of whom were demanding that if they were going to buy the bonds they would have to have more covenants." This bolstering of investor protection has been very good for the country's bond market, she says.
While the strength of the króna has advantages for pension funds in the process of increasing foreign exposure, Gunnarsson says the continuing increase in the domestic currency's value against the dollar and the euro is a challenge.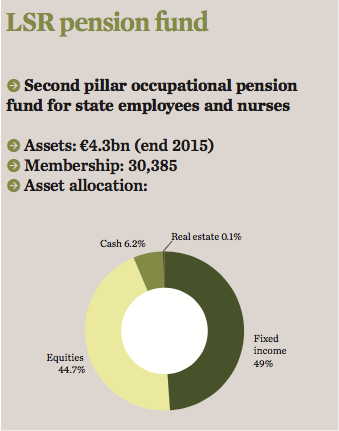 LSR and other funds need to invest abroad to diversify geographically but this is hard to do both from a practical and a prudential standpoint. The króna has appreciated almost 14% in 2016, while the US equity and bond markets are looking expensive and the price of Icelandic equity is lower. "We invest mostly in global equity funds when we invest abroad and our biggest single exposure is the US equity market, and we are not allowed to hedge foreign exposure," Gunnarsson says.
Meanwhile, others are concerned that the strengthening of the króna could drive tourists away, taking the air out of a sector that has overtaken fishing in revenue terms.
While Icelandic pension funds remain instrumental in providing investment capital to support the post-crisis economy, their circumspect attitude and awareness of potential threats to sustainable growth is also apparent.
Recent, direct experience of financial shocks that saw all the main banks fall into receivership, bankrupted businesses, left thousands without work and even hit food supplies for a time, focuses the mind more keenly on managing risk than any theoretical learning.
Pensions in Nordic Region: Iceland - Opportunities abound
1

Currently reading

Pensions in Nordic Region: Iceland - Opportunities abound

2

3

4

5

6

7

8

9