The UK pensions minister has written to pension schemes to request they submit the sections of their statement of investment principles (SIPs) that set out how they take account of financially material considerations arising from environmental, social and corporate governance (ESG) factors, including climate change.
He also wants to see the sections that set out the pension schemes' policy on stewardship and taking member views into account.
The aim, according to a press release from the Department for Work and Pensions (DWP), is to compile a record so Guy Opperman, the minister, could monitor compliance with new regulations that "compel funds to pay greater attention to environmental, social and governance considerations", as well as highlight best practice.
The minister also wants to know if the schemes report in line with the Task Force on Climate-related Financial Disclosures.
The request was set out in a letter to 50 of the UK's largest pension schemes in which, according to the press release, Opperman spelled out what pension schemes must do under the new regulations. A copy of the letter was not made available.
According to the press release, the minister also "probed" the schemes about "what substantive measures they have made – and when – to their investment strategies to take account of environmental, social and governance [sic] and climate change, and what substantive changes they have made to their stewardship policies to ensure that trustees act as engaged investors".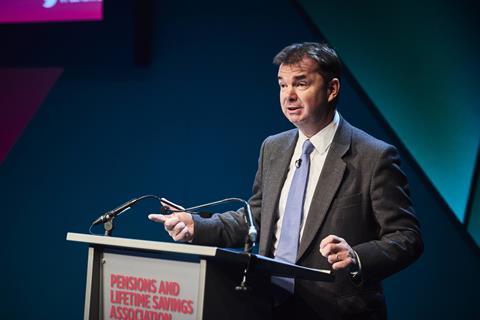 In the press release, Opperman is quoted as saying: "Pension funds are a powerful weapon in the fight against climate change. Despite some good work by a number of schemes, some are not acting. We need urgency on this vital issue from trustees and investment managers.
"New regulations came into force last week," he added. "I'm demanding that the remaining pension schemes and the fund managers they appoint stop shuffling their feet.
"They must meet their responsibilities to savers now and in the future, and to protect the future of the planet."
Under 2018 regulatory changes, trustees of UK defined benefit and defined contribution schemes had until 1 October to update or prepare their SIP to make sure it included their policy on:
How financially material factors (including but not limited to ESG considerations such as climate change) are taken into account in the context of investment activity;
The extent, if at all, that non-financial matters such as members' views are taken into account; and
Engagement and voting activities in respect of investments, which includes engagement with asset managers employed by the trustees
According to the DWP press release, Opperman has told schemes that circumstances in which climate and ESG risks are not financially material are likely to be "extremely limited".
Therefore, according to the minister: "It is part and parcel of trustees' fiduciary duty to take account of these risks when setting out investment strategy and to explain that clearly to investors."
A spokesman said the idea behind the minister's asking for the relevant sections of their SIP is to give the pension funds the chance to "show themselves in the best possible light".
News of Opperman's letter comes after the UK's main pension fund trade body last week referred to the new regulations as being merely the first step on a "journey" for trustees.
Caroline Escott, policy lead for investment and stewardship at the Pensions and Lifetime Savings Association (PLSA), today said the announcement from the pensions minister "emphasises that this shouldn't just be a tick box exercise for trustees, it's not just a compliance exercise".
"Schemes of all shapes and sizes need to think about how they meaningfully implement ESG across their portfolio and also how they tell the story, communicate what they're doing to scheme members," she told IPE.
Lorna Blyth, head of investment solutions at mutual insurer Royal London, said ESG issue were increasingly in the spotlight, and that Opperman's move "sets a clear direction of travel from government and policy makers".
Most UK pension trustees were prepared for the new rules regarding responsible investment, according to a survey by Hymans Robertson that was publicised a few weeks before the 1 October deadline. A survey from law firm Sackers indicated there was still lots of confusion about the extent to which trustees should take account of member views.
This article was updated to add a comment from Caroline Escott at the PLSA.