Energy Transition: TEEed up for change
A new law has forced climate change onto institutional investors' agenda, says Susanna Rust
At a glance
• France has passed the first-ever law requiring institutional investors to report on their approach to climate risk.
• Large asset owners such as ERAFP and FRR have launched low-carbon-index initiatives with Amundi; Ircantec is working with AGI on a climate 'solutions'-focused pilot equity portfolio.
• Caisse des Dépôts has committed to allocate €15bn to the energy transition by the end of 2017 and to cut its carbon footprint.
As the host of the UN Paris conference that led to the first ever legally binding global climate deal, France cannot be accused of a reluctance to take the initiative on climate change. The government and many of the larger French institutional investors have been trying to bring about a less carbon-intensive and more sustainable way of life on planet earth – in local parlance, la transition écologique et énergetique (TEE).
Already before the 21st Conference of Parties in Paris (COP21) in December, the French parliament had passed the so-called law on the energy transition for green growth, which is thought to be the first ever law to impose climate change-related disclosure requirements upon investors.
The reporting obligations are introduced in article 173 of the law, with an implementing decree effective since the beginning of January 2016 setting out the requirements in greater detail. It applies to institutional investors, including asset managers, insurance companies, the Caisse des Dépôts et Consignations (CDC, the state-controlled public-interest financial institution and long-term institutional investor), as well as pension and social security funds.
They are required to report not only on their policy on, and exposure to, environmental, social and governance (ESG) risks in general, but specifically on climate change. The latter applies to those investors with a consolidated balance sheet of more than €500m.
The decree will lead investors to improve the information they provide about the carbon footprint of their portfolios, to define the 'green' part of their investments, and implement a low-carbon strategy to contribute towards broader climate objectives. 
Although described by some as vague (the principle is "comply or explain"), the legal requirement has been hailed as "groundbreaking", in the words of the European Sustainable Investment Forum (Eurosif), the campaigning organisation, and as "a significant step forward for France and the global development on this topic", in the words of the 2° Investing Initiative, a think tank.
Article 173, says Eurosif, is the first national regulation taking as its starting point the 2°C above pre-industrial levels as the maximum tolerable global temperature increase. 
Frédéric Samama, deputy head of institutional clients and sovereign entities at Amundi, says that Article 173 was "a smart move" by the government. "If you want to have a real impact you have to cover all the assets, and who does that? The asset owners," he says.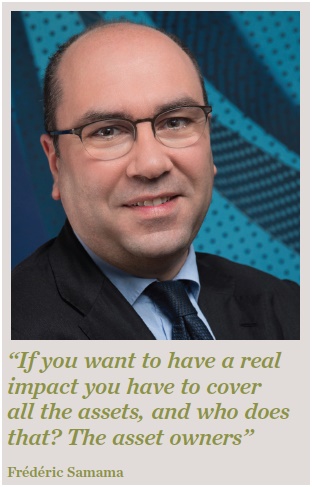 Still, as groundbreaking as article 173 may be, it appears to leave some French institutional investors unfazed – not because they are indifferent, but because they are already down this path, if not blazing the trail.
"It is not necessarily that well known, but French asset owners are ahead of the curve when it comes to climate change," says Samama. 
Indeed, Philippe Desfossés, chief executive officer at ERAFP, the institution responsible for the €23.5bn additional pension scheme for civil servants, says it is "a little bit sad" a law was needed to push climate change higher up investors' agenda.
ERAFP, FRR and Ircantec, three public pension institutions with €60bn of assets under management between them, were early movers. Well before COP21 and the arrival of article 173 they were members of groups aimed at combating climate change or had launched initiatives and taken concrete steps themselves. 
This includes signing the Montreal Carbon Pledge, which commits investors to measuring and publicly disclosing the carbon footprint of their portfolios on an annual basis, and the Portfolio Decarbonisation Initiative (PDC), which has the added element of a commitment to reduce the carbon footprint. They intend to continue in this vein. 
Although article 173 does not apply to it, the €36.3bn Fonds de Réserve pour les Retraites (FRR), for example, "will continue to report as we have done for nearly 10 years now and to improve it in near future", says Yves Chevalier, member of the executive management board.
The national pension reserve fund, which in 2014 helped develop – and invested €1bn in – a low carbon index with Amundi and Sweden's AP4, is aiming to decarbonise its entire passively managed equity portfolio, he adds.
"In 2015, the FRR decided to decarbonise its smart beta indexes which had €2.5bn of assets under management, a significant step forward," Chevalier adds.
ERAFP, which has already worked with Amundi to reduce the carbon output associated with its equity investments, has its eye on engaging with the aviation industry. 
Left out of the COP21 agreement, the aviation industry is working on its own international regulatory framework that could involve an emissions price, and ERAFP's Desfossés is involved in an investor initiative to ensure such a price is "set appropriately". 
"The aeronautical industry needs to get to grips with the climate change challenge," says Desfossés.
Ircantec, the pension scheme for non-tenured state and local government workers with €9.5bn of reserves, has clear ambitions to play a role in financing the energy transition. "We have a desire to invest in a way that is compatible with a scenario of maximum global warming of 2°C," says Jean-Pierre Costes, president of Ircantec since December. 
It has measured the carbon footprint of its listed equity portfolio, and is now working to do this for its corporate bond investments, too.
Caroline Le Meaux, head of delegated management at CDC, the fiduciary manager for Ircantec, says that one of the priorities for the next year is to challenge asset managers about how they integrate environment risks.
"In December, we started to look at carbon-footprinting the corporate bond portfolio, but there is a methodology problem," she says. "A lot of work is needed on carbon methodology, with reflections in the area of government bonds less advanced."
From a financing perspective, Green bonds are a consideration. They have increased to almost 5.6% of Ircantec's fixed-income investments (more than 7% if inflation-linked products are excluded). 
"In December, we started to look at carbon-footprinting the corporate bond portfolio, but there is a methodology problem"
Caroline Le Meaux
Ircantec has allocated 3% of its reserves to support the French economy and the TEE. At the time of writing the majority of that had been deployed, including €130m in a dedicated fund of co-investments in small private equity and renewable energy and energy efficiency infrastructure.
Late last year, Ircantec launched a €1bn pilot equity portfolio with Allianz Global Investors that is biased toward companies offering solutions or adopting a progressive stance to limiting climate change. 
And then there is the CDC. This year marks its bicentenary, the January celebration of which saw French president François Hollande charge the group with leading the country's TEE. To fulfil this ambition, CDC should free €3bn of additional investment capacity by 2017, Hollande said.
The idea is for this to happen by way of a more active management of CDC's holdings, he added, which will release capital that can be funnelled towards investments in sustainable development and green growth. The state will help by reducing the amount CDC has to pay into its coffers. 
Overall, the CDC group has committed €15bn between 2014 and 2017 to finance the energy transition, with €6bn already deployed.
It has also committed to reduce by more than one third (38%) the carbon consumption of its portfolio of real estate holdings by 2030, and to cut by 20% the carbon footprint of its portfolio of directly held listed equities – worth €55bn at the end of November 2015 – between 2014 and 2020. It aims to achieve this through company engagement, and said it will embark on reallocations if companies' voluntary emissions reductions prove unsatisfactory in the medium term.
The agency also has a climate change-linked exclusion policy. In 2015, it disposed of its directly-held listed equity and debt holdings in companies that derive more than 25% of their revenues from thermal coal, and "to go further" the group will not directly invest in companies' if coal contributes to revenues by more than 20%.  
Aside from Caisse des Dépôts and the public pension institutions, social protection groups such as AG2R Mondiale and Humanis are also identified as institutional investors actively engaged with climate risk. 
For other French asset owners, however, their government's decision to force them, via article 173, to come up with a climate change strategy means they have quite an adjustment to make. 
"Before the energy transition law, only a few institutional investors, say, 10 to 20 max, were engaged with this topic, but now nearly all of them have to do so and communicate what they do," says Florence Dard, head of France at AXA Investment Managers. "Even though the focus of the decree is on reporting, it will be difficult for institutional investors not to do something about their investments, too, and to show improvement."
In terms of what this means for the flow of money, Dard says that "we should expect more inflows into green bonds and green energy". 
Still, she adds, the smaller mutuals or pension schemes are sensitive to social issues, so their decisions and resources about their contribution to the energy transition will have to be balanced against these values. "We have to find out what they will be comfortable with," she says.
One thing is for certain, though. If climate change was not already on an institutional investor's agenda, France's loi sur la transition énergetique and its article 173 will have put it there.