Günther Schiendl, CIO of VBV, Austria's largest pension fund, talks to Barbara Ottawa about the importance of illiquidity and the EU's sustainable finance initiative
Key points
The end of investment caps give Pensionskassen new freedom
VBV is set to increase its "less liquid" asset share
Schiendl says liquidity not that important for long-term investors
He says a new ESG initiative could hit a nerve in the industry
Günther Schiendl switches seats to avoid the glaring February sun heating up the conference room. We are meeting at the VBV offices on Vienna's Donaukanal (Danube canal).
But the sun is not the only thing heating up the debate. Schiendl, CIO of the €7bn VBV, is known for speaking softly and only after careful consideration. But in all our dozens of interviews over the past decade there have always been one or two topics he is passionate about.
When talking about these issues he wants to see discussed on a broader scale he raises his voice ever so slightly. This time it is illiquidity and the European sustainable finance initiative.
In the wake of the IORP II implementation, Austrian Pensionskassen are "now finally able to mirror the results of an ALM study in our portfolio", says Schiendl. In an amendment to the law governing Pensionskassen, the PKG, which took effect in January, essentially all the quantitative investment caps were scrapped. Pension funds now have to draw up written guidelines regarding investment and risk-management processes. Such guidelines existed before but now they will be binding and the supervisor, the Finanzmarktaufsicht (FMA), is certain to have a close look.
This means VBV can increase the share of illiquid assets – which Schiendl likes to be known as "less liquid". He cannot give a target amount yet but emphasises there will be no overhaul of the portfolios. "Just a few adjustments," he says.
Looking back on the "very challenging" end of 2018, Schiendl points out how important long-term investments and valuations beyond the mark-to-market approach are for Pensionskassen. "Nobody had expected a market downturn this severe in December and by the beginning of February markets were back on November levels – it was a real v-shape," Schiendl says, still with some disbelief. To add insult to injury the reference date for calculating the year-end performance was the day the markets were at their lowest point. For VBV this means it had an overall return of -5.5% for 2018, that is slightly ahead of its peers (see panel).
In VBV's portfolio the "only asset classes delivering according to plan were real estate, infrastructure and private-market investments", says Schiendl. Furthermore, he points out the less liquid asset classes are among the few investment spaces left to go for returns as "plain-vanilla European bonds are dead for years to come."
He continues: "We are seeking to gradually increase our exposure real estate, infrastructure and credit." These asset classes allow the VBV to match the passive liability side of its members by "identifying age cohorts and introducing maturity matching". For him these "new possibilities are rather exciting".
One of the problems Schiendl encountered is explaining to members – and to a certain extent to stakeholders – that short-term liquidity is an overrated issue for pension funds with long-term liabilities and investment strategies. He points out that with private-market investments, regular income is the most important aspect for cash-flow matching purposes. In his opinion, "all traditionally and superficially so-called illiquid investments rather are of less or limited liquidity".
He immediately volunteers an example: "Take a credit fund with a fund lifetime of eight years – over that period usually a maximum of 85% of commitments are actually drawn over a short period of time, and a large part of drawn funds will be returned after about three years." This leaves a "real economic exposure of three to five years over which around 50% to 60% on average are actually at risk", he adds. "That is essential knowledge for a comprehensive assessment of risks."
Schiendl also calls on "all the consultants out there who have so far only done ALM studies which were in essence asset studies without considering the liability side with its long-term liquidity characteristics". They should now come forward with "good ideas on why and where, for example, a 30% quota for less liquid assets would make perfect sense to help earn the required investment returns in an ongoing phase of low and negative interest rates in Europe".
Overall, he sees "a much better selection of vehicles for investing in private markets or infrastructure" than a few years ago. However, he believes private debt is already getting crowded. The VBV has been in this market for almost five years and the portfolio is "doing very well with a 5% to 6% annual total return since year three". As for infrastructure, Schiendl does not see much sense in investing in debt in this segment as yields have fallen too much to take a credit risk over 10 years, possibly with additional currency risk. VBV prefers infrastructure equity via fund vehicles investing in social infrastructure like care homes or childcare facilities, and alternatively transport infrastructure like regional airports in UK and Germany.
The biggest hurdle in increasing the share of illiquid assets in a portfolio is know-how. "Due diligence on these investments is extremely complex and can take up to three months before it even goes to the legal department," he says. But the VBV started "investing in building in-house know-how already several years ago" and is now using ex-bankers in its investment and risk management department.
"They know the credit risks and are asking different questions than traditional investment people," Schiendl points out. "By now we are better equipped to vet funds for illiquid assets than most Austrian capital management companies (KVG)," he says.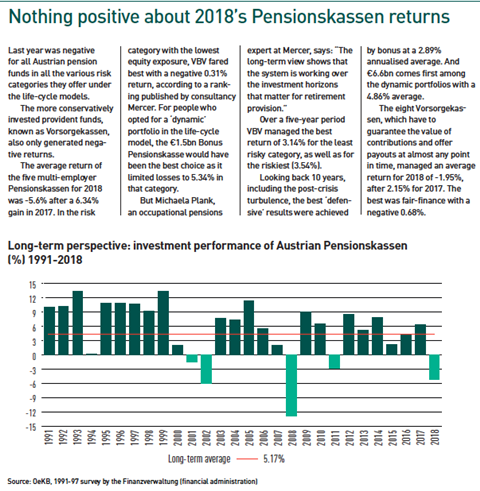 Another key challenge for pension funds – but one he is visibly looking forward to – is the EU's sustainable finance initiative. In September, the VBV attended a meeting on the implementation of the initiative. For Schiendl discussions on low-carbon benchmarks were "particularly interesting".
In 2017, VBV converted an €800m equity fund in its portfolio to a low-carbon target benchmark. Several other measures to lower the pension fund's carbon footprint have since been taken.
Talking about the EU Commission's sustainable finance initiative, Schiendl is enthusiastic about the way in which it was conducted. "This was clearly done by experienced people from the finance industry who know precisely about how to touch a nerve," he says. The VBV board member is referring to the various mandatory disclosures taking effect over the next years.
One of them is that providers of ESG benchmarks have to make public all the quality criteria they applied. VBV is mulling the idea of only allowing companies into an index that are net CO2 reducers. These and other non-financial reporting standards are "going straight into the entrails of the financial industry", says Schiendl.
He calls the measures "brutal but ingenious" and is convinced "this means the time of feigning ignorance regarding ESG is definitely over".
Germany: BRSG beyond the new DC plans
1

2

3

4

5

Currently reading

VBV: Exciting possibilities