Regulation: Focus on access and tax
Regulatory activity continues, with an emphasis on flexible access to savings and tax advantages
KEY POINTS
Lawmakers are trying to facilitate early access to pensions savings.
Mechanisms for drawing income from first- and second-pillar pensions before retirement have been set up.
A tax break for pension funds investing in domestic businesses is available.
Regulatory efforts are focusing on channelling savings into pension funds.
Italian lawmakers have made adjustments to the pension system over the past year, with a focus on second-pillar pensions.
The latest budget law (no. 232, 11 December 2016) introduced a measure allowing early access to second-pillar pension savings. Workers retiring before they meet the requirements for a pension and who need an income can access their second-pillar pension savings as a monthly payment. The measure is valid for three yeas. 
This measure, called RITA (rendita integrativa temporanea anticipata), was introduced in parallel with APE (anticipo finanziario a garanzia pensionistica), a mechanism allowing early access to first-pillar pension benefits. APE is subject to employees obtaining a bank loan to finance the stream of payment. This loan is then repaid when retirement is reached. 
RITA is available to members of a defined contribution pension scheme who meet the requirements for APE. RITA is an innovative mechanism within the regulatory framework. It has a separate legal status and does not affect law no. 225 of 2005, which regulates the early pension release. 
Tax relief for pension savings
The budget law also amended the fiscal framework, expanding tax relief for performance-related bonuses. Initially – as established by the 2016 finance law – bonuses under €2,000 would be taxed at 10%, lower than the income tax rate. The new budget law has now raised the upper limit to €3,000. 
The law also established that workers could choose to receive all or part of their bonus as company benefits. In that case, bonuses are not counted as income and thus not taxed. But lawmakers went further in a bid to channel savings towards private pensions or healthcare. This is the most significant innovation within the regulatory framework, when it comes to performance-related bonuses and private welfare. 
In the new framework, bonuses up to €3,000, if added to private pensions or to pay private healthcare insurance premiums, are not subject to tax. This applies even when the total annual amount set aside exceeds the limits for tax-free annual contributions to pensions and private healthcare (€5,164.57 and €3,615.20 for pensions and healthcare, respectively). The tax exemption also applies to the payout phase – in other words, the benefits earned from contributions through performance-related bonuses are untaxed (while pension benefits are normally taxed).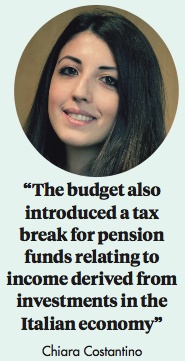 The budget also introduced a tax break for pension funds relating to income derived from investments in the Italian economy. This replaces a similar tax break established in 2015. The benefit is available to pension funds that allocate to investments for five years, and applies to allocations of up to 5% of a fund's balance sheet. The eligible investments are: 
l Shares of public (or private) companies residing in Italy, the EU or EEA countries with stable operations within the area;
l Shares of funds registered in Italy, EU or EEA countries that invest in securities defined as above.
The returns generated by such investments are exempt from income tax, which is 20% of pension funds' taxable income. The exemption is valid for payout as well: benefits generated by qualified investments are tax free.  
COVIP regulates subscription
The pension fund regulator, COVIP, has also been busy, changing the framework for pension fund subscriptions. From June 2017, prospective members will receive detailed information on the pension scheme, particularly in terms of costs. It will be necessary for members to indicate whether they are already in other schemes. In that case, they will receive a form detailing the costs of their existing pension funds, which has to be read and signed. 
Prospective members will also receive a self-assessment questionnaire aimed at verifying their knowledge of second-pillar pensions and their expectations in terms of the first-pillar. The questionnaire also aims to establish which investment strategy is most suitable to the member's circumstances. COVIP has also regulated online pension scheme subscriptions. Achieving greater knowledge of pension issues and greater awareness when subscribing to pension funds were the goals behind the changes. 
There are significant efforts to improve pension regulation. Parliament is discussing a bill that deals with competition and contains provisions affecting the pension industry. A series of measures could become effective if the bill – known as DDL Concorrenza is approved in its current form: 
l Under the renewed framework, collective labour funds may establish the minimum share of TFR (trattamento di fine rapporto)1 to be channelled to second-pillar pension funds (if no share is explicitly indicated, the whole is transferred);
l As a general rule to second-pillar pension funds, in periods of unemployment lasting over 24 months, it will be possible for workers to redeem their savings provided that they have over five years to go before retirement. Such savings can be drawn as income. The minimum period of unemployment to redeem savings was previously 48 months.
l Pension funds may allow workers to redeem savings up to a decade before reaching retirement age. Workers may also access their second-pillar savings, regardless of the kind of pension scheme they participate in, when they lose the requirements to be members owning to changing circumstances, such as unemployment. 
Chiara Costantino is a regulation expert at MEFOP, the pension think-tank co-owned by several pension funds and the Italian ministry of economy and finance