Asset Allocation: Diversification rules
Infrastructure, real estate and alternative credit are finding favour among Dutch pensions funds, finds Gail Moss 
At a glance
• Some portfolios have increased their risk portfolios over the past year.
• Overall holdings in infrastructure and non-listed real estate have increased.
• Some pension funds are moving into high yield bonds or emerging market debt.
• The future direction of interest rates is still a prime concern.
Although there have been no big shifts in asset allocation by Dutch pension funds over the past year the intensifying search for yield has prompted an increase in their risk profiles. 
This is the result of a one-off option introduced by the 2015 new Financial Assessment Framework (nFTK). It allowed more risk if the intention was to improve funding positions or provide cost-of-living adjustments. However, this option does not apply to all pension funds as a number of criteria have to be met. 
Overall, however, there has been an increase in alternatives such as infrastructure and non-listed real estate, and to alternative credits such as Dutch mortgages and collateralised credit, according to Michel Iglesias del Sol, head of investment at Willis Towers Watson (WTW) in the Netherlands.
He says: "We are seeing a shift in credit portfolios, where current low yield for euro investment grade credits lead to more attention for global credit portfolios. Generally, equity portfolios are already predominantly global."
Meanwhile, Berengere Blaszczyk, country head Benelux at Franklin Templeton Investments, says: "Over the last 12 months, we have seen increased interest in emerging markets, for both debt and equity strategies, in high yield bonds and alternative fixed income. Also, to a lesser extent in global real assets."
Within fixed income, pension funds are using a variety of sophisticated products to increase yield. Blaszczyk says: "Many players are looking for alternative fixed-income solutions that are immune to potential interest rate hikes, while offering decent yield and protecting their solvency ratios. That includes low duration high yield and emerging market solutions but also distressed debt, bank loans and insurance-linked securities." 
"Over the last 12 months, we have seen increased interest in emerging markets, for both debt and equity strategies, in high yield bonds and alternative fixed income. Also, to a lesser extent in global real assets"
Berengere Blaszczyk
"We're seeing our clients making more allocations to Dutch mortgages now – largely residential – using pooled funds," says Maarten Thomassen, senior investment consultant, at Aon Hewitt in the Netherlands. "They can profit from somewhat higher yields than comparable debt instruments because of the demand for mortgages, as many more people are buying homes."
Meanwhile, WTW is trying to convince clients that they should not be competing with buyers like the European Central Bank (ECB), which is price-insensitive.
"The securities purchase programmes from the ECB are having a significant impact on expected returns," says Iglesias del Sol. "At the same time, the trend of bank retrenchment presents attractive opportunities in both liquid and illiquid alternative credit, and in secure income assets. These types of alternative credits can and should play a key role in portfolios, but strategy selection, strategy design and manager selection are crucial."
And, he says, there is greater scope for investors to consider illiquid credit as a part of low-risk and return-seeking portfolios: "We view this as an excellent opportunity for clients with a tolerance for illiquidity and a desire to improve overall portfolio efficiency."
Some pension funds are moving into high yield bonds or emerging market debt, says Thomassen. 
But because of investment rules require that total risk has to be kept at the same level if the coverage ratio is below the required percentage, these funds would have to either reduce the equity element in their portfolio, or increase their interest rate hedging against liabilities.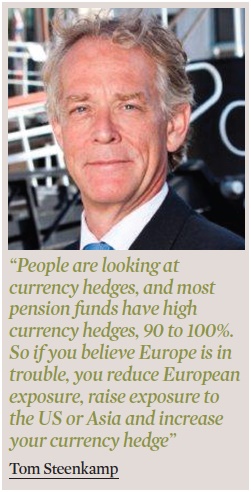 "But, yields are now so low that they are asking if it's worth it to increase the hedging at these levels," says Thomassen.
He says that the geographical bias of fixed income portfolios is dependent on whether the fund is return or liability-driven.
"If return-driven, the portfolio is more globally orientated," he says. "If liability matching against euro-zone liabilities, they tend to invest in high-rated core government bond issues from, say, German, Dutch, Finnish and Austrian issuers, although some invest in peripheral euro-zone countries as well."  
One traditional alternative asset – real estate – is also making a modest comeback, from its slump following the financial crisis. 
"Pension funds are not increasing allocations, but declining market values have meant that allocations were below the target levels," says Thomassen. "Now you see funds acquiring more properties to get back to the original target allocation." 
Among the clouds hanging over the European economy, two are country-specific – the Italian banking crisis, and the aftermath of the UK's EU referendum result. 
WTW says its clients exclude Italian government debt from their government bond portfolios, as these are held for matching purposes. 
Iglesias del Sol says: "We advise our clients to scrutinise, in particular, fixed-income benchmarks, because they suffer from a number of significant shortcomings. Their exposure to the financial sector is something our clients have been aware of for some time, so the developments in the Italian banking sector therefore do not come as a surprise."
"We're seeing our clients making more allocations to Dutch mortgages now. They can profit from somewhat higher yields than comparable debt instruments because of the demand for mortgages"
Maarten Thomassen
In relation to Brexit, he says clients are hesitant about increasing exposure to the UK, especially in real estate and currency.
ABP, however, was prepared for possible market turbulence after the UK referendum result. "We made sure that the available liquidity in the portfolio was sufficient to handle severe exchange rate and interest rate movements," says a spokesman for ABP. "And Brexit may well affect security selection going forward." 
Tom Steenkamp, head of investment research at Robeco, says: "So far, Brexit and the banking crisis have not led to large reallocations. But, people are looking at currency hedges, and most pension funds have high currency hedges, 90 to 100%. So if you believe Europe is in trouble, you reduce European exposure, raise exposure to the US or Asia and increase your currency hedge."
He says both the best and worst returns for Dutch pension funds are being made in fixed income. 
"Coverage ratios are depressed because of lower interest rates, so that is a clear negative," he says. "On the other hand, Dutch pension funds have pretty high interest rate hedges in place, so it could have been a lot worse. It has not been a negative year in financial markets, with stock markets, bonds and credits all up."
For ABP, interest rate hedging provided its biggest returns in both the first half of 2016. The level of interest rate hedging based on market values for the five biggest Dutch funds is roughly between 25%–50%, according to Aon Hewitt.
In addition to uncertainty over the UK and Italy, there is the debate over the future direction of interest rates.
Iglesias del Sol says: "Most pension funds feel that current interest rates are close to the minimum level that can be economically justified. That means many feel interest rate risks have become asymmetrical in nature, where currently the downside is much smaller than the potential upside." 
But adds: "At the same time, current ECB purchase programmes – which could even be expanded – mean it is unlikely that (risk-free) interest rates will increase substantially any time soon."
Blaszczyk says: "The picture is mixed, but on average we are seeing more investors who are concerned by potential interest rate hikes by the US Fed. This has led some to look at alternative fixed income solutions which offer immunity against interest rate hikes."
Looking ahead, Iglesias del Sol says: "Over the next 12 months, we expect an ongoing search for yield, especially in alternative credits and in real estate. We also expect pension funds to shift their attention towards downside risk protection as the current economic cycle matures."
Steenkamp predicts: "We are becoming more and more certain that the fixed income space will not make good returns in the near future."
And warns that the rules brought in two years ago to control risk, coupled with weakened coverage ratios, mean that if clients reduce their interest rate hedge, they have to reduce risk in another part of the portfolio. 
He says: "Clients are stuck between a rock and a hard place. They could lower their exposure to equities, but expected returns in that asset class look slightly better than for fixed income, so they might not want to." 
Alternatively, he says, if they were concerned about Brexit or Italy, they could reduce the currency hedge.
"But then if they add risk they need to compensate, so maybe – again – they'd need to lower their allocation to equities," he cautions. "And would this strategy be wise in current circumstances?"
Meanwhile, PME, the €44bn scheme for the metal and electro-technical engineering sectors, is paying close attention to the European Market Infrastructure Regulation.
Marcel Andringa, executive director asset management, PME, says: "The central clearing directives might lead to adjustments to cash management (for variation margin) and to the composition of the bond portfolio (for initial margin)."
The five biggest Dutch pension funds
The five biggest Dutch pension funds – ABP, PFZW, PMT, PME and BpfBOUW – by virtue of their size, have more investment options open to them than for their smaller peers. 
Allocations to alternatives such as hedge funds and private equity are possible because the biggest have the resources for research and monitoring.
Illiquid assets such as real estate – averaging around 10% of Big Five portfolios – and, increasingly, infrastructure, are accessible to them, unlike with smaller pension funds.
However, recent activity has involved more liquid assets. For example, during 2016 PME has allocated high yield corporate bonds to European and Asian equities, while shifting away from government bonds to investment grade corporate bonds.
Marcel Andringa, executive director asset management, PME, says: "Government bonds yielded the best returns in 2016, because of the further fall in interest rates, and they now yield at a very negative swap spread. PME has included corporate bonds and mortgages in the matching portfolio, to keep its yield in line with liabilities."
At 30 June 2016, the matching portfolio made up 51% of total assets, compared with 47% at 31 December 2015.
However, size means more visibility, and so ESG investing is arguably a necessity. 
For example, in line with its new responsible investment policy, ABP will be increasing its exposure to sustainable investments and lowering its CO2 footprint, while seeking engagement and making active use of shareholder rights and contributing to the standardisation of policies.
The bigger funds are looking at ESG across all asset classes, not just equities, and inclusion rather than just exclusion.
"There is increasing social awareness and a need for pension funds to represent people who have a pension," says Tom Steenkamp, head of investment research at Robeco. "There is demand both from pension committees and members to invest members' money in the right kind of causes."