Some Dutch pension funds are increasing their risk proile this year, according to Daniel Ben-Ami
At a glance
• Some Dutch funds are increasing their risk profile in 2016.
• The regulatory framework has a strong influence over asset allocation, as does internal governance.
• The low-interest-rate environment is pushing pension funds to look for new sources of yield such as mortgages.
There were large differences in the performance of individual Dutch pension funds in 2015, depending on their asset allocation policy, according to Willis Towers Watson. The main drivers were positive returns on developed markets equities, real estate (both listed and non-listed) and private equity. Some alternative credit markets, such as asset backed securities and Dutch mortgages, also performed well.
However, the hedging of interest rate and foreign currency exposure was of limited benefit last year. Meanwhile, investments in emerging markets were hurt by depreciation of the local currencies.
Many funds increased their risk profile for 2016 in response to last year's relaxation in the requirement for pension funds to meet their solvency levels. They are increasing their weighting to return-seeking assets or lowering their interest rate hedge. In some cases both.
The implications of easy monetary environment are still haunting the industry. "Liabilities went through the roof and investments couldn't keep up with them," says Roland van den Brink, now an independent consultant at TrigNum and formerly chief investment officer at both MN Services and PME. "The system of buffers meant that most pension funds have a problem."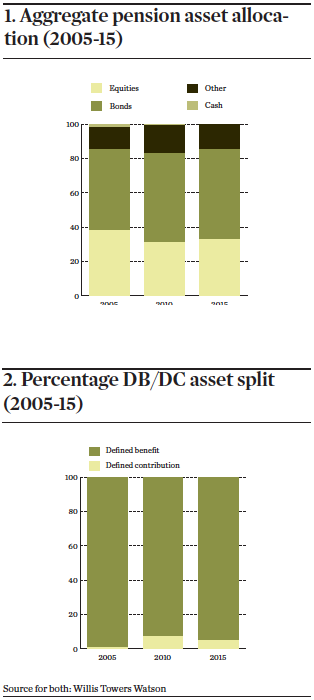 In international terms, the system is heavily weighted towards fixed income. The average allocation last year was 52% in bonds, 33% in equities and 15% in others according to Willis Towers Watson (see figure 1). This has changed little recently despite the dramatic consolidation of funds and turbulent market conditions faced by the pension sector.
Pension funds divide their portfolios into two: a matching portfolio designed to meet liabilities and a growth portfolio consigned to achieve capital growth. The arrangement can be informal but sometimes funds are officially split into two.
In any case, low interest rates pose the primary difficulty for the pensions industry. "It is the challenge," says Hein Stam, director of investment strategy at MN, the asset manager for the large metal schemes PME and PMT.
With bonds yields low – indeed many are currently negative in real terms – funds are looking elsewhere for income. This conundrum explains why pension funds are looking at alternative investments such as real estate and infrastructure. The hope is that they can tap into the illiquidity premia to boost income.
Some funds have taken the step of entering into the mortgage business as a way of tackling this dilemma. "Mortgages are now an integral part of what funds have in their matching portfolio," says MN's Stam. In addition to investing in mortgage funds some have set up vehicles known as 'regiepartijen' to offer mortgages directly to selected customers. These accounted for about 22% of mortgage origination in the second half of 2015, according to a survey by IG&H Consultants.
Given the Dutch pension funds' reputation for strictly monitoring costs, it is unsurprising that much of their equity exposure is achieved through passive funds. However, in recent years some of this money has shifted to alternative beta rather than market-weighted portfolios. "A lot of pension fund and fiduciary managers are either thinking about it, or using it," says Jan Bertus-Molenkamp, director of fiduciary management at Kempen Capital Management.
Approaches to beta investing vary. Some are positive in the sense of seeking to add value to their portfolios, while others seek to avoid factors they do not like.
Environmental, social and governance (ESG) concerns have also become prominent recently. Dutch pension funds' fiduciary responsibility extends not just to providing a decent return but to pursuing principles in line with their investors. "Very much driven by the public at large", says Monique Donders, the head of institutional client business for Benelux at BlackRock, one of the largest foreign asset managers in the Netherlands. She adds that it is also in line with the funds' own concerns: "It is their responsibility, deeply felt, that with the huge amount of money they are responsible for to make this world a better place."
Approaches to ESG differ. Many funds avoid investments that are deemed unethical such as nuclear power, controversial weapons and human rights violations. Others seek ways to create a positive long-term impact with their investments.
However, Dutch funds eschew diversified growth funds of the type that have recently gained so much popularity in the UK. There seems to be a presumption that this would add an unnecessary additional layer of costs. In addition, there is resistance to the perceived loss of control it would suggest.
"In the Netherlands, you could say that the risk-seeking part in the pension fund allocation is like a diversified growth fund itself," says Kempen's Molenkamp. "But, it is all customised."
So far this article has generalised about the situation of Dutch pension funds. But clearly there are differences between disparate funds.
One important cleavage is regarding fund size. For example, large funds are generally better able to invest in more specialist asset classes. Carl Kool, an investment strategist at BlackRock points out that illiquid assets entail an extra governance burden. As a result "they are easier for larger funds to do than smaller ones."
Another key distinction relates to the mean age of pension scheme members. The more mature a scheme the shorter the duration of its liabilities and the more risk averse its strategy.
Of course none of these trends are fixed. Changing market conditions could alter the environment, particularly rising interest rates, as could regulatory pressure. As things stand the latter looks more likely to have a short-term impact.
TrigNum's van den Brink, says that the key shift is the change to a system where pension funds are considered professional financial institutions. "The implications are that in many funds all steps of the investment process are defined in procedures," he says. "In practice, this implies that such funds have to follow dozens of procedures. That is an important shift as in the past decisions were taken on the basis of trust instead of mistrust."
He gives an example of an investment department that is considering whether emerging markets are attractive. It has to consult with both internal and external risk managers to see whether it can even start to analyse the implications of such a move. It can only proceed if approval is given.
"The way of working has thoroughly changed," he says. "This is having an impact on job satisfaction and thus investment behaviour."
It seems that the only certainty in relation to Dutch pensions is that tensions will be resolved under the 'polder model' of compromise between employers, unions and government. No one will get everything they want, but everyone should get something.
The changing face of Dutch pensions
Daniel Ben-Ami
The Netherlands has remained committed to defined benefit (DB) and some 95% of pensions assets were still in DB assets in 2015, according to Willis Towers Watson.
Perhaps, it would be more accurate to call them DB-like rather than DB. Jaap van Dam, the head of investment strategy at PGGM, points out that "promises to beneficiaries are not carved in stone." There have been cases where weak pension funds have had to cut benefits.
In any event, the Dutch central bank, De Nederlandsche Bank (DNB), requires funds to have a funding ratio (assets to liabilities over a 12-month average) of about 105%. In addition, funds must have sufficient buffers to deal with risks including those related to equities, interest rates, currency and credit. For most Dutch funds the required funding ratio is between 110% and 120%.
Under such circumstances, it is not surprising that the primary focus is meeting their liabilities. Carl Kool, an investment strategist at BlackRock, points out that the Dutch regulator has a strong influence on asset allocation policy. The financial assessment framework (financiel toetsingskader FTK), first implemented in 2007 but updated last year, helps account for the difficult time that pension funds have suffered since the financial crisis of 2008-09.
The value of equity buffers plummeted in the crisis, although they have generally recovered. More importantly, the period of low interest rates has meant that liabilities have soared.
Pensions In The Netherlands: Sailing into rough waters
1

2

3

4

Currently reading

Asset Allocation: Seeking greater risk

5

6

7

8

9