General Pension Fund: The march of the insurers
The new general pension fund vehicle provides an opportunity for insurers to enter the occupational pensions market and could bring the two sectors closer together. Leen Preesman reports
At a glance
• The new general pension fund (APF) represents an opportunity for Dutch insurers.
• The vehicle will be subject to FTK rules and must retain an independent board. It will be able to offer multiple schemes across different sectors.
• The number of pension funds could reduce to well below 200 as a result of the APF.
It was initially hailed as the solution for small pension funds seeking cost reductions and improved governance while retaining a degree of independence and solidarity between participants. Co-operation within the new general pension fund – known as the algemeen pensioenfonds or APF – was intended to accommodate the needs of schemes that did not want to liquidate or join an insurer on disadvantageous terms.
However, things were looking quite different when Parliament approved the legal proposals at the end of 2015. Rather than pension funds grabbing the opportunity of clustering for mutual benefit, insurers have taken the initiative. Any entity can establish an APF – if approved by the regulator, the De Nederlansche Bank (DNB) – and the insurance sector is leading the pack.
Five APFs have been announced or set up by insurers. Achmea Centraal Beheer, ASR and Delta Lloyd have said they will set up an APF. As will Aegon and NN Investment Partners in a co-operation with their subsidiaries TKP and AZL.
In the pensions industry, PGGM, the provider and asset manager for the €161bn healthcare scheme PFZW has announced an APF. Unilever is working on one APF for its pension funds, Progress and Forward. Plans for an APF to accommodate funds in the financial sector have not yet generated a concrete proposal. The schemes involved are understood to be assessing the growing number of APFs.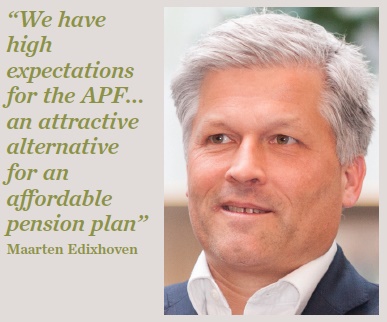 "Many pension funds have indicated they are interested in participating in an APF, but we haven't noticed any concrete steps," says Wichert Hoekert, senior consultant for retirement solutions at Willis Towers Watson . "Joining an APF is a big decision, and also quite complicated because of issues such as value transfer and differing funding ratios. Moreover, keeping their own identity is important. And personal interests of board and management also play a role."
Hans Rutten, chief broking officer at Aon Hewitt , adds: "Why should small company schemes bother about setting up an APF if they can link up with an existing vehicle established by an insurer."
"Why should small company schemes bother about setting up an APF if they can link up with an existing vehicle established by an insurer?"
Hans Rutten
In Hoekert's opinion, it is too early to conclude that pension funds will gain from the economies of scale of the new APF. Rutten notes that the administrators, asset managers and re-insurers connected with an APF's founder will initially benefit as the general pension fund must buy the founding company's services. "However, once contracts expire the APF's board can leave for another provider," he points out.
The APF also represents an important opportunity for pension insurers because their offerings have become unattractive to employers owing to low interest rates. As a consequence, companies have opted for short-term contracts for guaranteed pension rights and the market for full insurance buyouts has stalled. At least one insurer – Achmea – has announced that it will cease offering insured pension plans and focus on APF business.
Insurers may now offer the conversion of expiring pension contracts into an APF with the advantage that the general pension fund is subject to the financial assessment framework (FTK), which allows for rights cuts.
"We have high expectations for the APF," comments Maarten Edixhoven, director of pensions at Aegon. "We expect that approximately 130 of the remaining 300 pension funds will take the decision to liquidate over the coming years. The APF is an attractive alternative for an affordable pension plan."
However, Edixhoven denies that the new vehicle is a lifeline for insurers. "Last year, we were able to keep 90% of our large clients, 60% of whom had a contract for guaranteed pensions. The remaining 40% had their pension plan placed with us under defined contribution arrangements in our PPI vehicles. And this category is growing fast. The APF is a valuable additional dish on our menu that allows employers and workers to choose the solution that suits them best."
The APF also forces insurers to operate efficiently. Whereas they can jointly benefit from returns on investments for insured pension plans, under the APF they can only make a profit from service provision. The entities in an APF remain independent as the vehicle operates as a foundation. "This means that the APF board could decide to move pension provision or asset management elsewhere," notes Hoekert. "It will depend on the ties with the founding organisation [as to] how APFs are going to manifest themselves."
In his opinion, the way exit policies are shaped for pension funds that wish to leave an APF, or for APFs that wish to switch providers, is a key factor. "Pension funds that want to link up with an APF must already take exit conditions into account during the connection phase," he stresses.
Both Hoekert and Rutten contend the APF will bring the pensions and insurance sectors closer together. Hoekert says: "The insurers' providers are to implement contracts subject to the FTK, the supervisory regime for pension funds. The insurance industry will depend on the pensions sector as pension funds still have the option of joining another scheme or establishing their own APF."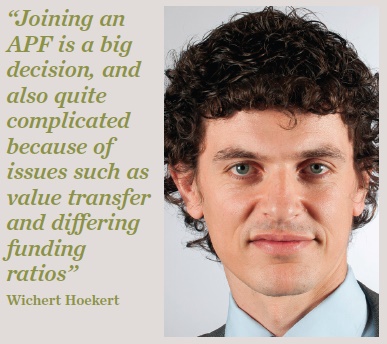 In the view of Edixhoven, the traditional lines between pension funds and insurers started to fade with the introduction of the low-cost defined contribution vehicle PPI. "Back then, asset managers and providers of large pension funds started co-operating with insurers and banks through the new vehicle. The APF has just accelerated this process," he argues.
He also expects the dividing lines between pension funds and insurers to continue to disappear once the large mandatory sector pension funds are allowed to establish an APF or to participate in one. The Pensions Federation is lobbying parliament to have this added to the APF legislation. For this reason, the federation declined to comment on the new vehicle.
Edixhoven does not accept that the accent for pensions provision has shifted away from funds to commercial players. "As new parties have entered the market the diversity has increased and the playing field has changed as a consequence. The general pension fund is a new and low-cost alternative for small pension funds and employers. But every APF still needs the services of an asset manager and a pensions provider."
However, Erik Lutjens, professor of pension law at Amsterdam's Free University (VU), is not convinced the APF will bring the pensions and insurance sectors closer together. "Regular pension funds and insurers operating an APF will remain separate entities, subject to different legislation, the Pension Acts and the financial supervision act Wft respectively," he argues.
He does not expect the APF to slow pension funds moving to Belgium, as they are permitted under the IORP Directive. "This is a different route favoured by multinational firms. Dutch company schemes in bad weather will prefer joining an APF," he says in qualification. Hoekert agrees: "Cross-border moves are predominantly triggered by the strict rules of the new financial assessment framework, and less by costs. And the FTK will also apply to the APF," he argues. 
What the general pension fund means for the Netherlands
Leen Preesman
The general pension fund, or algemeen pensioenfonds (APF) is a new type of pension fund, in addition to company schemes, industry-wide schemes and occupational schemes for specific professions. The APF offers the social partners of employers and workers the option to jointly operate differing pension plans – even across sectors – under a single and independent board.
The APF enables smaller pension funds to achieve cost reductions through economies of scale, whilst retaining their own identity.
Anyone may establish an APF, once a licence from the regulator, De Nederlansche Bank (DNB) is granted. 
Assets must be kept separate within the vehicle and the board must ensure a balanced policy towards all participating entities, subject to a single supervisory board. Every compartment has a stakeholder body (belanghebbendenorgaan) consisting of social partners and pensioners. It has a say in decisions about investments, indexation and contributions.
The new vehicle cannot be deployed for cross-border pension arrangements and may not accommodate mandatory industry-wide schemes as current legislation does not allow them to ring-fence their assets.
The pensions sector had requested the government devise a new vehicle for occupational pension funds. Many smaller schemes have signalled a desire to join a larger pension fund due to high costs, a decreasing number of participants or difficulties in finding board members able to meet the requirements set by the DNB.
The APF replaces the multi-company scheme (multi-OPF), in which pension funds could work together with ring-fenced assets. 
It also replaces the API, a defined benefit scheme to provide for cross-border plans. The concept was abandoned before it could take off.