Finland Asset Allocation: The hunt for alternatives
Some pension funds are looking to increase exposure to alternative credit but an ageing population is a concern for the likes of VER, says Reeta Paakkinen
At a glance
• Some Finnish pension funds are planning to increase their exposure to alternative asset classes, particularly to private credit.
• Exposure to bonds is also likely to fall from the current market average of 42.7%.
• Property is also seen as another attractive investment target. 
• The minimum retirement age will be raised by to 65 by 2025 and then linked to life expectancy.
• A working group is also discussing regulatory reform for the pensions industry.
The State Pension Fund (VER) of Finland is planning to increase its exposure to alternative asset classes in the medium term, according to CEO Timo Viherkenttä. The exact details of the increased exposure have not yet been determined but, according to Viherkenttä, the fund is looking to increase its private credit investments.
"We are now analysing the direction we will take," he says. "Changing exposure within the alternatives portfolio will take some time. There is demand for corporate funding from sources other than banks. The return potential of private credit is somewhat similar to the return of bank loans. Our plan is also to reduce exposure to bonds and grow our equity portfolio. Government bonds do not really have notable return potential right now. But this move we need to do very carefully and at the right time." 
The exposure to alternatives will be increased, but not doubled, as regulations do not really permit this, Viherkenttä points out. VER is subject to a different set of investment rules to occupational second pillar mutual pension insurance companies and corporate pension funds, permitting slightly higher exposure to equities, for instance.
VER's portfolio is invested in bonds (49.5%), equities (39.5%) and alternatives (10.6%). The portfolio returned 5.5% overall over the first half of 2015, with alternatives yielding 2.7%. The bond portfolio returned 0.5% and equities 13.3%.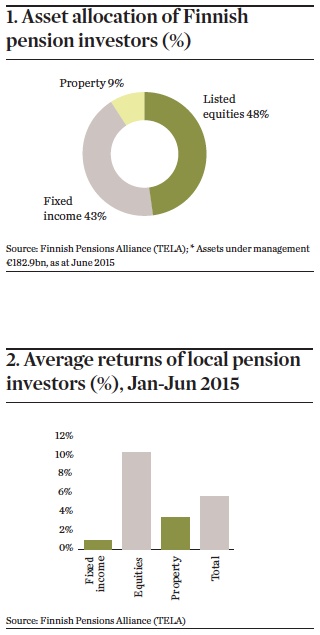 At the €242m Verso Pension fund for the forestry sector, private credit is also seen as an attractive investment target. Pasi Strömberg, managing director, says over the first half of 2015 private credit yielded particularly good returns for Verso. "Returns from high yield and credit risk, on the other hand, were, in general, marginal," he adds. 
"High yield is now the central source of return and risk in our portfolio. It has weaker liquidity but so far it has fitted in our way to invest. We have had a long-term patient view and keep liquidity up in the portfolio in other ways. However, in about two to three years we will replace high yield and credit risk in our portfolio with private credit investments."
Verso's portfolio is invested in bonds (42%), equities (27%), property (18%), money markets (10%) and private equity (3%). The fund does not have a separate alternatives portfolio. Its exposure to equities is slightly lower than the average Finnish pension investor's, but its property portfolio is larger than other funds. "There is quite a lot of high yield in our bond portfolio so replacing it won't happen overnight. Whatever replaces it, however, will have a notable role in our portfolio. We are going to make some very targeted choices in this regard," Strömberg adds.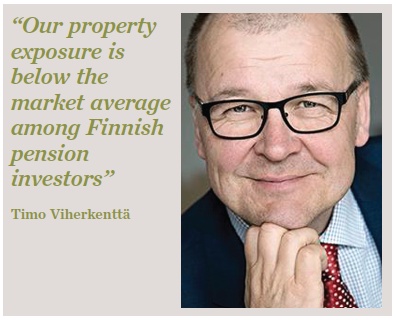 Another area of focus for Verso in the coming 12 months is property investments. In the past two years, the fund has developed these holdings considerably and made three new investments this year. "Combined these projects, an investment of €18m in total, is a massive thing for a fund which manages €242m," says Strömberg. Verso's, and property portfolio is now worth €42m. The first target was a care home for private health-care chain Mehiläinen in the town of Lahti, which is expected to be complete in 2017. Another is a commercial property and the third, a residential project. 
"There is a big turnaround taking place in our property investments," says Strömberg. "Our aim is to exit from some of our investments. These three required a lot of capital, which we will get from selling our other properties. We are growing also our indirect property investments in the medium term." 
VER's approach to property is different because of regulations covering the state fund, which do not permit direct property. "Currently our property exposure is below the market average among Finnish pension investors and, looking forward, this may be acceptable as property prices are rather high at the moment," says Viherkenttä. "Yields in prime locations have started approaching yields of bonds. The main challenge in investments in general is high prices despite the market correction in August. Bonds are expensive, but so are equities. An investor has to place money in something, potential is limited, and volatility has risen."
VER's equity exposure is fairly evenly invested across geographical regions but the fund is looking to increase its US equity exposure with a long-term view. Viherkenttä notes that the euro-zone economy has been performing surprisingly well, with the exception of Finland. "It will take time for the Finnish economy to pick up," he says. "There is a long way ahead. But we should also note that VER has large investments in Finnish-owned companies which operate overseas and are not notably exposed to the domestic economy."
In Viherkenttä's view, the greatest potential in emerging markets lies in countries that do not rely greatly on raw material production. "While both developed and emerging raw material producing countries that import to China are now facing trouble, the situation in some emerging markets is not the same. India, for example, is benefiting from the situation considerably."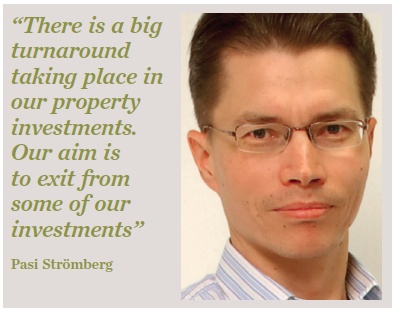 In 2017, Finland will introduce a pension reform that will increase the minimum retirement age from to 65 years from the current 63. The grounds on which pensions are determined at different ages will become more unified and the minimum age from which the pension begins to accrue will be lowered to 17. The minimum retirement age will be raised by two years to 65 by 2025, from when the retirement age will be linked to life expectancy. As a result of the reform, a new pension type will be introduced – the so-called years-of-service pension. People who have worked for a long period in strenuous and tiring work may be eligible for this pension. The reform aims to stabilise the pension insurance contributions far into the future.
Viherkenttä emphasises that Finland is ageing more rapidly than many other EU member states. "We are facing a demographic problem here sooner," he says, pointing out that VER will this year transfer an additional €500m to fund state pensions. "There is no way this sum could be balanced with investment returns or pension contributions because state pension expenditure keeps on growing as people retire and the number of state employees is being reduced."
There are currently fewer than 80,000 state employees; whereas in the 1990s there were about 200,000. Large pension funds like the State Railways and Finnish Post have been dismantled and the portfolios transferred to mutual pension insurance companies in recent years.
"So both this year and more regularly in the future, we are transferring more funds than our investments can yield returns," Viherkenttä says. "Our negative balance is growing and has a direct effect on the structure of our portfolio. In this regard, the state acted with delay – at municipal pensions the negative balance issue is not this serious, but it will affect them later too. Ageing is the problem of the whole country. The possible solutions to this are immigration and increasing birth rate," he says.
How will the 2017 reform affect the Finnish pension industry?
Managing director of Finland's Pension Funds Association, Timo Toropainen, says it is researching and analysing how the 2017 reform will affect members, the Finnish statutory company pension funds and industry-wide pension funds . 
"We are also involved in the Ministry of Social Affairs and Health working group, which is discussing regulatory reform for the pensions industry and, as a part of a total renewal of legislation, rules on transferring assets and liabilities from pension insurance to pension funds and vice versa," Toropainen says. 
The ministry's working group was supposed to complete its work and publish recommendations in June 2015, but its deadline has now been extended to January 2016. 
"Already in 2003 it was said publicly that the regulatory framework on transferable assets and establishing and dissolving pension funds favour mutual pension insurance companies and hamper fair competition between different pension providers," Toropainen continues. Rules on transfer of assets and liabilities should be the same for both pension funds and mutual insurance companies to ensure healthy competition between these two alternatives and, thereby, diversification of options for pension savers. 
"The number of pension funds has been reducing continuously over the past decade. Even the number of companies offering pension insurance is also being reduced by mergers. 
"So actually there are increasingly fewer alternatives. Next year, hopefully, we will see some development in this issue."