Sweden: Calm before the storm
From action on climate change to property, Sweden's AP funds are not sitting still, even if the precise details of a planned overhaul are unknown. Reeta Paakkinen reports
At a glance
• The number of AP buffer funds is set to shrink but precise details are still unclear.
• AP7, which manages the default option for the Premium Pension System, is unaffected.
• The buffer funds are taking an active stance on environmental portfolio management.
The four AP buffer funds, AP funds 1-4, are subject to organisational uncertainty as they await the final details of a major restructuring that envisages a reduction in the number of funds, with AP2 and AP6 being merged to specialise in unlisted assets and the remaining three funds reducing in number to two. Given the uncertain investment environment, the buffer funds have opted for a wait-and-see approach in their portfolio management for the remainder of 2015.
As the SEK261bn (€28bn) default fund for the PPM supplementary pension system, AP7 is not going to be reorganised. Nevertheless, it is also taking a cautious approach. "Investors are waiting for clearer signals on the direction global economy is taking," says Richard Gröttheim, CEO of AP7, who expects volatility in financial markets to continue for the rest of the year. The slowdown in the Chinese market is one thing, but the uncertainty over why the US Federal Reserve did not hike interest rates in September is another, he says
"We do not intend to change our asset allocation at this point," Gröttheim says. "The main thing we have done this year in our equity portfolio was to scale down our leverage from 50% to 25%. This we did as indicators in stock markets signalled that the likelihood for a continuation of growth was smaller than the likelihood of a slowdown. But even this took place in April already."
Of the six AP funds, AP7 pulled the best returns over the first half of 2015, 9.8% in total. Over the same period Sweden's premium pension funds returned 8.3% on average. 
AP3's portfolio of SEK304bn (€32.5bn) recorded the second highest total returns over the first half of 2015, with 6.4%. The fund has invested 47.6% of its assets in equities and returned 6.2% over the first half of 2015. European bourses were the strongest performers, gaining 20.4% in local currency terms. They were followed by Japanese equities, which rose 16%. The Swedish equity market was up 9.1% for the period. The North American market, on the other hand, put in a weak performance and shares there rose by only 2%. Concern about developments in Greece, China and Russia had a negative impact on market sentiment.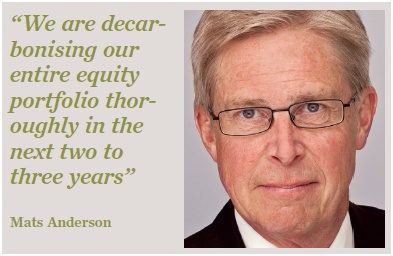 "Our results show how important competence in asset management is for the pensions system. If we had chosen passive index management for the whole portfolio we would have lost more than SEK7bn (€748m) just during the first half of this year," says Kerstin Hessius, CEO of AP3. 
The fund has recently analysed the carbon footprint of its listed shareholdings, properties and forestry and found its holdings are nearly carbon-neutral. AP3's policy is to divest its investments in companies active in the coal and consumable fuels sector. 
AP4 has also taken an active stance on environmentally friendly portfolio management whilst maintaining a wait-and-see approach. "We are not going to make any changes in our asset allocation now, but we are decarbonising our entire equity portfolio thoroughly in the next two to three years," says AP4's CEO, Mats Anderson. "Within a year we will start looking at other asset classes where we could place funds. These could be private credit and real estate, even though we have already done something in that field." AP4 is also expecting to look at its private equity holdings.
In line with its active stance on ESG questions, in September AP4 called on nine large listed companies to review their membership of lobbying groups that seek to undermine EU climate policy, in coalition with 25 other institutional investors. They included pension funds, trusts and foundations from three different continents, with assets worth more than €61bn, such as Boston Common Asset Management and the UK's Pensions Trust. Recipients of the letter included, among others, BP, Glencore, Statoil and Procter & Gamble.
"It is important that investors put pressure on companies which are financing associations seeking to undermine climate legislation," noted Arne Lööw, head of corporate governance at AP4, in a statement. "We encourage companies to withdraw from associations which have lobbied in ways that seem inconsistent with the companies' own statements on climate action."
AP2 will in future be dedicated to unlisted assets together and will merge with the domestic private equity focused AP6. In 2014 AP2 started an overhaul of its investment strategy, which resulted in significantly higher exposure to emerging markets, managed by its in-house team rather than external managers. The fund also expanded its Chinese equity holdings, adding some €175.5m to its then existing portfolio. Currently some 47% of its portfolio is invested in equities, 34% in fixed income and 19% in alternatives. Over the first half of 2015, AP2's return stood at 5.2%. Swedish equities had the best returns within the portfolio (11.5%), followed by foreign equities (9.5%), and emerging market equities (8.6%). 
Eva Halvarsson, CEO, notes that AP2 has maintained its strategy of managing an ever greater share of its assets in-house by taking responsibility for the management of global credit. On the other hand, the €32.8bn fund also points out that financial markets experienced turbulence deriving mainly from anxiety over China's growth prospects immediately following the publication of the half-year returns. "So far, these factors have occasioned no changes in the fund's portfolios. AP2's long term strategy, based on a well-diversified portfolio, remains unchanged." 
The main new development at AP2 has been a new property investment vehicle it launched in September with AP1 in co-operation with the US financial services provider TIAA-CREF. The new vehicle, Cityhold Office Partnership, targets core office opportunities across Europe with a focus on low-risk, liquid markets like London, Paris, Hamburg, Munich, Berlin and Frankfurt. The aim is to build a €4bn-plus office portfolio. According to AP1's CEO, Johan Magnusson,
Over the first half of 2015, AP1's SEK296bn (€31.6bn) portfolio returned 5%. "In AP1's portfolio we see a solid performance for our equities and a weak one for bonds," says AP1's CEO Johan Magnusson. "In the first six months of the year, some of our investments broke new ground. For example, we carried out an initial infrastructure investment by purchasing, as part of a consortium, electricity distribution company Ellevio from Fortum," Magnusson concluded.