How are Sweden's largest pension providers managing their assets?
Alecta: engaged and concentrated
● Sweden's largest occupational pension provider
● Split between DB plan (over 90% of total assets) and a growing DC plan
Alecta, the largest occupational pension provider in Sweden, runs two schemes. The defined benefit (DB) scheme, which comprises over 90% of assets, is now in a long-term run-off phase, with a fixed income asset allocation of 50%. The largest share of the fast-growing defined contribution (DC) scheme is devoted to equities, at 66%.
Unusually, the equity portions of the portfolios are highly concentrated – overall, they contain directly held shares in about 100 companies in Sweden (43% in value), the rest of Europe (34%) and the US (23%).
Alecta is an active and engaged shareholder, focusing on the analysis of individual shares rather than the risk premia-based strategies favoured by some of its peers. It says investments must have a scale and terms that fit its risk and cost-efficiency profile.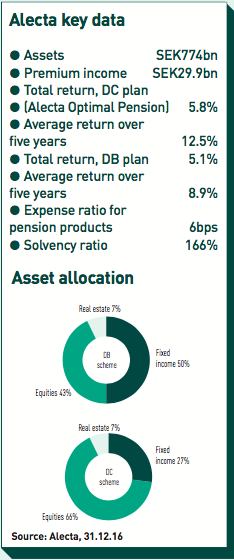 Alecta's main change in asset allocation over the past year has been to scale down its foreign real estate exposure through the sale of its entire US and UK direct real estate.
In terms of interest rate risk, the pensions provider considers there is a greater probability of higher rates than of lower. Tony Persson, acting head of investment management at Alecta. says: "As the global economy is gradually closing the output gap it seems reasonable to expect price pressure to increase and, on the back of that, rates to go higher. On other hand, the long solid growth recovery since the financial crisis will eventually end. The timing of the scenarios will drive the rate dynamics."
However, he says Alecta's asset allocation is not affected by geopolitical risks such as Brexit or the situation in Spain: "On the contrary, at an asset-specific level, geopolitical risk can sometimes create good opportunities to buy."
AMF: sustainability equity benchmark
● Non-Swedish equities now benchmarked to an MSCI ESG index
● Emphasises risk spread
AMF provides occupational pensions for both Swedish individuals and corporate markets. Most of its customers are employees in private business with collective agreements. All of its products are offered either as traditional insurance or as unit-linked insurance.
At end-December 2016, equities formed the largest segment of its portfolio, with a 45% weighting. Swedish equities made up 42% of the equity portfolio and 34% in North America.
The overall first-half return for 2017 was 4.2%, with 6.1% for equities and 10.6% for Swedish equities.
Foreign equity holdings are primarily in developed countries with stable financial systems. Ownership in foreign holding companies is generally lower than in Swedish holding companies, which lessens the possibility of impact.
As of January 2016, the foreign equities in AMF's funds have been benchmarked against the MSCI ESG All Country World index, made up of the best equities from a sustainability perspective. According to its website, AMF also plans to introduce the same sustainability requirements for holdings outside the index.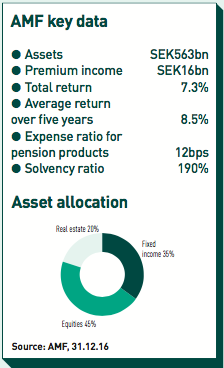 Foreign shares returned 2.8% for the six months to end-June 2017, partly because of the strength of the Swedish krona compared with the US dollar.
Meanwhile, the 35% allocation to fixed income returned 0.4% over the first half of 2017, while real estate – a fifth of the portfolio – returned 5.7 %.
AMF's property exposure is mainly in Stockholm – largely office and commercial properties – and other growth regions in Sweden. It also extends to the capitals of Norway and Finland.
"During the year, the ever brighter global economy continued to consolidate, but at the same time there is reason to recall that political uncertainty can affect both economic and financial markets," says Javiera Ragnartz, asset manager at AMF. "The many question marks and the current low interest rate underline the need for a good spread of risk."
KPA Pension: green bond exposure
● Aims for simplicity in asset allocation
● Greater investment in non-Swedish bonds
KPA Pension, the Swedish local government sector pension fund, strives for a stable asset allocation and a level of risk suitable for its solvency position and the type of product it provides.
But as a relatively small organisation with €16.1bn assets under management, it has to keep things simple.
At end of 2016, 56% of its portfolio was in fixed income, with 36% in equities and 5% in real estate. However, the allocation to real estate and alternative investments has been gradually increased to improve diversification.
Over the past year, KPA has also started to invest in fixed income securities issued outside of Sweden, because the fund's rapid growth has made liquidity more important.
"The Swedish interest rate market is already small, and the central bank buying some 40% of outstanding government bonds for quantitative easing has not made the situation better," says Magnus Karlsson, head of asset-liability modelling at KPA Pension. "We now have some holdings in US dollars, and going forward, might include other currencies as well."
Meanwhile, he says moving into green bonds had resulted in a slight yield pickup. Total return amounted to 6.6% for 2016.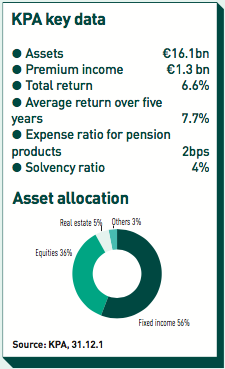 KPA Pension's current holding in green bonds amounts to SEK6bn (€610m), about 4% of its total assets. It is a part of the Folksam Group, whose target level for green bonds is set to reach SEK25bn by 2018, with KPA Pension to hold SEK10bn.
Local investments are also an important part of KPA's strategy, with an SEK400m purchase of Volvo shares last year. "The investment gives our policyholders a good risk-adjusted return, and also the opportunity to become owners of a company with strong ties to Swedish industry," says Karlsson.
KPA's currency exposure comes primarily via its holdings in foreign equities and fixed income, and is actively managed according to its market expectations and desired level of risk.
Karlsson says: "Normally, our unhedged exposure of around 30% would be at least decreased by half. Over the past few years we have mainly held US dollars, while euros and sterling have formed a rather small part."
Sweden's occupational pension system explained
The Swedish state pension is made up of two main elements. Employees pay 16% of their salary into an income-based component financed on a pay-as-you-go system.
There is also a so-called premium pension, built up from 2.5% contributions paid into a personal account in a funded scheme, with a wide range of choice of funds available to the individual.
In addition, there is a means-tested guaranteed pension which benefits those on low incomes.
Occupational pension arrangements in Sweden are extremely standardised, mostly resulting from agreements between employers and trades unions.
There are four different types of collective agreement:
● SAF-LO for private sector blue-collar employees;
● ITP for private-sector white-collar employees;
● KAP-KL for local government employees;
● PA16 for state employees.
Someone who has had jobs covered by different agreements during their working life may have more than one occupational pension.
Employers not party to collective agreements may offer their employees plans on a voluntary basis. These often follow the range and level of benefits provided under ITP.
Over the years, there has been big shift in all four systems from defined benefit (DB) to defined contribution (DC) plans.
SAF-LO and ITP are both DC plans, although within ITP plans, employees born before 1979 are largely covered by DB arrangements.
The PA16 and KAP-KL arrangements are DB plans for older members, but people born after 1988 (PA16) or 1986 (KAP-KL) are in DC plans (this is known as AKAP-PL for the latter).
Some occupational pensions now include a 'flexpension' element at the discretion of the employer, making it easier for employees to work part-time in the years just before retirement age and boost their pension with a smaller salary.
Companies may finance pension benefits by using pension funds, pension insurance or book reserves. Whichever method is used depends on the type of plan involved (ITP or SAF-LO). Sometimes, specific providers must be used as well.
Liability pension insurance is most commonly used for DC arrangements, whilebook reserves and pension funds are most frequently used for DB.
Länsförsäkringar Liv: a menu of risk and return
● Four portfolios with different risk levels
● Takes a macro view on portfolios
Länsförsäkringar Liv's SEK116bn (€11.7bn) of assets is divided into four portfolios:
• New Trad
• Old Trad
• New World
• Insured Pension
Asset allocation in each portfolio is worked out using an ALM framework and internal modelling tool, according to the specific risk capacity for each portfolio.
The SEK84.7bn Old Trad portfolio offers high guarantees, so has a low risk capacity. It is made up overwhelmingly of fixed-income holdings, largely in low-risk bonds.
By contrast, the SEK18bn New Trad portfolio offers lower fees and guarantees, which allows investments in assets with higher expected risk and returns. Fixed income as at end-October 2017 made up just over 60%, with the rest in equities, but the fixed-income portion includes a sizeable percentage of credits, considered to be more efficient than equities in utilising the risk capacity.
Jakob Carlsson, CFO of Länsförsäkringar Liv, says: "We take a macro view with all portfolios.
There is a strong view that diversification is very important, and that alternatives can give extra value."
Changes in asset allocation have been made in the wake of the company's 2016 results, "a bit off target", according to Carlsson.
The New Trad portfolio has been changed to increase returns while, overall, the company has set out clear demarcation lines between itself and investment managers. The latter are solely responsible for long-term returns within the risk budget, while the company focuses on the balance sheet and solvency.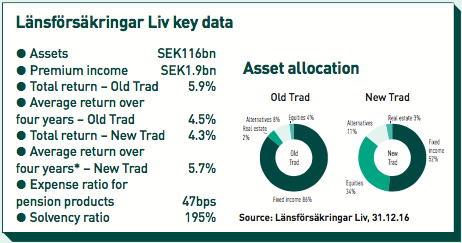 "Clarifying these roles has given the managers more flexibility to create returns and at end-Q3 this year, we were slightly ahead of the competition," says Carlsson.
Geopolitical factors have not prompted Länsförsäkringar Liv to move out of risk assets, but it is cautious about taking on new risk.
All currency risk in the Old Trad portfolio is hedged, as liabilities are only in Swedish krona. However, in its other portfolios, the company considers it prudent to tolerate some currency risk as a diversifier.
Norway: A trillion dollar issue
1

2

3

4

5

6

7

Currently reading

Sweden: Domestic players