Portugal: The Italian play
Portuguese pension funds are continuing to invest in Italian debt despite the fears for Italy's banking sector 
Key points
• Over half of Portuguese occupational pension fund portfolios are invested in debt.
• Peripheral euro-zone government bonds are still being used to boost fixed-income returns.
• The weakness of some Italian banks is seen as more of a problem than Brexit.
Portuguese pension funds are enjoying improved returns, with a bounceback in 2017 after poor performance – mainly in the bond markets – in 2016.
According to Willis Towers Watson , although occupational pension funds made a median return of just 0.2% in the second quarter of 2017, 12-month returns to the end of June were still 2.7%.
The analysis used data from over 100 closed (occupational) pension funds, equal to 80% of the closed market and included the five biggest pension fund managers in the country.
Pension fund portfolios are still dominated by debt, which makes up 51.7% of portfolios (including direct and indirect holdings), according the Portuguese Association of Investment Funds, Pension Funds & Asset Management (APFIPP). The figures cover 88% of the Portuguese pension fund market at end-March. Equities made up 22.8%, and real estate 13.1%, of portfolios.
However, in spite of continuing positive views on equities, managers have been retrenching on this asset class.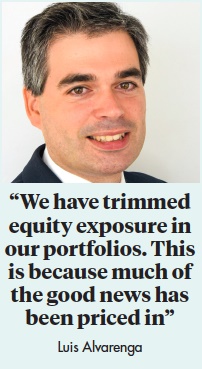 Luis Alvarenga, portfolio manager at BPI Gestão de Activos (BPIGA), says: "After a strong rally in European equity markets in the last 12 months, we have trimmed equity exposure in our portfolios. This is because much of the good news has been priced in. Namely, Europe's political uncertainty has diminished, and corporate earnings and economic growth expectations have rebounded strongly."
He adds: "Given the strong performance of the European economy we have kept a bias to peripheral Europe and domestic sectors, such as banks. However, we have been considering emerging markets' investment case, on the basis of attractive cyclically adjusted P/E [price/earnings] ratios."
In fixed income, he says BPIGA has kept the portfolio with a shorter maturity than the benchmark, avoiding the very long end: "We have favoured credit risk over interest rate risk and still believe that this stance will generate attractive returns going forward."
João Eufrásio, director, head of institutional portfolio management at BMO Global Asset Management Portugal (BMO GAM ), says: "On fixed income, where investors strive for yield, we still find some opportunities domestically, especially within private placements and quasi-sovereign issues. Emerging markets have recently surged as an opportunity and for diversification."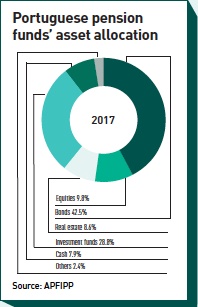 He says BMO GAM continues to be cautious on core markets on a relative basis, and prefers to be overweight credit over government bonds.
But he adds: "On the other hand, we have increased our periphery government bond exposure in selected countries, particularly where growth and public finances are showing real progress, such as Spain and Portugal. The European Central Bank corporate bond buying programme was an opportunity to increase exposure to credit products and benefit from the spread compression, but more recently investment-grade spreads became too expensive and, where possible, a shifting to high yield was performed."
The aftermath of the UK's decision to leave the EU, and the run-up to Brexit itself, do not appear to influence asset allocation decisions.
APFIPP estimates that UK investments represent about 3% of the total assets managed by Portuguese pension funds.
However, José Marques, senior consultant with Willis Towers Watson, says: "There is always concern about the direct or indirect impact of Brexit in the euro-zone economy, and we advise our clients to carry out scenario analysis in order to understand how it could impact their portfolios."
Italian fears
If Brexit is not seen a problem, the perceived weakness of Italian banks is.
"Portuguese pension schemes tend to invest materially in European bonds that provide higher levels of yield, such as Portuguese, Spanish, Italian and Greek," says Marques. "This of course has the downside of higher levels of risk, which is OK as long as schemes are well diversified. But, some pension schemes have material investments in Italian government debt."
He warns: "If markets lose confidence in the Italian economy, yields will rise further and bonds will fall in value, resulting in losses for those pension schemes that are not appropriately diversified."
Eufrásio says: "It is not only the Italian banking system's problems with the huge pile of non-performing loans, but also the political instability and anaemic economic growth which has made us more cautious on Italian assets, and especially government bonds where these situations have led to high volatility and spread widening."
"The positive behaviour of the Portuguese economy could influence the choice of managers"

José Veiga Sarmento
But he adds: "We continue to see value in the long term, particularly buying on dips. We have also scaled back our investment in Italian financials."
However, Alvarenga says that BPIGA is continuing to allocate to Italian government bonds, as it considers that their spread to core euro-zone bonds is still attractive.
He adds: "The general election expected for next year is a relevant risk factor that we monitor, and if spreads do not offer adequate compensation for this risk, we will reduce exposure to the country."
As a whole, Portuguese pension funds have recorded strong returns since 2009, says Marques. However, such performance also has a down side. He observes: "Unfortunately, the same factor that caused bonds to perform strongly – the fall in yields – also caused an increase in liabilities, and hence a deterioration in funding positions. We have seen material contributions on an annual basis from the sponsor companies to make up for deficits that keep arising as a result of liabilities growing more than assets."
Eufrásio says: "We believe that Portuguese bonds continue to be an important source of income and extra return for Portuguese pension funds. Domestic bond market dynamics, with more issuers and greater liquidity, have provided good opportunities over the last 12 months. Longer maturities still provide good carry, as well as capital appreciation potential, while being a good source of liability matching."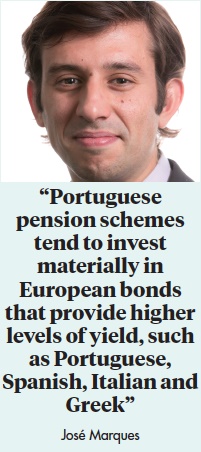 He says that, depending on fund size, the domestic equity market has also been an opportunity, but adds: "However, Portuguese pension funds are well-diversified and have risk and governance best practices in place, which currently means holding a good part of the fund in lower-yield assets providing little or negative carry."
Marques agrees that some clients are diversifying by asset class, geography and credit quality.
But he says: "Most pension schemes are also carrying out some interest-rate and inflation hedging, but it is not being done enough."
Alvarenga says: "Our view has been that current and expected inflation rates and economic growth do not justify core rates at such low levels, so we have a bond portfolio with lower duration risk, and favour inflation-linked bonds as an instrument to protect bond portfolios against inflation."
Looking ahead, Alvarenga sees allocations to emerging and developed economies growing, which he says should keep risk assets supported.
"We would expect yields to rise somewhat on the back of strong economic growth, lower political risk in Europe and ECB action," he adds.
José Veiga Sarmento, chairman of APFIPP, is similarly optimistic: "With good results coming from the euro-zone, it is possible that European equities could be on the agenda," he says. "Also, the positive behaviour of the Portuguese economy could influence the choice of managers."