The Swiss pensions market, traditionally inclined to home bias comprising real estate, equities and fixed income, has not seen its investment approach changed by two financial crises and a strengthening of the Swiss franc against many of its trading partners. Investors remain content with their exposure to domestic holdings, but this approach does bear risks.
"Overall, the asset allocation for Swiss funds has been quite stable over the last 10 years," notes Christoph Lanter, global head of institutional business at Pictet Asset Management. "The only thing that has changed is within the asset classes – from a more active approach to a core-satellite approach, and the core of Swiss assets is highly passive."
At the beginning of 2014, 13.3% of the assets of the average Pensionskasse was invested in domestic equity, according to Credit Suisse's Pensionskassen index, nearly a fifth in property, 7.4% in liquid instruments such as Swiss franc cash holdings and – rising once more after a rapid, three percentage point decline from 29% in early 2009 – domestic fixed income claimed 26.1% of all assets.
At a glance
• Home bias for Swiss pension funds remains with a strong franc and a weak euro resulting in comparatively strong returns from domestic holdings.
• Growth in real estate over past decade has led to a doubling of property holdings, countered by a reduction in domestic fixed income.
• Scrutiny of charges leading to shift towards passive management, as well as a reduction in hedge fund holdings.
• Emerging market investments seen as strategic rather than tactical investments, investors not deterred by recent volatility in a number of markets.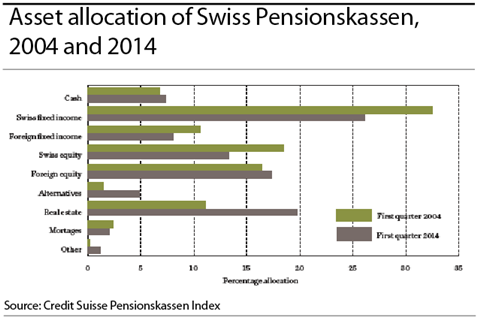 This traditional approach has, on an annualised basis since 2000, returned 2.58%, according to Credit Suisse, marginally below the minimum return target – which, due to repeated reductions, averages 2.61% for the same period.
"In principle, you can say that the home bias is very pronounced," says Thomas Härter, chief strategist at Swisscanto, "And with a naïve examination of the facts, the bias can be fully supported – which is the result of the exchange-rate disaster that is the strong Swiss franc and the extremely weak position of most other currencies."
Härter, nonetheless, argues that, however much the historical returns data might support such a strategy, the emphasis on domestic investment should be changed – and soon. "The return expectations, generally, of Swiss assets are lower than those of foreign assets," he says.
This view is shared by Lanter, who says that local investors cannot be blamed for taking advantage of the returns as they presented themselves in the wake of the crisis. He nevertheless points to the problems of an over-reliance on domestic investments, with 13% of pension assets invested in local equities at the beginning of the year. "With seven stocks you cover 90% of the market capitalisation," he says, by way of illustration.
The emphasis on domestic assets has also seen real estate exposure double to 20% over the past decade. This largely comprises of Swiss holdings, according to figures from the Credit Suisse Pensionskassen index for the first quarter of 2014.
Lanter says the reliance on property stems from the stable and reliable characteristics of its returns, and does not believe it poses great risks: "Despite, all the rumours and fears that there is a bubble building in Switzerland, I think there is very little chance," he comments.
The diversification that is occurring is seeing a push into emerging markets, undeterred by the 'taper tantrum' of early 2014. instigated by the annoucement of QE tapering from the US Federal Reserve. Lanter says that some pension funds are beginning to see these markets as a strategic, rather than tactical, asset class. "They are building, in their search for yield, a position in the markets. That gives them, by definition, a position away from the home bias." The volatility will, if anything, only have led to slight delays in seeding mandates or conducting requests for proposals, he argues.
The biggest hurdle to greater portfolio diversification will be new cost transparency rules championed by the federal pension super-regulator (OAK). Under the rules, the total expense ratio (TER) of a list of collective investment vehicles would need to be disclosed in the fund's annual report.
Christian Wicki, head of strategic investment consulting for institutional clients at Credit Suisse, says this is leading to a drive from some local funds to keep investment costs low and even reduce them, affecting assets such as hedge funds.
Lanter also sees flows away from hedge funds, saying there is currently "bad sentiment" towards the vehicles in Switzerland. "Fund of hedge funds are totally out of fashion. Some will invest in single hedge funds, but only the big pension schemes."
Wicki thinks an even greater emphasis on passive management will emerge from this new cost-conscious approach. "It could be to do with the fact that active management has not been seen to add much in the way of benefits," he admits.
Lanter also sees the shift, and says disappointment with performance is driving the change. "It is mainly driven by consultants – they see all the results and can only recommend that clients should switch to a passive approach because there is a difficulty in achieving alpha."
Indirect decision making
A further change in investment strategy could be triggered by the fallout of the Minder-Initiative, with the law resulting from the referendum requiring Pensionskassen to vote their directly held Swiss shares.
Christian Wicki, head of strategic investment consulting for institutional clients at Credit Suisse sees a change occurring. "The Minder-Initiative could lead to a reduction in direct investments, with an emphasis on indirect – managed either passively or actively – as some will wish to avoid the workload associated with voting shares, which should not be underestimated."
"People are now worried that they could be blamed if something now goes wrong during the vote," adds Thomas Härter, chief strategist at asset manager Swisscanto, "and they therefore no longer want to vote.
"That's, of course, a negative, as it's the opposite of the intended effect of the Minder-Initiative." He predicts an increase in outsourcing of voting decisions, as trustee boards will not wish to take on responsibility for voting.
Despite the potential for retreat into indirectly-owned equity holdings, funds may still not be exempt, as the Federal Ministry for Justice has said that fund vehicles launched by pension schemes will still be required to exercise their rights. Additionally, a number of asset managers already allow for pension funds to make their views known ahead of AGMs, meaning that a specified share of the equity voting power can be used to express any views. Therefore, despite the potential for a shift from direct to indirect holdings, funds may not be spared from an active stance.
At a time when infrastructure has been a topic discussed by foreign governments and pension funds alike, Härter does not believe it will become a major asset class. "It is more the result of very few products existing for direct investment in infrastructure in Switzerland.
One potential growth area could be senior loans, argues Wicki. Indeed, many Swiss funds are already familiar with loans as an asset class, as they lend to their members through mortgages.
"The beauty that you know the clients and the default risk is quite low hasn't compensated for the fact that it is just not the core business," says Lanter, who does believe allocations will grow beyond the 2% average in the Credit Suisse Pensionskassen index.
Lanter also says that, with the banks retreating from lending, the responsibility of lending will fall to others, if not the market as a whole. "The small and medium-sized pension funds, struggle to understand loans – and as soon as
you struggle to understand, you don't want to use it. You just don't want to burn your fingers," he says.
Nevertheless, he sees the larger Swiss pension funds moving into the area. "It's early days in Switzerland," he says, "but its definitely a topic on which you see more and more requests."
Among the barriers to entry to the domestic syndicated loans market he invisages are costs and the level of transparency – similar to the disclosure requirements holding back investments in other alternatives. "You have to pay something to invest, and given the low level of fees for other products, they then compare them and say it's too expensive."
Härter says Swisscanto's consulting arm sees a trend towards senior secured loans. "But, you need a certain minimum size, otherwise you should absolutely not touch it. The question is really, are you able to be a better bank?"