Coverage ratios have improved but riskier investments mean some pension funds are vulnerable to market shocks
Key points
• The capital-weighted coverage ratio of Swiss pension funds was over 106% this August.
• Many pension funds have added risk to achieve a higher funding ratio.
• Expected returns are not able to finance target returns.
• The Complementa Risk Check-up sees conversion rate reductions to 5.4% by 2022.
• Despite positive developments in coverage ratios, pension funds remain vulnerable to market downturns.
Much has changed for Swiss pension funds recently. On the one hand, the investment mix has become more aggressive in order to meet financing requirements, and to avoid benefit cuts. While the changes appear incremental year-on-year, they are striking in a five-year comparison. In addition to an ageing society, interest rates are the main driving factor. Swiss funds have had to deal with low interest rates for longer than pension funds in the rest of Europe.
Swiss pension funds manage assets of CHF800bn (€694bn). The capital-weighted coverage ratio of all pension funds was 104.4% at the end of 2016, rising to 106.8% at the end of August this year. At the end of 2011, the coverage ratio of 96.2% was still below 100%.
Currency benefits
To understand the changes, it is important to be aware of Switzerland's special status. The exchange rate of the Swiss franc to the euro is critical for the economy, but it has an indirect but significant impact on the health of Swiss pension funds.
In January 2015, the Swiss National Bank lifted the CHF/EUR exchange rate floor of 1.20 and simultaneously lowered interest rates to -0.75% to weaken the franc's attractiveness. This negative interest rate level presents pension funds with almost insoluble problems due to the positive financing requirements.
This is the main reason for the shifts in the investment mix of pension funds. To illustrate this point, even 10-year Swiss bond yields have been negative since January 2015, meaning pension funds have been struggling with lower interest rates.
Aggressive investment mix
Here we compare the asset allocation of Swiss pension funds from 2011 with that of 2016. In 2011, more than half of the fixed assets were invested in liquidity (6.3%) and fixed-interest investments (44.0%). Since then, liquidity positions have reduced to 4.3% and fixed-income investments to 37.1%. Although shifts to high yield bonds can be observed within fixed-income investments, these 41.4% of the assets no longer make a significant contribution to long term returns.
The 8.9% of assets freed by these reductions were shifted to higher-risk investments. The equity ratio rose by 4.9% to 30.8%. Positions in real estate and alternative investments also built up. At 9.2%, the proportion of alternatives is higher than ever and the spectrum has widened. With insurance-linked securities and private debt investments, there is strong demand for two subcategories, whose popularity has increased as a result of the negative interest rate.
Constraining shifts
The asset reallocations should still provide a return of 2.3% in the long term. If the asset mix had been maintained in 2011, the return perspective would have slipped below 2.0% and significantly below financing requirements. As the figure shows, however, pension funds have to pay the price of a higher investment risk (dark green line).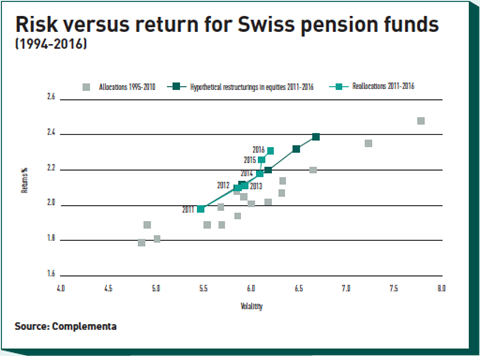 There are further interesting aspects to the figure. Pension funds are not just aiming for an increase in the expected return, they are also using alternative investments and real estate to diversify the portfolio. The light green line marks an alternative path that simulates an increase in the expected return over the last five years, exclusively through an increasing equity allocation. This approach would have increased the yield perspective by an additional tenth to 2.4% but the investment risk would have risen disproportionately.
The second aspect is the comparison of the expected return with the financing requirements of the funds, and the expected return of 2.3% is insufficient to finance expected target returns. Currently, pension capital accrues interest at a value forecast by Complementa to be 1.9%. However, the target return of 2.5% is still 0.6% higher. In addition to administrative costs, which are unavoidable, this is due to expenses for retirement losses. These are costs incurred by pension funds because they convert pension assets into pensions that are too generous.
(Too) high requirements
The statutory minimum conversion rate in Switzerland is 6.8%. If this value is linked to the current mortality figures, it results in an implicit promise of interest of 4.7% before administration costs. This is more than twice as high as the prospective yield of the current investment mix. This illustrates the extent to which the minimum conversion rate differs from reality due to increased life expectancy and lower interest rates.
In a referendum in September 2017 the electorate rejected the AV2020 pension reform package. A reduction of the conversion rate to 6.0% was part of the package. It is speculative whether an isolated reduction of this conversion rate would have found the approval of a majority of people. However, pension funds must continue to apply a conversion rate of 6.8%.
Nevertheless, the conversion rate of 6.8% is only binding for certain assets. At 41.6%, this so-called 'mandatory' portion of assets is smaller than the area in which funds have to manoeuvre. The extra-mandatory portion of 58.4% results from contributions from high earners. This room for manoeuvre is being used to reduce the effective conversion rate. In 2017, the total pension assets (mandatory and supplementary) will be converted at 5.9%. Participants in the Complementa Risk Check-up 2017 indicate that further reductions to a level of 5.4% are planned for 2022.
Redistribution from young to old
Pension funds that lack the scope to shape the extra-mandatory part of their pension plans due to the structure of their memberships cannot implement these reductions. However, other funds – such as multi employer foundations (Sammelstiftungen) – continue to pay actuarially (too) high conversion rates of 6% and higher, resulting in retirement losses. This has a negative effect on the coverage ratio and reduces the interest paid to active members.
Employee pension capital currently bears interest at 2.5%. This is a historic low, which highlights the interest rate gap in Switzerland between active members and pensioners. The average return on pension capital that has been achieved since 2003 in particular due to the low return on the pension capital of those in employment. Although pension funds achieved an average return of 5.1% between 2011 and 2016, the return on this capital in the same period was 1.9% per annum.
Vulnerable to corrections
This disadvantage for active members taints the overall picture, which had brightened recently due to benign financial markets. After a historically low coverage ratio of 91.7% in 2008, value fluctuation reserves have been created. While 34% of all funds were still affected by a shortfall in 2011, by the end of 2016 it will be only 7%.
However, this development could change for the worse if the markets experience weak or mixed development over several years. Market corrections would have a greater impact on the coverage ratios due to the shifts in investment described above over the past five years, unless accompanying measures are implemented as part of risk management.
Andreas Niedermann is head of analytics and Jürgen Rothmund is a member of the analytics team leading the annual pension fund study at Complementa
Switzerland: Goodbye AV2020
1

2

3

4

5

6

Currently reading

Risk: Funding obligations force yield hunting