Amendments to pension market rules are opening opportunities for pension funds to diversify their portfolios through investments in property and foreign equities. Reeta Paakkinen reports
At a glance
• Investing in property funds is likely to become allowable for Turkish pension funds.
• Turkey's private pensions market consists of 19 companies with approaches to finance depending on their business principles and customer base.
• Some asset managers only invest according to Islamic principles.
Turkish pension funds look set to be allowed to invest in property funds which, in a time of low equity and fixed-income yields should provide new ways to diversify portfolios. Within equity portfolios, increasing the share of foreign stocks is also looking more attractive.
Turkish pension funds still invest the bulk of their assets in domestic government bonds and treasury-bills. According to the country's Capital Markets Board, in January 2016 Turkish private pension funds were invested in treasury-bills and government bonds (47%) and equities (14%), with the remainder in corporate bonds, foreign securities, reverse repo, money markets and other vehicles. Turkey's private pensions system consists of 19 pension companies managing TRY47bn (€14.7bn) in 250 funds for some 6.24m savers.
Cemal Onaran, CEO of Garanti Pension & Life says the firm is planning to increase its equity portfolio to 20% of all holdings in the long term. At present, only 11% of €2.23bn Garanti's portfolio is invested in equities, 54% in Turkish lira debt instruments and 11% in reverse repos. The remaining 24% is invested in time deposits, fixed-income debt and commodities.
"Our equity exposure is slightly lower than the market average which is 11% and we are planning to increase that up to 15% in a two to three-year period and to 20% in the long run. To achieve that, we will gradually increase the average equity ratio within our flexible funds as the market prices test reasonably low levels and also we will periodically contact our customers and offer them alternative asset allocations," says Onaran.
Garanti Pension is also planning to launch new funds investing in international equities. "This option will probably be considered and ready for execution in three to four years. We are planning to launch a foreign stock market investment fund that will possibly invest in both developed markets such as the US and Germany, and emerging markets such as Brazil, China and Russia.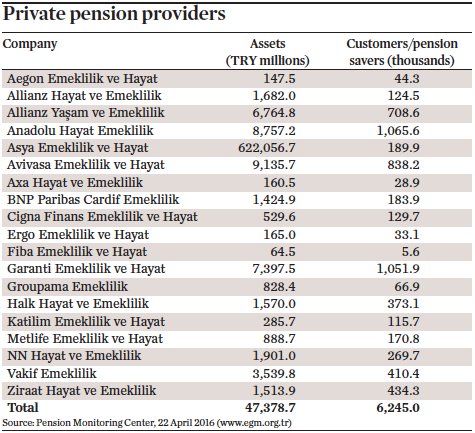 "In the Turkish pension market, we think that we should increase the stake of foreign stock market investments so that both we and our investors can diversify away from risks and vulnerabilities that can arise in the local stock market. As overall financial literacy among investors improves, demand for alternative instruments like foreign stock market investment will also increase," Onaran continues.
Garanti also plans to set up life-cycle funds, in which long-term investment strategy changes automatically with time, depending on the number of years to retirement. It also intends to launch funds of funds, which will allow investors to benefit from different strategies of different mutual funds under one roof.
Turkey's private pensions market consists of 19 companies which have different approaches to finance, depending on their business principles and customer base. For example, TRY285m (€85.8m) Katılım Emeklilik, the newest company to enter the market, invests only according to Islamic principles. It manages so-called halal or participation funds which are interest-free funds.
Establishing participation funds became possible after an amendment to pension market rules in 2013 made private saving for pensions attractive also to the part of the population that does not find traditional investing appealing, as sharia prohibits acceptance of specific interest or fees for loans of money, whether the payment is fixed or floating. Today, many of Turkey's private pension insurance companies have included at least one participation fund in their fund range.
All funds Katılım Emeklilik manages are interest free. The firm's assets are invested in sukuk funds – that is, public export rent certificates (68%) and private-sector rent certificates (12%), stocks included in the 'participation index' (15%) and gold (5%). The portfolio generated a return of 7% in 2015.
Ayhan Sincek, CEO of Katılım Emeklilik, notes that 2015 was a poor year for pension funds invested in both fixed-income products and equities. He says: "Last year, we did something that no one else in the private pensions market has done and established a pension fund that invests in currency-based sukuk. In 2016, especially as markets are slightly recovering and equities and the sukuk market are providing better investment opportunities in terms of their returns, we expect that our funds that include this sort of flexible equity investments will perform well."
Katılım Emeklilik is interested in expanding its fund range as long as new products can comply with its conservative investment principles. One of the likely options will be property investments.
Onaran of Garanti Pension notes Turkey's Capital Markets Board (SPK) has recently approved property funds as an investment alternative for mutual funds. "However, for the pension mutual funds, there is no declaration on the issue yet. We are expecting the same option to be available also for pension funds because time horizon and investment strategies of property funds and pension mutual funds bear great resemblance," he says.
"Real estate investment," he says, "has been very popular for several decades in Turkey and because of increasing demand in the market, returns are quite huge compared to other popular vehicles like time deposits, government bonds and even stock markets in certain time periods." The year-on-year return in the Turkish real estate market as of January 2016 was about 18%, according to the data of Turkish Central Bank.
"It is expected that good opportunities will rise as these funds will, for example, offer foreign investors a chance to invest in Turkish property without having to do it directly," Sincek says. "If there will be investment funds that invest in property in an interest-free manner and if we see them offer good potential for our customers, we can invest in them in the framework of the regulations that govern us. At this stage we are still following the development of the sector and this field."
Pensions In Turkey: Diversification lanes open
1

Currently reading

Pensions In Turkey: Diversification lanes open

2