DC funds are increasingly employing focus groups to gain insight into the motivations of their members. But pensions are not as easy to review as hotels or restaurants
Key points
Pension providers and workplace schemes are increasingly keen to gather member views
Most people find it difficult to give feedback on pensions
Surveys alone will never give a true picture
Focus groups can provoke a backlash if done badly
The digital world has created an environment in which feedback, reviews and ratings can make or break a hotel, restaurant or product. Our opinion is important on everything from toys and clothes to hotels and restaurants, and even financial products.
Pension providers and workplace schemes have been keen to garner member views since defined contribution (DC) arrangements – in which savers bear all the investment risk – now dominate the retirement savings landscape.
No longer is it up to the trustees of occupational schemes to make all the decisions and take all the risk. These days individuals have a responsibility to understand how and where their money is invested.
If DC pension provision is to be taken seriously, employers and providers will want to serve their members appropriately, which means finding out what they want.
The National Employment Savings Trust (NEST), which has more than eight million members, has been a firm advocate of hearing from its membership since inception in 2011.
Ric Tizard, head of customer insight at NEST, says: "Feedback from focus groups has been at the core of developing NEST from the early days, including developing our brand, our proposition and communication approach. They're something we continue to use to develop how we engage with our members."
"If we want to explore our customers' underlying motivations and emotional reactions, focus groups are a great tool"
Ric Tizard
However, unlike the ease with which one might rate a three-course meal, feedback on pensions is, for most people, a stretch. A 2017 survey conducted by ComRes on behalf of Big Society Capital which covered 1,500 employees with DC schemes, found two out of five had no idea where or how their pensions were invested.
This creates its own set of challenges for those hoping to mine their members for insight into the future for workplace schemes.
Janette Weir, founder and director at research consultancy Ignition House, says if questions are to be answered adequately researchers need to be certain of the target audience.
She adds: "You can't ask a member with zero pensions knowledge if they would like to include responsible investment in a default strategy; they don't know what any of that means. You have to talk their language."
Her point is demonstrated by research work undertaken on behalf of several independent governance committees (IGCs), that oversee the contract-based DC world, as they tried to glean how members understood 'value for money'.
Richard Butcher, chairman of the Old Mutual Wealth IGC and director of independent trustee firm PTL, says one of the questions which the researchers considered perfectly reasonable was soon found wanting.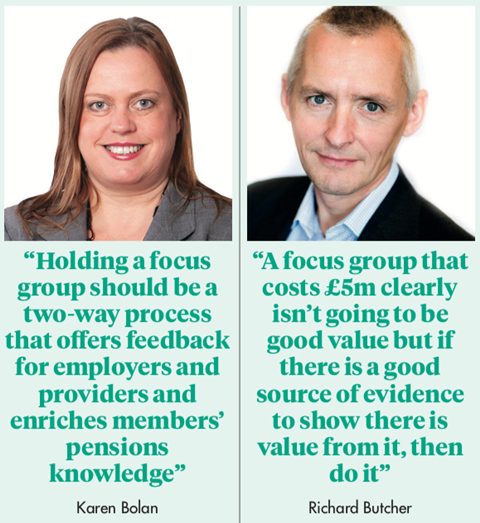 "We asked how members would feel if they were paying above-average contributions to their scheme. The response was resoundingly negative leading us to realise that no one knew what the 'average' was, nor did they understand the repercussions of paying more into a scheme," he says.
Even with carefully crafted questions, surveys will never give a true picture of what lies beneath the response. This is why focus groups have the potential to add to market research.
Tizard says: "If we want to explore our customers' underlying motivations and emotional reactions, focus groups are a great tool to use. The group dynamic allows people to bounce their views and ideas off each other, such as when testing creative or propositional ideas."
In a focus group conducted by the Personal Finance Research Centre at the University of Bristol, undertaken on behalf of the Department for Work and Pensions, participants were asked whether pensions are a saving or an investment. This gave a clear idea as to how well the group understood the subject.
They were then encouraged to place pensions on a 'risk ladder' giving the facilitator an insight into how safe the group believed pensions to be.
Pensions were seen as a higher risk than stocks and shares which, left unqualified, is of little value. However, by talking to participants the research revealed that in addition to investment risk, participants had heard of pensions collapsing, of scams and other negative news stories which influenced their perception.
Given this additional insight, Weir says focus groups are vital. But, she notes it is hard to create the right mix of participants.
Avoiding selection bias and ensuring that the group has adequate diversity can be problematic since researchers are beholden to those who participate, which means the disengaged are unlikely to have their voices heard.
Karen Bolan, head of engagement at pensions communication firm AHC, says: "Since people have to opt in there is danger that if we are trying to measure engagement with pensions we are, by the nature of the selection process, already talking to people who are in some way engaged already."
"You can't ask a member with zero pensions knowledge if they would like to include responsible investment in a default strategy; they don't know what any of that means. You have to talk their language"
Janette Weir
Weir agrees and says extra work must be done to ensure those who are unlikely to talk in focus groups or fill out surveys are represented at some stage during a research exercise.
Protecting DC members from poor retirement outcomes is a key motivation; if providers can connect with employees there is a better chance they will make informed decisions.
Bolan says that focus groups also offer DC members an opportunity to understand more about their scheme and share that with others.
"Holding a focus group should be a two-way process that offers feedback for employers and providers and enriches members' pensions knowledge," she says.
As a result of research, schemes such as the HSBC DC plan and NEST have found that including an environmental, social and governance (ESG) investment option in its default fund appealed to, and consequently engaged, younger members.
Tizard says: "It is important to understand how our customers think, feel and behave, as well as their expectations of us as a service. Focus groups are an important part of the extensive research we do to help us make better decisions to continue to help millions of people enjoy a better retirement."
Indeed, focus groups can galvanise members to pursue issues that were hitherto ignored, or they assumed were already happened.
Ignition House's focus groups on behalf of the DC Investment Forum found members believed their providers automatically took ESG matters into account when investing on their behalf.
The company reported that members taking part in qualitative research "were horrified to find out that, unless they had specified otherwise, there is no 'red line' for their pension investments and therefore their money is potentially being used for all sorts of things that they feel very strongly against".
Weir says that once members are made aware of how their scheme really works, they may be empowered to make changes.
Including focus groups as part of a wider research exercise can provide invaluable insight into how members think but if done badly, they can prove counterproductive.
PTL's Butcher concludes that a cost benefit analysis is imperative. He says: "A focus group that costs £5m clearly isn't going to be good value but if there is a good source of evidence to show there is value from it, then do it. If there isn't then don't."
UK: ESG moves up the trustee agenda
1

2

3

4

5

Currently reading

Welcome to the feedback age