Focus Group: The fall-out from Brexit
Thirteen (62%) of the investors polled for this month's Focus Group expect the European economy will be worse off once Britain leaves the European Union. In a pre-Brexit survey conducted in early May, 71% of respondents said the European economy would be worse off were the UK to leave.
"Once Brexit is a fact, trade barriers will be higher between the EU and UK," says a Dutch fund.
Eighteen (86%) respondents expect Britain's economy to be worse off after leaving the EU (compared with 77% pre-Brexit), with a German fund stating that "Britain will lose access to one of its major trade partners".
Of the ways Britain could suffer in the long term, 15 respondents highlight difficulty in trade agreements with EU countries; 13 each, diminished trade flows with the EU and weaker political influence; nine, currency depreciation; and eight, difficulty in reaching trade agreements with non-EU countries. The chief investment officer of a UK fund says simply: "There is nothing positive about [Brexit]."
However, 17 (85%) respondents say Britain's economy could benefit in the long term thanks to diminished regulatory pressure and liberalisation, while six refer to better border controls and enhanced security; and five, better bilateral trade agreements.
According to the CEO of a Swedish fund, "[The] UK will be able/forced to increase its efficiency. Initially [this] will lead to higher unemployment, but a more robust country for the future."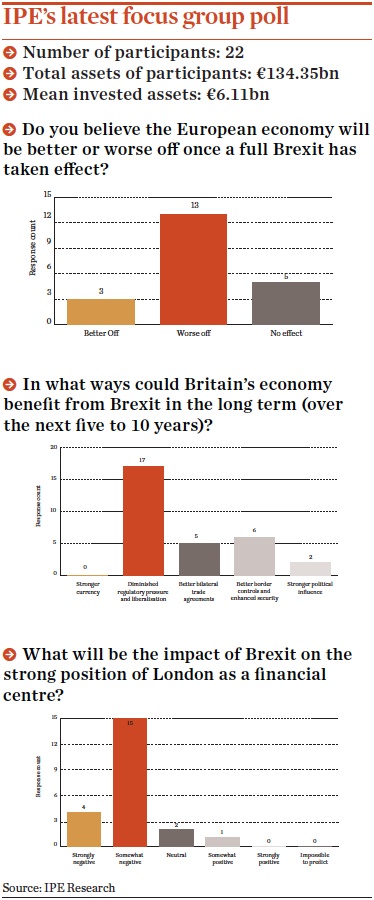 All but three say Brexit will have a negative impact on London's position as a financial centre. This is an increase on the pre-Brexit survey. "Some aspects will naturally drift to European financial centres over time," states a UK fund. "This will be a slow flow of activity, but ultimately London will be diminished as a financial centre. The mistake is that everyone assumed… that this would happen in a cataclysmic rush. It will, however, inevitably be a slow evolution."
Just less than three-quarters of respondents say the impact of Brexit will be positive on other European financial centres, particularly Frankfurt, Paris and Zurich.
Over a third of respondents say Brexit will have a negative impact on the European institutional investment sector. A similar number are neutral, with a Spanish fund commenting: "I think we have more important problems, [owing to] low rates and no visibility of risk and return assets."
Nine respondents say the impact of Brexit on investment strategy will be negligible, while six say Brexit will result in a prolonged low-rate environment, leading to slow economic growth and depressed returns. Two say that Brexit represents a turning point for the European economy, and investment opportunities will emerge. Five say it is impossible to predict.
Almost half say the outlook for UK Gilts is negative, with just four respondents viewing it as positive. Similarly, 55% say the outlook for euro-zone bonds is negative.
A quarter of the UK respondents say their fund will reduce exposure to the UK real estate sector, while four will reduce their UK infrastructure assets. The large majority will leave their exposure unchanged.
Six investors say European real estate looks more attractive; four, that European infrastructure is more attractive; and six, that US real estate is more attractive. Again, the majority says their view for each remains unchanged.
Just under half says the UK will follow up the Brexit referendum vote with a full exit from the European Union within two to five years. Four disagree and seven say it is too hard to tell.
Two-thirds expect Britain to contribute financially to the EU in exchange for continued access to the single market. Respondents are evenly split as to whether restrictions on free movement of people in and out of the UK would have a negative impact on the European economy.