The requirement to publish total expense ratios in the annual reports of Swiss Pensionskassen is changing the market, writes Barbara Ottawa
Swiss pension funds have had to disclose their total expense ratios (TER) for investments for the past two years.
"Pensionskassen can now negotiate fees on a completely different basis," says Benita von Lindeiner, senior consultant at asset liability management firm C-alm. "When there is an information asymmetry between investor and asset manager the investor is always at a disadvantage and this has now been mitigated to a certain extent."
She says the transition under the new information requirements regarding TER has gone smoothly. Most Pensionskassen are using external providers or asset managers to calculate the TER.
"So far auditors have been rather lenient regarding some discrepancies in TERs," says von Lindeiner. Sometimes the wrong tranches are used, sometimes the calculations are based on figures from the factsheet and not the annual report as required by OAK, the federal pensions regulator. "It remains to be seen whether a stricter regime will be implemented," she says.
At a glance
• The level of compliance with cost transparency requirements at Swiss Pensionskassen has almost tripled over three years.
• Asset managers are quickly adapting to the new transparency regime.
• There is a danger that pension funds will look at costs in isolation from the overall profile of their operations.
Overall, she is positive, with the share of asset management costs published in annual reports having tripled.
The average cost quota has risen to well above 40 basis points from 13.2 in 2012. But she emphasises that transaction costs remain something Pensionskassen have to continue to look at on an individual basis as they are not included.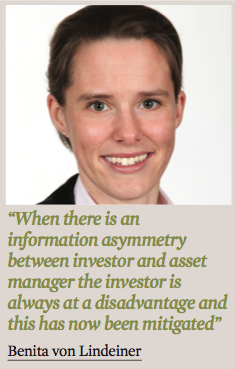 One side effect of the new transparency could be invalid cost comparisons. "Pensionskassen want to compare themselves with each another regarding costs," says Philippe Lüthy, head of investment consulting at Mercer Switzerland. But this can be a problem if, for example, a small fund with three asset classes is suddenly deciding to sell its Swiss franc bond positions for senior secured loans at five times higher costs.
"Costs should not be considered just in one dimension, but also with the investment strategy in mind. In fact, the strategy should determine the costs and not vice versa," says Lüthy. Pension funds should not exclude certain categories simply to stay below the market average if there is a justification to invest.
Alternative investments and foreign exchange hedging remain the two areas where it is hardest to calculate costs transparently. "With FX-hedging it is very difficult to monitor how the pricing is determined and we are working on a better way to calculate these costs," says von Lindeiner. In alternatives, TER estimates are often still used, which is not allowed under OAK rules as the calculations have to be based on actual figures not older than two years.
The new transparency requirements are a burden on pension funds, especially smaller ones. However, the industry has adapted to the new situation and been helpful in making TER calculations for almost all products. These include joint investments in real estate (TER KGAST), synthetic TER for funds of funds or TER SECA for private equity.
Strictly speaking, the significance of these TER calucations is debatable, according to von Lindeiner, but they help Pensionskassen get an idea of the costs. On the other hand, it helps providers avoid being put on the black lists of non-transparent vehicles in pension funds' annual reports. "Even international providers have adapted to the new requirements because Switzerland is a big market with a mandatory second pillar," says von Lindeiner.
At the start of 2015, OAK moved to accommodate international asset managers by accepting the TER of US open-end mutual funds as a recognised concept under its transparency rules. Eva Mykolenko, associate chief counsel for securities regulation at ICI Global, says this decision "eases the management cost reporting for Swiss pension institutions that invest in US open-end mutual funds and may increase the desirability of such investments".
However, according to C-alm, most of the investments Pensionskassen are making are Swiss-domiciled for tax reasons.
Switzerland: Pensionskassen keep calm under negative rate storm
1

2

3

Currently reading

Asset Management Costs: Effects of transparency

4

5