Trustees are at the heart of UK pension funds. Gill Wadsworth asks whether they need to get better at what they do
The UK's FTSE350 companies are carrying £100bn (€140bn) in investment risk in their defined benefit (DB) pension schemes, according to adviser Lincoln Pensions.
About 44% of the FTSE350 scheme assets are invested in 'riskier' return-seeking assets. Those employers with the largest schemes relative to the size of their business are exposed to the most. The danger, should the riskier investment strategy fail, is that the scheme would be forced to call on the sponsor for additional contributions, which could send the employer into financial freefall.
At a glance
• A common view is that UK pension trustee boards need to become more professional.
• In-house executives can help improve governance and performance of UK defined benefit (DB) schemes.
• The Pensions Regulator will review scheme compliance with governance codes later this year.
• Smaller defined contribution (DC) schemes lag their larger counterparts on governance standards.
This is a concern given that The Pension Regulator's (TPR) recent funding code aims to ensure pension trustees formulate investment strategies which take proper account of risk. The funding code is a critical part of the regulator's effort to improve governance, but Lincoln Pensions' research suggests best practice may not be employed.
Matthew Harrison, managing director of Lincoln Pensions, says building a clear picture of the risk and volatility within an investment profile "should be a key consideration for both pension trustees and employers". Together they should assess the overall risk profile and its reliance on employer support.
Harrison says: "What is perhaps surprising is the share of return-seeking assets does not decrease as the schemes get larger in the context of their employer, despite clear guidelines in TPR's code of practice on funding defined benefits."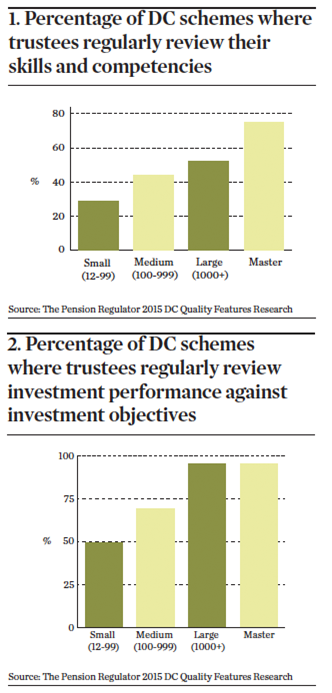 TPR acknowledges that there is much for trustees to consider within the funding code. A spokesperson says: "The code goes further than ever before in setting the expectation that trustees and sponsoring employers will work collaboratively to agree funding plans that meet both their needs."
And it has no plans to relieve trustees or employers of their responsibilities. Later this year, TPR will publish research on the ability of trustees and scheme governing bodies to fulfil their roles and responsibilities.
It is clear from the work done this year that the regulator places governance at the heart of its approach.
In July, it released a guide to the DB funding code, aimed at helping trustees understand how they should work with employers. It has also imposed Local Pension Boards on public service schemes to raise standards.
Other initiatives include a DC code of practice; guides to dealing with pension freedoms; and help for smaller employers in complying with auto enrolment.
The Pensions Management Institute is also involved in improving standards, having launched a DC governance qualification in May this year.
Elsewhere, the Financial Conduct Authority has forced pension providers to set up independent governance committees to improve oversight within contract-based DC schemes.
However, there are still some questions over whether pension schemes are run efficiently and professionally and, more importantly, in members' best interests.
Alan Pickering, chairman of independent trustee firm BESTrustees, says the UK's DB trustees are in the 'last chance saloon' when it comes to scheme governance, and if changes are not made there is a risk of prescriptive legislation to force higher standards. He says: "There is a genuine fear that further regulation will be introduced if we do not up our game."
Pickering suggests pension boards comprise the types of individuals that make up the sponsoring company's own board and that funds should be run like a business.
He says: "Diversity of board membership is a real plus and not a sop to political correctness. Successful PLCs [public limited companies] have boards with a wide range of skills and are made up of executives and non-executives with either a speciality that links to the company's operations, or who would be an asset to any board, irrespective of industry or sector."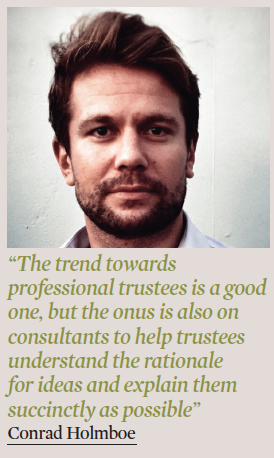 However, Pickering does not believe trustees need to have high levels of investment knowledge nor be able to "conjugate a guaranteed minimum pension in their sleep". Instead, they should be able to hire and manage outsourced professionals to support them in the job.
The rise of the independent professional trustee, of which Pickering is one, shows something of an acceptance of this approach.
Conrad Holmboe, senior vice-president of investment consulting at the consultancy Redington, says the trend towards professionalism is positive. However, he says it is also the job of scheme consultants to help improve standards in governance.
"The trend towards professional trustees is a good one, but the onus is also on consultants to help trustees understand the rationale for ideas and explain them succinctly as possible," he says.
He also supports the rise of in-house pension scheme chief investment officers (CIOs) who can provide the necessary financial expertise and oversight.
"Recent developments of in-house executive functions where they operate as CIOs of schemes is something that we see as a great solution to some of the governance challenges," he says.
Typically this kind of layer of governance is the preserve of the largest schemes such as the £3.9bn Royal Mail pension fund which employs Ian McKnight as CIO, the £4.8bn London Pensions Fund Authority (LPFA) which has Susan Martin as chief executive and the £9.5bn Santander scheme which hired former JLT, BNP Paribas and Deloitte MAN Antony Barker in 2012.
The Santander scheme returns are testament to the benefits of such investment expertise. The fund returned 17.7% in 2014 with a successful investment strategy based on real assets. It is also a fan of shared services to reduce costs; a strategy that has been replicated between LPFA and the Lancashire local authority pension fund.
When it comes to improving governance, established DB funds are both a victim and a success of their longevity. They can capitalise on past experience to learn from mistakes but are simultaneously weighed down by decades of legislation and oversight.
In DC there is almost carte blanche, especially for auto-enrolment schemes, to build governance structures afresh.
However, the disparate nature of the UK's employers and the accompanying small fund memberships make them vulnerable to poor governance.
In the regulator's 2015 trust-based DC survey, small schemes – those with between 12 and 99 members – were consistently underperforming their larger peers in all areas of scheme governance.
Meanwhile master trusts, which provide umbrella pension schemes – were unbeaten on every governance principle surveyed by the regulator (see charts one and two).
DC schemes with smaller memberships could come to the regulator's attention when it undertakes its survey later this year.
TPR says it has no plans to increase governance regulations for DB schemes, but if it appears plans pose a systemic risk to the UK economy or there is an excessive burden on the Pension Protection Fund, this may well change.
For DC plans, only when members are in regular receipt of adequate benefits will governance be considered a success.
Pensions in the UK: A 10-year scorecard
1

2

3

4

5

6

7

8

Currently reading

UK Pensions Governance: The head and the heart