Several trends have converged to bolster the popularity of Pensionsfonds
Key points
Pensionsfonds allows sponsor companies to move pension liabilities off the balance sheet, for one or more payments
There are about 30 Pensionsfonds from various providers
The vehicle is particularly attractive for companies involved in mergers or spin-offs
Aon's recent entry into Germany's Pensionsfonds market suggests that the pensions vehicle – launched nearly 20 years ago – continues to surge in popularity, following the Betriebsrentenstärkungsgesetz (BRSG) reforms of last year.
The Pensionsfonds was designed to appeal to companies financing direct-promise pensions via book reserves, as it can be used to move pension liabilities and assets off balance sheet.
Aon launched its Pensionsfonds, UnitedPensions Deutschland in response to the demand for funding solutions, says Rafael Krönung, CEO of UnitedPensions Deutschland.
He says: "We see it being used more and more often as an integral component of the German occupational pension system, often combined with other vehicles."
There are about 30 Pensionsfonds in Germany from a variety of providers, including insurers, asset managers and pension consultancies. There are both company-specific and multi-employer Pensionsfonds.
For Aon, UnitedPensions Deutschland is an opportunity to round off its service portfolio for the German client base, given that it already provides Pensionsfonds with administrative and asset-management expertise.
The economic environment has also made the vehicle's benefits increasingly clear to clients.
"Discount rates have fallen in recent years, so pension liabilities under International Financial Reporting Standards (IFRS) and also under German Generally Accepted Accounting Principles (GAAP) have risen dramatically," says Krönung. "Very often, however, companies have enough in book reserves to externally finance these liabilities and they can do so via the Pensionsfonds."
Aon has also noted the trend towards fully funding pensions within German boards of multi-national companies.
"This makes mergers and acquisitions easier – if one or both parties have unfunded pension schemes, it can cause problems," says Krönung. "We see a further demand for Pensionsfonds from spin-offs out of companies which already have their own Pensionsfonds, such as Siemens and Bosch. These spin-offs need to be taken out of the existing Pensionsfonds and a succession solution found."
Krönung says clients also prefer to outsource the administration of pension schemes, so they can spend time instead on their core business.
In marketing its new product, Aon will focus on clients with large portfolios of existing liabilities. The types of schemes it is targeting are direct pension promises, support funds and transfers from other Pensionsfonds.
In 2013, Willis Towers Watson (WTW) launched a Pensionsfonds which now has €1.1bn assets under management in Germany.
"Our Pensionsfonds has developed very successfully and is well-positioned towards the German market," says Michael Karst, head of legal at WTW's pensions division in Germany.
"We see an increasing demand for these solutions not only because they offer the transfer of commitments in merger and acquisition deals, but also because of their ability to hedge the fall in HGB [German accounting standards] interest rates, which has hit the balance sheets of companies with direct commitments for some years now and will do so especially in coming years."
The latest innovation in the WTW Pensionsfonds design is to allow a contribution-oriented pension scheme without any guarantee from the Pensionsfonds itself.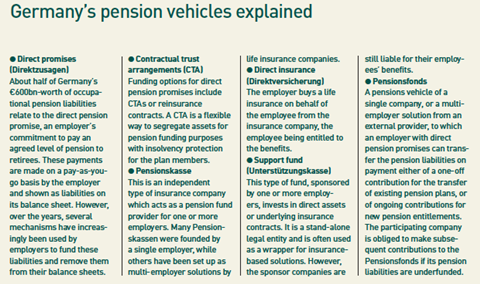 "That lowers the risk and cost of the Pensionsfonds and allows for higher returns," says Karst. "It is the first multi-employer Pensionsfonds offering this type of pension plan. The pension plan has been up and running since last year, with the first plan sponsor using this pension plan for active employees."
German industry-wide pension fund MetallRente offers a range of pensions vehicles – including a Pensionskasse – besides its Pensionsfonds. The latter vehicle recorded a 50% increase in membership during 2018, with total membership now at nearly 25,000 and €175m under management.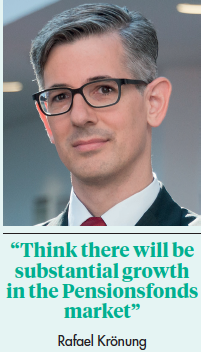 All its Pensionsfonds follow a common, return-oriented asset-management strategy.
The strategic asset allocation consists of 80% in a fund portfolio – to maximise growth – diversified across regions and asset classes and following a sustainable approach. A further 5% is in bonds and 15% is in hedging products.
Since inception, the MetallPensionsfonds has returned an annualised 5.2%, which is better than other insurance products, according to Heribert Karch, managing director of MetallRente.
The MetallRente vehicles are the only ones supported by collective agreement parties.
"As such, general market parameters are less important to us, but we are very satisfied that our pension fund has continuously grown," says Karch. "Most important for us is to provide the best solutions for workers in the metal and electrical industries that are in line with the collective agreements between the bargaining partners."
In terms of asset allocation, UnitedPensions Deutschland clients can choose between a growth and a conservative profile, although very large clients are offered individual investment strategies according to their risk/return profile.
Net expected returns are between 1.5% and 2% for the conservative option, and 2.75% to 3.25% for the more aggressive growth option. These are net of external costs, Aon's own costs and a risk deduction to allow for volatility.
According to Krönung, total contributions paid into Pensionsfonds in the three years to 2017 were between €2.4bn and €2.9bn. Aon's minimum target is to achieve 10% of the total value of those contributions. "We would like to have €1bn assets under management in our Pensionsfonds within five years," he adds.
So will the renewed interest in Pensionsfonds continue?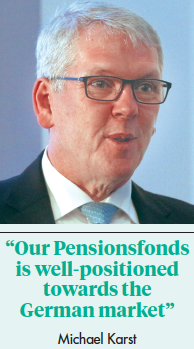 It is widely expected that the BRSG reforms will fuel the Pensionsfonds market as they allow companies to set up pure defined-contribution (DC) schemes without guarantees. "We think that the BRSG introducing collective DC [CDC] is economically very interesting, but from a communication point of view a true challenge, so it will take time before we see the first mover," says Karst. "Pensionsfonds will profit once CDC schemes are introduced."
However, one obstacle to this is that there has first to be a collective labour agreement in place between the respective employer association and the unions before a company can introduce a DC scheme. So far, no such agreement exists in Germany.
Furthermore, Krönung says German pension savers typically prefer guarantees, even if it results in a lower level of pension. Nevertheless, he still sees the trend towards Pensionsfonds continuing.
"Companies are very interested in fully funding pensions and if you want to do so for a direct pension promise, the Pensionsfonds is the best way," says Krönung. "In coming years I think there will be substantial growth in the Pensionsfonds market, although it will not dominate the occupational pensions sector."
Karch says: "The challenge is to create a system with low costs and sustainable, still profitable capital investment. New concepts always need time to create trust."
He agrees that Germans have little experience of products without guarantees. Contributions paid into all MetallRente vehicles have such a guarantee.
"We may not need a new culture, but a new understanding of what security really is and which factors provide it, apart from a guarantee," says Karch.
"To achieve this, we need a public debate and improved financial literacy. And for the 'social partner model' in particular, we need this understanding and discussion to be led by the bargaining partners."
But he concludes: "Pensionsfonds are the vehicle of the future, because they are more flexible and can achieve better results due to their structure."
Germany: BRSG beyond the new DC plans
1

2

3

Currently reading

Pensionsfonds flourish

4

5