SYZ Asset Management, EFAMA, BNP Paribas, Royal London, T Rowe Price, FERI, ICG, Schroders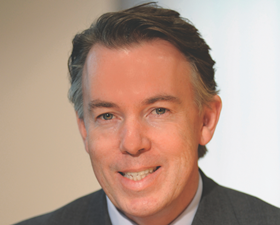 SYZ Asset Management – The CHF18.2bn (€16.1bn) Swiss asset manager has named former M&G CEO and current EFAMA president William Nott (pictured) as its new chief executive, subject to regulatory approval. Upon joining on 7 January he will become a member of the executive committee and a "key shareholder", the company said.
Nott was CEO of M&G Securities, now part of M&G Prudential, for nearly 12 years until December 2017, overseeing the UK fund management group's growth from £11.7bn (€13bn) to £80.1bn in assets under management. He was appointed president of the European Fund and Asset Management Association last year.
---
BNP Paribas Asset Management – Mark Lewis has been appointed to the newly created role of head of climate change investment research. He will join the French asset manager on 7 January as a member of its sustainability research and policy team, and will report to Jane Ambachtsheer, BNP Paribas AM's global head of sustainability.
The company said Lewis would provide "an authoritative view on developments within climate change and energy transition, and their implications for current and future investment decision making".
Lewis has more than 20 years' experience as a financial analyst covering energy and environmental markets. He joins the French asset manager after less than a year at think tank Carbon Tracker – he was appointed in April. Before that he was managing director and head of European utilities research at Barclays. Lewis was also a member of the Financial Stability Board's Task Force on Climate-related Financial Disclosures for two years.
---
BNP Paribas Securities Services – Meanwhile, BNP Paribas's global custody business has hired Thorsten Gommel as head of Germany and Austria, joining in April 2019 from PwC, where he has been a partner since 2010 in charge of asset and wealth management in Germany.
Patrick Colle, general manager of BNP Paribas Securities Services, said the company had "ambitious growth plans" in Germany and Austria.
---
Royal London – Phil Loney, group CEO of the UK pensions and investments provider, is to step down from his role by the end of 2019, the company announced on 11 December. Royal London said Loney intended to "concentrate on his long-standing charitable interests in the international development sector and supporting people with learning difficulties".
Loney joined Royal London in 2011 and oversaw its growth from £46bn assets under management to £117bn at the end of June 2018.
Rupert Pennant-Rea, chairman of Royal London, is also exiting the company. He plans to end his five-year spell as chairman at the end of this year, with Kevin Parry set to succeed him from 1 January.
Parry is currently chairman of Intermediate Capital Group and holds independent or non-executive director positions on the boards of Standard Life Aberdeen, Nationwide Building Society, and Daily Mail & General Trust. He will stand down from Standard Life Aberdeen's board on 31 December 2018, Royal London said.
---
T Rowe Price – The $991bn (€876bn) US asset manager has named Jan Müller as head of institutional sales for Germany and Austria, a newly created position. He joins from Franklin Templeton where he was an institutional sales director for more than 10 years. He has also worked as a consultant for Mercer.
---
FERI – Marcel Renné will succeed Arnd Thorn as CEO of the German alternatives specialist following the latter's decision to step down from the board at the end of his contract in July. Renné has been a member of the executive board since January 2017 and will be given a five-year contract as CEO.
---
Intermediate Capital Group (ICG) – Eimear Palmer has been hired as responsible investing officer for the FTSE 100-listed unlisted assets specialist. In this newly-created role, Palmer is responsible for integrating environmental, social and corporate governance (ESG) factors across all ICG's fund strategies.
She joined ICG in last month from The Carlyle Group, where she spent seven years in a similar role in Europe, implementing an ESG framework for Carlyle's European business. Prior to that, she spent seven years at KPMG where she was a manager in its private equity division.
---
Schroders – Head of UK and European equities Rory Bateman has been appointed head of the FTSE-listed asset manager's entire equities department. Effective from March 2019, Bateman will oversee assets worth £173bn run by teams based around the world.
He joined Schroders in 2008 from Goldman Sachs Asset Management, where he spent more than 10 years.
Nicky Richards, current head of equities, is to become a senior adviser for Schroders from March 2019, and the asset manager said it intended to promote from within the fill Bateman's UK and European role.