LPFA, AllianceBernstein, Ninety One, BennBridge, Loomis, Amundi, PLSA, The People's Pension, LCP, The Pensions Authority
London Pensions Fund Authority (LPFA) – The Mayor of London has appointed Mark Allison, leader of Merton Council, and Sophia Morrell, a director at UK Finance, a trade association for the UK's banking and financial services industry, to the London Pensions Fund Authority (LPFA) board.
Allison has been a councillor at the London Borough of Merton since 2002, becoming deputy leader in 2013 and leader of the Council since 2020. He was cabinet member for finance and a member of Merton council's planning advisory committee for 10 years from 2010. During this time the council's pension fund became fully funded and a new investment strategy was agreed, including an enhanced approach to ESG. Before becoming Leader of the Council, Allison was an adviser to a number of MPs, and a communications and public relations consultant. He also continues to help run a small foodbank in Merton on a voluntary basis.
Morrell is the director of UK public affairs for UK Finance, where she leads domestic government relations and advocates for the UK's financial services sector. Prior to this, she spent five years as a political adviser to Jonathan Reynolds MP in his roles as Shadow Secretary of State for Work and Pensions and Shadow City Minister. Morrell specialises in financial services policy and communications. She has worked both as an independent consultant and at a number of political and communications agencies including Lansons, Greentarget PR and Headland, after beginning her career as a journalist in 2007 covering capital markets during the financial crisis.
---
AllianceBernstein (AB) – The global investment management firm has added a new and distinctive AI-powered investing approach to its multi-asset solutions team.
François Oustry and Sahar Attaripour, co-founders of Suzugia, have joined AllianceBernstein. Their multi-asset systematic macro alternative strategy uses the power of natural language processing (NLP) and artificial intelligence, going beyond traditional data sources to uncover thematic investment opportunities. This distinctive capability furthers AB's goal of delivering differentiated return streams to clients.
"The addition of these two talented individuals, with their unique investment approach, reflects AB's culture of innovation and is another step forward in enhancing our alternative investment capabilities for clients," said Daniel Loewy, head of AB multi-asset solutions.
The two hires are passionate about intersecting AI-powered investments with natural language processing. Oustray has worked in academia and the financial services industry, authoring numerous papers on acceleration techniques in Deep Learning Algorithms and Information Theory, foundational areas for this strategy.
Attaripour has spent more than a decade working on digital transformation, overseeing solutions, operational risk, and product development.
Both will join AB's multi-asset solutions team and will be based in London.
---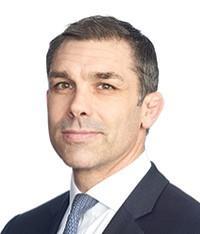 Ninety One – Pat Sanderson has been appointed as Ninety One's head of business development, UK.
In the newly-created role, Sanderson will have overall responsibility for sales, client management and consultant relations for Ninety One's UK business across the adviser and institutional landscape. As a member of the UK client group's leadership team, he will look to drive the UK business development agenda and ensure alignment on strategy and execution for all client-facing activity in the region.
Sanderson joins from RBC, where he was responsible for sales, relationship management and marketing for the UK and Ireland, as well as the European proposal management team within the firm's investor and treasury services group. Prior to RBC, he worked in investor services sales at JP Morgan where he was responsible for the origination of new client relationships in the UK Insurance sector. Additionally, he worked at Citi Bank in investor services sales, where he led the creation of the Nordic sales strategy.
---
BennBridge – The multi-boutique investment firm has appointed Robert McKillop as chief executive officer for UK and Europe. McKillop has almost 30 years of experience in asset management leadership across investment, distribution and product functions, spanning geographic regions and client channels. He has a diverse skillset and a proven history of building high performance teams, driving business growth and client-focused innovation.
Based in London, McKillop will report to the global CEO of the Bennelong Funds Management Group, Craig Bingham. The BFM Group operates as BennBridge in the UK and US, and Bennelong Funds Management in Australia.
Prior to joining BennBridge, McKillop spent over a decade as global head of product and client solutions at Aberdeen Standard Investments (formerly Standard Life Investments and recently rebranded Arbdn). He joined Standard Life in 1997 working in a range of senior roles including head of Europe, Australasia and the Far East (EAFE) funds in the global equities team, and head of Japanese equities.
Bingham said McKillop's wealth of global experience makes him a perfect fit to serve as BennBridge UK's CEO.
---
Loomis, Sayles & Company – Colleen Denzler is the firm's new head of ESG, joining from Smith Capital Investors, where she led ESG integration efforts. She has previously also worked at Calvert Asset Management, Janus Henderson, American Century Investments, and First Affirmative Financial Network.
---
Amundi – The asset management firm has created new responsible investment roles to support the ambitions of its 2025 strategic plan announced in December. Alice Sireyjol has been appointed deputy head of ESG development, Edouard Dubois head of voting, and Hélène Champollion-Morel head of advocacy.
Prior to joining Amundi, Sireyjol was a senior manager in the consulting firm EY in Paris. As a sustainability specialist, she advised companies from various sectors to decrease their environmental impact, rethink their supply chain and transform their business model to drive superior resilience and innovation.
Before EY, she worked during six years in London. She was a manager in the sustainable development team of PwC where she led natural capital impact measurement projects. Before that, Sireyjol was a research analyst at Trucost, the leading ESG data and intelligence firm.
Prior to joining Amundi, Dubois had been advising issuers and investors on their engagement practices since 2019, first as a partner in the consulting firm SquareWell Partners, and then as head of stewardship and engagement at ISS ESG.
Previous to this, he was with BlackRock first in San Francisco in 2013, then in 2014 he moved to London where he was in charge of voting and engagement for various European markets.
Champollion-Morel joins Amundi from Mirova, the affiliate of Natixis Group dedicated to sustainable investing, which she joined in 2015, before being appointed head of communications in 2017. She joined Natixis CIB in 2011, where she spent four years working in the sectoral coverage analysis team.
Prior to this, she worked two years as a financial journalist with the Leaders League group from 2010.
---
Pensions and Lifetime Savings Association (PLSA) – The association has appointed six new members to its policy board, following a comprehensive selection process.
Joining the policy board are Tesco plc's Laura Hay, Royal London's Jamie Jenkins, London Stock Exchange Group's Ava Lau, Greater Manchester's Euan Miller, Smart Pension's Darren Philp and Pinsent Masons' Carolyn Saunders.
Formed in 2018, the PLSA policy board guides and decides on the PLSA's public policy positions, with a remit stretching across all PLSA policy work on pensions and lifetime savings. Its goal is to shape the policy agenda for all aspects of retirement income.
It is chaired by John Chilman, chief executive officer at Railpen, and encompasses 20 participants from across the PLSA's membership; in particular pension funds from the defined benefit (DB), defined contribution (DC), Local Government Pension Scheme (LGPS), and master trust sectors, as well as business members such as employee benefits consultants and law firms.
"The policy board carries out our mission to help everyone achieve a better income in retirement," the PLSA said.
Earlier this year the association set out its policy and regulatory goals. These include championing a policy framework that means most people will have an adequate income in retirement and supporting our membership by arguing for the right regulatory environment for savers and schemes.
In addition to the six appointments to the PLSA's policy board, there have also been almost 30 other appointments made to the Associations Policy Committees. These are nine appointments to the DB committee, 10 appointments to the DC committee, seven appointments to the master trust committee and two appointments to the local asuthority committee. The full list of members for the committees can be viewed here.
---
The People's Pension – The workplace pension scheme has appointed professional trustee and actuary Mark Condron as its new chair of trustees.
Having already served for two years on the trustee Board, Condron will step into his new role in September this year, replacing Steve Delo, who has come to the end of his term. Delo will remain on the board until March 2023.
With more than 30 years of experience in the pensions industry, Condron has already brought a wealth of expertise to The People's Pension, as it has grown to become the largest independent master trust in the UK, providing a workplace pension to 1 in 5 workers across the country.
During his career he has held a wide range of senior positions with responsibility for pensions advisory and administration businesses. In his advisory work he has helped many large UK pension funds and companies on all aspects of pension provision and is a member of a number of trustee boards and pension scheme governance committees. He is a fellow of the Institute and Faculty of Actuaries and an accredited professional trustee.
---
LCP – Lydia Fearn, who previously created and headed up the defined contribution (DC) teams at Redington and Barclays, is returning to the consultancy LCP where she cut her teeth as an investment consultant at the start of her career.
At LCP, she will be working on furthering the consultancy's DC capabilities in advising master trusts, which are multi-employer schemes.
Laura Myers, head of LCP's DC team, said: "Lydia has fantastic experience across the whole DC pensions landscape and understands the wider investment space, the need to be innovative and the growing importance of ESG. She is already well known in the industry and will be a fantastic asset to the team and our clients, who will benefit from her experience at what is a fast moving DC landscape."
Fearn was most recently at Capita.
---
The Pensions Authority – The Irish regulator is seeking expressions of interest for the role of chair of the Audit and Risk Committee (ARC). Candidates must demonstrate knowledge and experience of working in a relevant area, e.g. pensions industry, finance, risk management, legal or IT; an understanding of financial management, risk management, financial control systems and internal audit; relevant experience to effectively discharge the role of chairing the ARC of a public body.
The initial term of appointment is for three years, according to the role's advert, with the option to extend for an additional three years to a maximum term of six years.
The deadline for applications is 12pm UK time on Tuesday 31 May 2022.
Further information in relation to the role requirements and application process can be found online.