BBC, PGGM, Muzinich, BlackRock, Aviva Investors, Franklin Templeton, Vanguard, BNP Paribas AM, SBAI, Invest Europe, VvV, Russell, New Zealand Super, BlueBay, Hermes, State Street, JPMAM, BMO GAM
BBC Pension Trust – Catherine Claydon has been appointed to the board of trustees of the UK broadcaster's £16bn (€18.2bn) pension fund, with a view to taking over as chair next year, succeeding Bill Matthews.
A former investment banker, Claydon currently sits on the board of the Barclays UK pension scheme and was appointed as a trustee of the new British Steel Pension Scheme earier this year. She has also previously sat on the boards of the BT Pension Scheme, where she was deputy chair, and Unilever's UK pension fund.
PGGM Coöperatie – The board of PGGM Coöperatie – Dutch asset manager PGGM's parent company – has appointed Jet Bussemaker as its chair. As of 21 July, she will take over from Frank de Grave, who has completed his maximum term of eight years.
Bussemaker was minister for education, culture and science in the Netherlands between 2012 and 2017, and state secetary for health, wellbeing and sports from 2007 to 2010.
The board emphasised the importance of Bussemaker's governance experience and her knowledge of the care and wellbeing sector, as well as her experience of working in a complex organisation.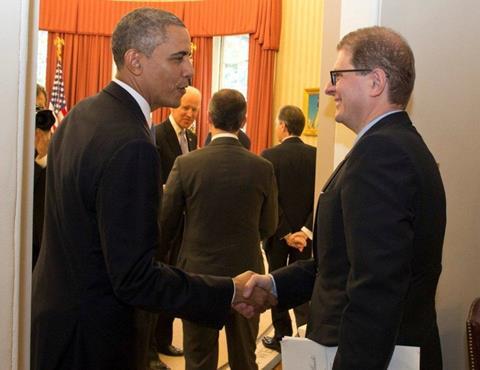 Muzinich & Co – Fabrizio Pagani has joined the fixed income asset manager in the newly created position of global head of economics and capital market strategy.
The former head of office for the Italian minister of finance, Pagani will split his time between Paris and London, and is charged with the development of new strategies and investment programmes to "expand the firm's global franchise", Muzinich said.
Pagani's previous experience includes stints as G20 sherpa and senior economic counsellor to Enrico Letta, Italian prime minister from 2013 to 2014. He has also worked for the OECD.
BlackRock – The world's largest asset manager, with $6.3trn of funds under management, has appointed Henri Chabadel as its chief investment officer for France. Based in Paris, Chabadel joins from Groupama Asset Management, where he was head of multi-asset and financial engineering.
The company said Chabadel would work to "provide local clients with more direct and tailored access to the global investment and portfolio construction expertise and specialised insights".
Aviva Investors – The £315bn asset management arm of the Aviva Group has appointed Al Denholm as chief investment officer, solutions. Reporting direct to CEO Euan Munroe, Denholm will also form part of the group's executive team. Denholm joins from Prudential Portfolio Management Group, a £185bn division of the Prudential Group that he founded. His previous experience includes stints at BlackRock and ING Investment Management.
Franklin Templeton – Jennifer Ockwell has been appointed as the US asset manager's new head of UK institutional, effective 2 July. She was previously head of UK institutional at Janus Henderson, and has also worked at Threadneedle and Deutsche Asset Management.
Since April 2017, Jennifer has been a member of both the advisory board and steering committee at the Diversity Project, which seeks to improve the diversity of the workforce in the investment sector and more broadly in financial services. Ockwell is also a former trustee of the Henderson Group Pension Scheme.
Vanguard – Simone Rosti has joined the $5trn asset management group has head of Italy. Based in London, Rosti joins from UBS Asset Management where he had been head of passive and ETF sales for Europe, having previously worked for iShares and BlackRock.
Rosti's appointment is the latest in a line of senior ETF hires designed to boost Vanguard's profile in the European markets, the company said.
BNP Paribas Asset Management – The French asset manager has appointed Fabien Madar as co-head of distribution for Europe, covering southern Europe as part of BNP Paribas's global client group, the company's worldwide sales and marketing division.
Reporting to Sandro Pierri, global head of client group, Madar will join in July from Pioneer, where he has been general manager and head of institutional business.
Standards Board for Alternative Investments (SBAI) – The standard-setting body for hedge funds and other alternative asset managers has appointed two new board members. Stuart Fiertz, co-founder and president of Cheyne Capital Management, and Richard Lightburn, CEO of New York-based MKP Capital Management, have joined with immediate effect. The SBAI has approximately 200 alternative investment managers and institutional investors as members, which collectively manage $3.5trn.
VvV – The Dutch Association of Insurers (VvV) has appointed Willem van Duin, chairman of Achmea, as its new chairman for the next two years. He succeeds David Knibbe, chief executive of Nationale Nederlanden, who chaired the VvV during the past two-and-a-half years.
Invest Europe – Nenad Marovac, founder and managing partner of early stage venture firm DN Capital, has succeeded Marta Jankovic of APG Asset Management as chair of the private capital organisation, formerly known as the European Private Equity & Venture Capital Association.
"Venture capital is no longer just about Silicon Valley and Boston – European VC is now making waves," said Marovac.
Russell Investments – Robert Hostetter has been appointed to the newly created position of global head of product. He is responsible for the development of investment solutions across Russell's global operations. Hostetter was previously at AllianceBernstein, where he served as managing director and global head of product strategy. He has also worked at William Blair Investment Management, leading its move into alternatives and multi-asset investment, and at McKinsey.
New Zealand Super – The Board of the Guardians of New Zealand's NZD38bn (€22.5bn) sovereign wealth fund has promoted Matt Whineray to CEO, effective 1 July. He has been chief investment officer at the fund since 2014, and was acting CEO since March following the departure of Adrian Orr. Whineray has worked for the fund for 10 years since joining as a private markets manager in 2008.
BlueBay Asset Management – The specialist fixed income manager has appointed Sid Chhabra to the new position of head of structured credit and collateralised loan obligations (CLOs). Chhabra, who joins from Anchorage Capital Europe, will be based in London as part of the developed markets team. He will head an initiative to establish and manage a new range of BlueBay global structured credit and asset-backed security (ABS) strategies.
Hermes Investment Management – Ingrid Holmes and Kate Fowler have joined the £34bn asset manager's responsibility office. Led by Leon Kamhi, the division oversees the implementation of the firm's responsible investment and stewardship policies.
Holmes joins from E3G Third Generation Environmentalism, where she was a director, while Fowler moves from non-profit group A Blueprint for Better Business, where she worked on environmental, social and corporate governance issues.
State Street – The US financial services giant has named Maria Cantillon as head of sector solutions for Europe, the Middle East and Africa (EMEA). She was previously global head of alternative asset manager solutions at the company. In her new role she will lead the sales strategy for the firm's "most important prospects and clients in the region", State Street said.
In addition, State Street has hired Geoff Pullen from Standard Chartered as managing director for the alternatives sector in the EMEA region. He will report into Cantillon and be responsible for his team's sales strategy for hedge funds and private equity. At Standard Chartered he led transaction banking and securities services sales for asset manager clients.
JP Morgan Asset Management (JPMAM) – Rob O'Rahilly has joined the asset management arm of JP Morgan as global co-head of asset management solutions. Based in London, O'Rahilly spent more than 20 years at JPMorgan Chase where, most recently, he was chief investment officer for EMEA and Asia. At JPMAM, he will work alongside Mike O'Brien, who continues as global co-head of solutions.
BMO Global Asset Management – James Edwards has joined the asset manager as a director in the UK institutional sales team. Edwards, who has moved from BlackRock, will have a particular focus on corporate pension schemes and charities. His previous experience includes stints at BNY Mellon and Scottish Equitable.