IOPS, B&CE, DWS, PLSA, Invesco, Ambienta, Topdanmark, AP3
International Organisation of Pension Supervisors (IOPS) – The organisation has elected Ambrogio Rinaldi, central director of the Pension Funds Supervision Commission (COVIP) in Italy, as its new president.
Rinaldi's appointment was made at the 2022 IOPS annual general meeting (AGM), held on 3 November in Bratislava. He succeeds Helen Rowell, deputy chair of the Australian Prudential Regulation Authority (APRA), the prudential supervisor of the financial sector in Australia.
In addition, Ali Khawar, assistant secretary for the US Department of Labor, was appointed to serve as one of the organisation's two vice presidents.
Rinaldi said: "Having contributed to the development of IOPS since its creation, I am happy to see that it now stands as a well-established organisation in promoting cooperation and defining global standards for the supervision of private pensions. I will do my best in further developing the activity of IOPS by drawing on the extensive expertise and diverse experiences in pension supervision gained throughout the world".
The IOPS – an international organisation representing institutions involved in the supervision of private pension arrangements – has 90 members and observers from 79 countries and territories worldwide.
---
Topdanmark – Kasper Tjørntved Davidsen has been appointed as the new chief information officer for the Danish pensions and insurance firm. He currently works for Danish payments provider Nets as chief technology officer. In that role, Topdanmark said he had seen the firm through a significant digital development and transformation over the last five years.
The insurer said Tjørntved Davidsen would head up its IT operations, leading some 400 employees.
Topdanmark said it was currently undergoing its own digital transformation, having invested over DKK3bn (€403m) in new IT systems. Tjørntved Davidsen, who will be one of Topdanmark's group directors, is to take up the new role from 1 March 2023.
---
AP3 – Anna-Maria Najafi Olsén, private equity portfolio manager at Swedish national pensions buffer fund AP3, left the Stockholm-based fund in October.
AP3 is now on the hunt for a replacement. In a post on LinkedIn, Najafi Olsén – who only started working at AP3 this January – said she had chosen to leave the pension fund to find new challenges.
"It has been very instructive to work with competent colleagues and gain new perspectives on the financial industry after my previous 11 years as finance manager at LRF," she said, adding on the professional networking site that she would be happy to hear more about any future opportunities.
LRF is the Federation of Swedish Farmers.
---
Pensions and Lifetime Savings Association (PLSA) – The association has appointed chairs to two of its policy committees.
The PLSA's four policy committees – representing the defined contribution, defined benefit, local authority and master trust segments of the PLSA's membership – support and provide advice to the policy board. Each committee meets three times a year and is chaired by a policy board representative.
Neil Mason has been appointed to chair the local authority committee. He leads the £5bn+ Surrey Pension Fund, which has over 110,000 members and more than 300 employers. He is an independent member of the local pension board at the London Borough of Hounslow, chairs the London pension officers group and is a member of the national LGPS technical group. He succeeds West Midlands Pension Fund director of pensions, Rachel Brothwood, who remains a member of the PLSA policy board.
Robert Orr has been appointed to chair the defined benefit committee. He is head of technical and communications at SAUL Trustee Company (STC) – trustee for the non-academic staff pension scheme of the University of London – and has over 20 years' industry experience. STC has around 80,000 members and around £3bn in assets. Orr takes over from previous DB committee chair, John Chilman, who was appointed chair of the PLSA policy board in 2021.
---
DWS – Richard Marshall has been appointed as head of infrastructure research. He will be responsible for supporting the DWS infrastructure platform with thought leadership on the global infrastructure market and the trends that can be translated into actional investment strategies and approach to investment portfolio construction.
His role will be to work closely with DWS's infrastructure private equity and debt teams, as well as the broader DWS Research Institute, to analyse current market conditions to support both transaction review and investment committee processes. He is based in London and reports to Hamish Mackenzie, head of infrastructure.
With 10 years of experience in infrastructure research, Marshall joins from Fitch Solutions where he was head of infrastructure and power research. Appointed in 2017, he was responsible for the strategic analysis across the transport and energy sectors, leading the global analytical team to identify opportunities and risks across infrastructure markets.
---
Invesco – Kate Dwyer has been promoted to head of UK distributionat the firm, reporting to Oliver Bilal, head of EMEA distribution. Dwyer was formerly head of passives UK at Invesco, having joined following the acquisition of Source, the European ETF provider, in 2018.
Invesco also announced that Sachin Bhatia has been appointed as head of UK pensions and EMEA consultant relations; Charles Moussier as head of EMEA insurance client solutions and Joel Marques as head of UK insurance distribution.
Richard Glenn will take on a new role as head of EMEA private markets distribution. Invesco believes there is a strong client demand for alternative strategies in infrastructure, private equity and debt, real estate as well as fixed income, so dedicated resources are required as this part of the business continues to flourish.
---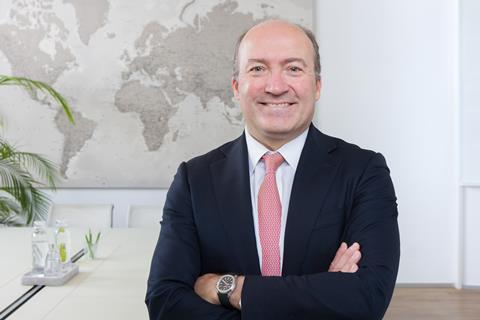 Ambienta SGR – The environmental sustainability asset manager has appointed Laurent de Rosière as head of investor relations and strategic partnerships. As partner and member of the firm's strategic committee, de Rosière will be instrumental in further expanding Ambienta's platform by developing its existing asset classes including private equity and Ambienta X, its public markets strategy, while also extending the firm's brand and expertise to new ones.
De Rosière has close to 30 years of experience in asset management, investment banking and wealth management in alternative assets. He joins from BC Partners, where he was a partner and global head of strategic relationships, having joined the firm in 2009.
Operating out of Milan, London, Paris and Munich, Ambienta manages over €3bn in assets with a focus on investing in private and public companies driven by environmental megatrends and whose products or services improve resource efficiency or pollution control.
---
B&CE – The UK provider of The People's Pension has appointed a new chief human resources officer to its executive team.
Deborah Finlayson brings great experience to the organisation, having previously worked at IG Group where she was head of culture, workplace and global service centre, and Aviva, where she was group head of talent and performance. She has also worked in the construction, drinks, banking and insurance industries.
B&CE, which will mark its 80th anniversary later this month, provides The People's Pension to more than six million people – one in five workers – across the UK.