Standard Life Aberdeen, ABP, Aviva Investors, BMO GAM, Nikko AM, Cardano, MJ Hudson Allenbridge, MSCI, Danica, Invesco, MUFG, LGIM, Hymans Robertson, Nomura, Intervalor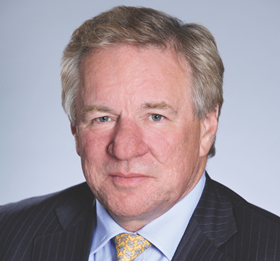 Standard Life Aberdeen – Martin Gilbert (right), co-founder of Aberdeen Asset Management, has stepped down from his position as co-CEO of Standard Life Aberdeen. Keith Skeoch is now the sole CEO of the £551bn (€643.6bn) investment services giant.
The "dissolution" of the co-CEO structure was "designed to strengthen our client focus, simplify reporting lines and put in place a structure which will facilitate robust execution of the next stages of our transition and transformation programmes", the company said in a statement.
Gilbert will move to become vice-chairman of Standard Life Aberdeen and chairman of Aberdeen Standard Investments, while retaining his seat on the company's board as an executive director.
"In this role, Martin will be able to focus solely on our strategic relationships with key clients, winning new business and realising the potential from our global network and product capabilities," the company said.
Gilbert and Skeoch have shared the chief executive role since the 2017 merger of Aberdeen and Standard Life .
Meanwhile, chief financial officer Bill Rattray is to retire from the board on 31 May. He was first appointed finance director at Aberdeen in 1991 and has worked at the group for 34 years. He will be replaced as CFO by Stephanie Bruce, subject to regulatory and shareholder approval. She is currently a partner at PwC.
Richard Mully is also to retire from the board after the next annual general meeting in May. He has worked for Aberdeen since 2012 as a director.
---
ABP – The Netherlands' biggest pension scheme has appointed industry veteran Loek Sibbing to its board with immediate effect, representing employers. He fills the vacancy left by Erik van Houwelingen, who left for Dimensional Fund Advisors in August.
Between 2010 and 2014, Sibbing was chief executive of Univest Company, the asset manager for Unilever's 80 international pension funds. Prior to this, he was CEO of Unilever's Dutch defined benefit scheme Progress, and has also led the pension funds of construction company Volker Wessels and temporary employment firm Randstad.
In 2014, he became chief executive of the Dutch Investment Institution (NLII), tasked with developing investment opportunities in the real economy on behalf of the 10 largest Dutch institutional investors. Sibbing has also been chairman of the Dutch industry organisation for company pension funds (OPF), which later merged into the Pensions Federation, and has served on the board of European lobbying organisation PensionsEurope.
Separately, the €399bn civil service scheme has also appointed Krista Nauta to its board, also as an employer representative. She joins from the €215bn asset manager and pensions provider PGGM, where she was a senior policy adviser and strategic product manager since 2013. Nauta succeeds Joop van Lunteren who left on 1 March.
---
Aviva Investors – The €388bn investment house has hired Paul LaCoursiere as global head of ESG research, a newly created role. He will be responsible for the group's ESG research process as well as the integration and monitoring of ESG criteria within equities and credit. He will jointly lead the research team with Mirza Baig, global head of governance, who is responsible for ESG integration across Aviva Investors' multi-asset and real assets units.
LaCoursiere was previously Aviva Investors' global head of corporate research, having rejoined the firm in 2014 following a year running fixed income at Chicago Equity Partners. He was a fixed income portfolio manager at Aviva Investors between 2010 and 2013.
Meanwhile, Oliver Judd and Kevin Gaydos have been named co-heads of credit research. Judd is based in London and has worked for Aviva Investors since 2006, while Gaydos is based in Chicago and joined the company in 2008.
---
BMO Global Asset Management – The $260bn (€230bn) investment house has made a trio of hires to its responsible investment team. Nina Roth joins from German development agency GIZ as a director, having previously worked at Deutsche Bank and UBS. Alan Fitzpatrick joins as a product specialist from Hermes EOS, while Derek Ip joins as an ESG analyst having previously worked at groups including Trucost, the Climate Bonds Initiative, and RESET Carbon.
---
Nikko Asset Management – Takumi Shibata has decided to step down as president and CEO of the $201.8bn Japanese asset manager, effective 1 April. He has worked at the company since 2013 and was appointed CEO in 2014.
Hideo Abe and Junichi Sayato will be appointed as co-CEOs, the company announced. Abe will also hold the title of president and Sayato the title of chairman.
---
Cardano Group – Darren Redmayne has been appointed to the Anglo-Dutch investor's management board. He is CEO of Lincoln Pensions, a covenant advisory specialist firm that he founded in 2008 and that was acquired by Cardano in 2016. Prior to founding Lincoln Pensions, Redmayne spent 10 years at Close Brothers, and was seconded to help set up the UK's Pensions Regulator.
Last month Cardano announced it had agreed to acquire auto-enrolment master trust NOW: Pensions from Denmark's ATP for an undisclosed sum.
---
MJ Hudson Allenbridge – The UK consultancy group has appointed Norbert Fullerton as a senior adviser. He joins from Mercer where he was a partner in the company's wealth consulting and solutions business. He also advised on strategy for defined benefit pension scheme clients. Fullerton also previously worked at Russell Investments and Willis Towers Watson.
---
MSCI – Lee Phillips has joined the index provider as head of EMEA fixed income and country head for the UK and Ireland. He joins from FTSE Russell where he was a managing director in global strategic account management. He previously held senior index sales roles at Barclays and Lehman Brothers.
---
Danica Pension – Heidi Verup has been appointed as the new director for private clients at the DKK566bn (€76bn) pensions provider and subsidiary of Danske Bank. She replaced Britta Bjerregaard who worked at the Danish pension fund for just over a year. Verup previously worked at the Danish financial group Alm Brand from April 2017 as a partner and director, where she managed a team of 10 people. In her new role with Danica she will be managing a team of 120.
---
Invesco – Charles Moussier has joined the $945.7bn asset manager as head of insurance investment solutions for the EMEA region, tasked with developing Invesco's insurance business.
He was previously executive director for the investment banking division of Natixis, responsible for developing the company's financial institutions advisory business. He has worked for AXA Group as deputy head of global investment solutions, and has held senior roles at Crédit Agricole and AXA RE.
---
MUFG Investor Services – Mitsubishi UFJ Financial Group's asset servicing arm has appointed Bruno Bagnouls as managing director and head of private equity and real assets in Luxembourg. He joins from TMF Group where he was group head of private equity and real estate. He has over 20 years of experience with fund and corporate services providers.
---
Legal & General Investment Management (LGIM) – Claire Aley has joined as head of product and investments business management. She was previously head of product strategy and development at Hermes Investment Management, and has held senior roles at Highclere International Investors, Next Financial and Mason Stevens.
In her new role, Aley will be responsible for oversight of LGIM's global product strategy, development and management functions as well as business management for the investment teams.
---
Hymans Robertson – Catherine McFadyen has been promoted to head of actuarial, benefits and governance for UK local government pension schemes at the consultancy. She has been with Hymans Robertson since 2003, and is a partner in the firm.
---
Nomura Asset Management – The UK arm of Nomura has hired Anne Dillé-Weibel as business development director and Leigh Fisher as business development manager as it looks to strenghten its EMEA distribution. Dillé-Weibel joins from BNP Paribas Asset Management where she was head of alternative sales, while Fisher joins from Investec Bank where she was a senior sales manager.
---
Intervalor – Thomas Bolvig has been taken on by Nordic asset management marketing company Intervalor as client executive. Bolvig will be based in Copenhagen as the company attempts to increase its presence in Denmark through senior-level recruitment. Bolvig comes to Intervalor from Danske Capital, where he was head of business development for Benelux. Prior to this, he worked for Danish financial services company Nykredit and Swedish banking group SEB.