State Street, Ilmarinen, Etera, Bonus Pensionskasse, RPMI Railpen, Amundi, MSCI, Eaton Vance, Aegon, Robeco, bfinance, NN, AAE, Generali, FIR, Universal, Research Affiliates, Edmond de Rothschild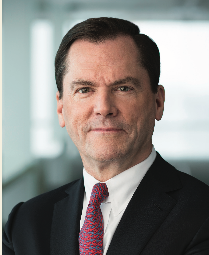 State Street Corporation – Jay Hooley will retire as the financial services giant's CEO by the end of 2018 after more than 30 years with the company, it announced this week. He will remain as chairman throughout 2019. State Street's directors have appointed Ron O'Hanley as president and chief operating officer – he was previously vice-chairman of State Street and president and CEO of State Street Global Advisors (SSGA), the group's asset management business. He succeeds Mike Rogers, who retires at the end of this year. In addition, O'Hanley will succeed Hooley as CEO in 2019.
Cyrus Taraporevala has been named president and CEO of SSGA. He joined in 2016 from Fidelity Investments. O'Hanley, Taraporevala and Rogers manage the transition process over the next two months, the company said in a statement. This will involve, among other moves, Liz Nolan becoming CEO of State Street's global services business in the EMEA region.
The changes follow a management reshuffle of SSGA's EMEA business earlier this year, as revealed by IPE in July.

Ilmarinen/Etera – Mikko Mursula has been appointed as the executive group member for investments at the company that will result from the merger of Ilmarinen and Etera at the beginning of next year. Mursula has been CIO at Ilmarinen since April 2015. The board of directors at Ilmarinen approved this appointment and those of other members of the new company's executive group.
As previously announced, Ilmarinen's president and CEO Timo Ritakallio will continue as president and CEO of the new company until he transfers to his new position as head of OP Financial Group in March 2018. Ilmarinen said a search was underway for his successor.
The board also approved the appointment of Stefan Björkman, Etera's chief executive, as deputy to the president and CEO, responsible for finance, HR, IT and integration. Ilmarinen's current deputy CEO Sini Kivihuhta will continue in her position at the merged company alongside Björkman, responsible for pension insurance and development. The post-merger executive group will also include Jaakko Kiander, in charge of communications and public relations; Hillevi Mannonen, responsible for actuarial function and risk management; Pekka Puustinen, in charge of client relations and work capacity; and Leena Siirala, who will head up legal affairs and compliance.
Bonus Pensionskasse – After having bought the Victoria-Volksbanken Pensionskasse (VVPK) last year, the Austrian multi-employer Bonus Pensionskasse has secured the services of the VVPK's former head of asset management, Claudio Gligo. He has been appointed CIO for Bonus Pensionskasse as well as for the provident fund Vorsorgekasse. In total, the Bonus group currently manages €2.5bn in assets. After leaving VVPK, Gligo worked for Union Investment for a year.
RPMI Railpen – The industry-wide pension scheme for the UK railways sector has continued the restructure of its leadership team with the appointment of Paul Sturgess as managing director for its administration arm. He joins from Equiniti where he was a director responsible for the company's private sector services.
In addition, deputy CEO David Maddison has been appointed managing director for the scheme, tasked with leading support for the trustee board. Julian Cripps is the managing director responsible for RPMI Railpen's investment arm, a role he has held since joining last year. RPMI Railpen's CEO Chris Hitchen is stepping down from his role in the near future, once a successor has been appointed.
Amundi – Asset manager Amundi has appointed Rutger Maenen as head of institutional in the Netherlands, tasked with further developing the market segment. Maenen joins from Goldman Sachs Asset Management, where he was responsible for the institutional markets in the Benelux. Prior to this, he worked at BlackRock as director institutional sales for the Benelux region.
MSCI – CD Baer Pettit has been named as the index provider's new president. He was previously chief operating officer. MSCI has appointed Laurent Seyer as chief operating officer alongside his current role as chief client officer.
Eaton Vance Management – The US asset manager has hired Kiran Inamdar as consultant relations director for the UK and Ireland, a newly created role. She joins from American Century Investments where she was business development director for the EMEA region for seven years. She has also worked at Morgan Stanley Investment Management, GAM and Reuters.
Aegon Asset Management – Sven Becker has joined the Dutch investment manager as country head for Germany. He was previously responsible for fixed income sales for Barclays' German institutional clients, and has also worked for ABN AMRO Bank.
Robeco – The €152bn Dutch asset manager Robeco has appointed Christoph von Reiche as head of global distribution and marketing. He will be responsible for Robeco's global sales strategy and organisation as well as overseeing sales teams in 15 countries, consultant relations efforts, direct retail distribution in the Netherlands and global marketing. Von Reiche joins from JPMorgan Asset Management in London, where he was head of European institutional business. Between 1995 and 2014 he worked at Goldman Sachs in Frankfurt, where he held various positions, including country head of Germany.
bfinance – The investment consultancy has opened its first US office, in Chicago, and has appointed Jason Pomatto as its US managing director. In a statement, the company described the move as an "extension and enhancement" of its work with US pension funds and a "significant step in the firm's global expansion". Pomatto joins from Driehaus Capital Management, where he worked for more than 20 years.
Nationale-Nederlanden – Wim de Bundel has been named as director of marketing and sales at the new combined pensions business of Nationale Nederlanden. He will be responsible for marketing and sales for pensions at Nationale Nederlanden, Delta Lloyd and BeFrank. The brand Delta Lloyd will be phased out next year. De Bundel held the same role at Delta Lloyd until recently.
AAE – Falco Valkenburg has been appointed on the board of directors of the Actuarial Association of Europe (AAE) for a two-year period. Valkenburg – an independent actuary – is also a member of the stakeholder group for corporate pensions of European supervisor EIOPA as well as supervisor at the €8.4bn Dutch sector scheme for disabled people working in sheltered accommodation (PWRI) and the €2bn industry-wide scheme for public libraries (Openbare Bibliotheken).
Generali Group – The Italian financial services group has hired two senior staff as part of a major restructuring. Bruno Guiot joins from AXA Assicurazioni and is head of the Generali Individual Savings Solutions unit, while Carlo Trabattoni joins from Schroders and will lead the Generali Investments Partners unit, the group's distribution arm. Generali has also reorganised its investment arm into three sections: head office, asset management, and wealth management. This includes the creation of a "multi-boutique platform" for its investment strategies, overseen by Trabattoni.
Forum pour l'Investissement Responsable (FIR) – The French responsible investment association has elected four new vice-presidents: Héléna Charrier (Caisse des Dépôts et Consignations), Laurène Chenevat (Mirova), Philippe Dutertre (AG2R La Mondiale), and Bertille Knuckey (Sycomore Asset Management). In addition, Caroline Le Meaux of Ircantec was elected chair of the investor relations committee, while Lise Moret of AXA Investment Managers is president of the association's research committee.
Universal-Investment – Katja Müller has been appointed to the board of directors at the German asset management group. She is head of the company's sales and relationship management division and has worked for Universal for three years. She was previously global chief operating officer at Deutsche Bank's corporate tax department.
Research Affiliates – The investment research specialist firm has hired Campbell Harvey as a partner and senior adviser. He is a professor at Duke University in North Carolina, US. He will focus on strategic research, product development, and thought leadership, the company said. Harvey has received several awards for his investment research work.
Edmond de Rothschild Asset Management – Gad Amar is the asset manager's new global head of business development, based in Paris. He joins from BlackRock where he was head of client distribution for France, Belgium and Luxembourg. He has also worked at Fidelity in Canada and JP Morgan Asset Management in Paris.