FCA, HSBC AM, ATP, TV 2, Trillium, Hymans Robertson, Cardano, BNP Paribas Asset Management, Royal London Asset Management
Financial Conduct Authority (FCA) – The UK regulator has hired Sacha Sadan, most recently director of stewardship at Legal & General Investment Management, as director of environmental, social and governance, a new role.
The FCA said he would develop and advocate for the FCA's approach to sustainable finance both in the UK and internationally. He will also lead the development of policy to help ensure the long-term safety and soundness of firms, the proper functioning of markets, and consumer protection.
"The FCA is rightly seen as an international leader on the role financial regulation should play in delivering a more sustainable and greener future," said Nikhil Rathi, chief executive officer of the FCA. "We welcome the recent addition to our remit of a requirement to have regard to the UK target of net zero carbon emissions. I am delighted to have someone of Sacha's experience and insight joining us to help us accelerate this important work."
Sadan said he was "delighted to join the FCA to help promote the UK as a global financial leader in ESG". He started his career in institutional investment in 1994 at the Universities Superannuation Scheme, and worked at Gartmore before joining LGIM.
Last month the Chancellor asked the FCA to "have regard to" the government's commitment to achieve a net-zero economy by 2050.
---
HSBC Asset Management – The firm has appointed Paul Griffiths as its new global head of institutional business. Based in London, Griffiths will start on 5 May and report to Nicolas Moreau, CEO.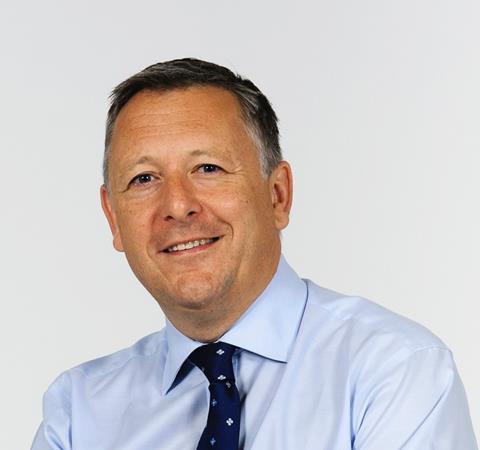 With over 30 years of experience in the industry, Griffiths will be responsible for the commercial development of the firm's Institutional Business and leading its institutional sales and client management teams. He takes over from Brian Heyworth who left the firm last year.
Griffiths joins from First Sentier Investments where he was chief investment officer, fixed income and multi asset solutions. Prior to that, he held senior roles with firms including Aberdeen Asset Management, Credit Suisse, AXA and lnvestec. He is also the founder investor of the UK's first student run investment portfolio based at the University of York.
Griffiths said: "HSBC Asset Management has seen significant growth in its institutional business over the past year. This has been driven by bringing a strong set of innovative products to the market and I am thrilled to be part of its future development."
In 2020, HSBC Asset Management set out its strategy to re-position the business as a core solutions and specialist emerging markets, Asia and alternatives focused asset manager, with client centricity, investment excellence and sustainable investing as key enablers. The firm restructured its business to establish a more market competitive and client-centric operational model. As part of this, it changed its distribution model to operate with a global approach with the creation of institutional and wholesale client businesses.
---
ATP/TV 2 – Bo Foged, chief executive officer of Danish pension fund ATP, has been appointed by the country's Minister of Culture Joy Mogensen as the new deputy chair of the board of broadcaster TV 2.
The appointment is one of two board changes the government announced yesterday, to equip the state-owned company "for the changes in a media landscape driven by tech giants and streaming services". Mogensen said in the announcement that the government would not put the state-owned media firm up for sale.
Foged is replacing Merete Lundbye Møller, who has been a member of TV 2's board for nine years. The other new board appointee is Ane Hendriksen, executive director of Velux Fonden, who replaces Sisse Fjeldsted Rasmussen.
---
Trillium Asset Management – An impact-driven ESG-focused investment firm has increased its commitment to the UK market as it focuses on delivering its nearly 40-year track record of ESG investing and shareholder advocacy to clients in the UK and Europe.
As part of the move, Trillium has appointed a team of senior investment professionals to spearhead the launch of new global ESG equity strategies, led by Ian Warmerdam who joined as lead portfolio manager from Janus Henderson Investors, where he spent 18 years, most recently as director of global equities managing both global equities and EAFE select strategies.
Warmerdam will be joined by Jamie Mariani, who has been appointed as portfolio manager. Mariani's experience includes 11 years at Martin Currie where he was head of research focused on global equities.
Graham Kitchen takes up the role of chair of the UK board. He has more than 30 years of investment management expertise, having worked at Janus Henderson for over 14 years managing equities portfolios and most recently as an executive committee member and global head of equities.
Based in Edinburgh, the investment team will begin to roll out a suite of global ESG-focused equities strategies with support from a distribution and compliance team based in London and Edinburgh.
In June 2020, Perpetual, an Australian diversified financial services company, acquired Trillium giving the firm access to Perpetual's 75-strong global distribution team principally based in the US and in Australia. Perpetual is now actively building out its UK and European distribution presence.
---
Hymans Robertson – The pensions and financial services consultancy has appointed Philip Pearson as head of LGPS investment. Pearson is a senior investment consultant who has helped develop client consulting and strategic focus on the LGPS since joining the firm and brings over 20 years of investment experience to the role.
With almost 25 years of experience in the financial services industry, Pearson joined Hymans Robertson in 2020. Prior to this he was head of asset management at AgFe, an asset management/advisory firm specialising in real asset financing. He was also previously head of alternative investments at Aviva Investors. In these roles, he advised and supported institutional investors in allocating capital to a variety of private markets including private equity/debt, real estate and infrastructure.
Pearson has an in-depth understanding of investment markets and leads our advice to a number of LGPS funds across the whole range of investment services.
---
Cardano – The pensions risk and investment management specialist has appointed two new senior hires. Sasha Mandich has been hired as head of business development, responsible for leading the business development team at Cardano UK. He brings more than 20 years of experience in the investment industry to the role.
Prior to joining Cardano, Mandich served in a number of senior management roles at Russell Investments in the UK and the Asia Pacific region. Most recently, he was responsible for growing the UK fiduciary management business as a managing director and head of institutional sales.
Additionally, Gillie Tomlinson has been hired as head of trustee engagement, responsible for maintaining and developing relationships with trustees and other stakeholders at UK defined benefit schemes. Tomlinson has 30 years of experience in the investment industry, having previously served as a director at LCP, where she was responsible for client development. Before that, she spent 12 years at BlackRock, where she focused on professional trustees and consultant relations. In her new role, Tomlinson will work closely with the other members of the client team to engage trustees on all aspects of integrated risk mManagement. She will report to Mandich when she starts on 1 July.
---
BNP Paribas Asset Management (BNPP AM) – Alex Bernhardt has been apppointed as global head of sustainability research within the asset manager's Sustainability Centre. Bernhardt joined on 21 April and reports to Jane Ambachtsheer, global head of sustainability.
Bernhardt will be responsible for BNPP AM's sustainability research agenda and ESG scoring platform, and manage its team of ESG analysts. He will also work closely with the Quantitative Research Group, which plays an increasingly important role in developing and delivering BNPP AM's sustainability research agenda.
Bernhardt joins from Marsh McLennan, where he was director of innovations, helping clients to address systemic issues including climate resilience, the catastrophe protection gap, diversity and sustainable infrastructure financing. He was previously principal and US responsible investment leader at Mercer, helping institutional investors to manage sustainability challenges in their portfolios, particularly related to climate change. He joined Mercer from reinsurance broker Guy Carpenter where he devised bespoke risk transfer solutions for insurance brokers.
---
Royal London Asset Management (RLAM) – Eli Haroush has joined as head of ESG research.
Haroush – who will report to Ashley Hamilton Claxton, head of responsible investment at RLAM – has spent more than 25 years working in investment roles, most recently at APG in the Netherlands where he worked closely with its responsible investment team and managed APG's Global Developed Financials & Real Estate Equities fund.
Haroush has held other investment roles at Fidelity Investments, JP Morgan Investment Management, American Express Asset Management International and Alliance Bernstein.
In the newly created role, Haroush will add experience and knowledge to RLAM's nine-strong responsible investment team and will play a key role in further embedding high quality, bespoke ESG analysis into RLAM's investment decisions.
To read the digital edition of IPE's latest magazine click here.