Willis Towers Watson, PFA, BaFin, APPT, BMO GAM, Robeco, Natixis, HSBC AM, Alcentra, Soka-Bau, Nuveen, MFS, Preqin, USS, Veritas
Willis Towers Watson – Johan Lindvall has been appointed as chief executive officer of Willis Towers Watson (WTW) Sweden, and as the firm's head of Sweden and Finland. WTW said Lindvall had worked for the company since 2013, developing and managing its Affinity insurance-tech operation, for which he would remain responsible.
Before working for WTW, Lindvall worked as commercial director at Norwegian insurance firm Protector Forsikring, and previously at consultancy Aon. WTW said Lindvall would take over as CEO and as head of Sweden and Finland immediately.
---
PFA – Peter Rixen has been appointed as senior investment specialist at Denmark's largest commercial pension provider, PFA. He joins the firm from his most recent role at AP Pension. Before he was employed by Skandia's Danish business, which was bought by AP Pension in 2018.
In a post on LinkedIn, Rixen said he would start work at PFA this month, adding that he was looking forward to helping set the direction for PFA's savings products.
"I am already looking forward to working with a lot of talented and inspiring new colleagues," he said.
---
BaFin – The German financial supervisory authority has appointed Birgit Rodolphe as the new executive director of its resolution division. The division also includes the anti-money laundering and financial system integrity departments.
Rodolphe succeeds Thorsten Pötzsch, who was promoted to the position of executive director securities supervision and asset management division. She has served recently as head of corporate clients non-financial risk at Commerzbank. She has knowledge in the fields of restructuring and money laundering, and can rely on many years of management experience.
---
Association of Professional Pension Trustees (APPT) – Nita Tinn will be handing over her role as chair to fellow APPT council member Harus Rai, following its annual general meeting on 2 November.
Tinn was appointed as chair of the APPT in 2019 and, during her two years at the helm, not only saw its members through the COVID-19 pandemic, but also established the APPT's accreditation programme for professional trustees and published a code of practice for Professional Corporate Sole Trustees (PCST) to set rigorous industry standards.
Rai, who becomes chair immediately, is currently head of sole trusteeship at Capital Cranfield and first joined the APPT council in October 2020. He has almost 25 years of experience across the pensions sector, with more than 10 working for professional trustee firms in various roles. He previously supported the APPT's committee on PCST to develop the code of practice.
---
BMO Global Asset Management – Karlijn van Lierop has been appointed responsible investment product specialist for the Netherlands, helping drive BMO GAM's responsible engagement overlay service for pension funds in the country. Van Lierop, who will start her new job in January 2022, joins from MN where she was heading up the responsible investment team as a director of responsible investment since 2012.
Separately, BMO GAM also appointed Isabelle Meyer as a responsible investment product specialist for the German market. Both will report to Claudia Wearmouth, co-head of BMO GAM's responsible investment team.
---
Veritas Asset Management – Charles Richardson, the founder of Veritas Asset Management, is stepping down as executive chair from 1 November. From this date, he will become non-executive chair until he assumes the role of founding partner and advisor from June 2022.
The firm will appoint a non-executive chair of the managing partners board in due course. They will join the executive managing partners who run the firm on a day-to-day basis as follows: Andy Headley (global investment), Ezra Sun (Asian investment), Antony Burgess (clients and investment specialist), and Nicola Smith (chief operating officer).
Smith has been appointed COO and managing partner from 1 November following the retirement of Richard Grant.
---
Robeco – The asset manager has announced the strategic expansion of its sustainable multi-asset solutions capability with the appointment of Colin Graham as head of multi-asset strategies and co-head of sustainable multi-asset solutions. In this newly-created role Graham will be essential aiming to growth the sustainable multi-asset solutions team.
Graham was most recently CIO multi-asset solutions at Eastspring Investments (part of Prudential plc). Prior to this, he was CIO multi-asset solutions for BNP Paribas Asset Management in London, and managing director, co-head of global multi-asset strategies at Blackrock.
---
Natixis Investment Managers – Melanie Robinson and Gad Amar have been appointed to the newly-created roles of global head of customer experience and international chief product officer.
Robinson has previously worked at Medallia and American Express, and Amar joins from Edmond de Rothschild where he was deputy CEO, global head of business development in Paris.
---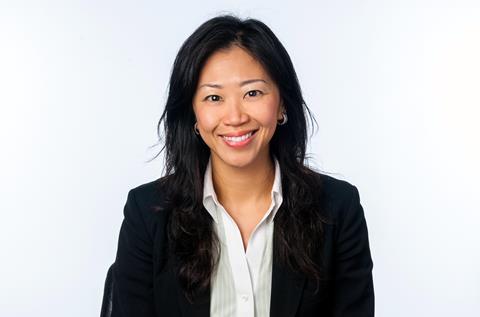 HSBC Asset Management (HSBC AM) – Christine Chow has joined the firm as head of stewardship and engagement, reporting to Stuart Kirk, global head of responsible investing and research.
Chow's role will be aligned with the HSBC Group's net-zero strategy and will focus on climate and sustainability engagements that enable the transition to net zero. She will also grow the team with new hires who will join in the coming months.
Before joining HSBC AM, Chow was a member of the Court and Investment Committee of the London School of Economics, a member of the Data Governance Task Force of the UK All Party Parliamentary Group on artificial intelligence and an adjunct professor in finance at the Hong Kong University of Science and Technology.
She is a board member of the International Corporate Governance Network (ICGN) and was also appointed an honorary adviser to the Financial Reporting Council (FRC) Hong Kong in April 2021.
Separately, the asset manager has also appointed Daisy Ho as its new regional CEO for Asia Pacific & Hong Kong, with effect from 8 November. Ho joins from Fidelity International, where she was president for China. She replaces Pedro Bastos, who is moving to a newly-created role as CIO International Markets and Asia strategist.
---
Alcentra – Ross Curran has been appointed as head of responsible investing at the alternative credit specialist firm, which is part of BNY Mellon Investment Management. He will be supported by new hires Adriana Carvallo, head of ESG integration and previously at Norges Bank Investment Management, and Amanda Provencal, ESG analyst.
---
Soka-Bau/Nuveen – Maria Leitzbach, head of the portfolio management division at Soka-Bau, the umbrella organisation for the holiday and wage compensation fund and the supplementary pension fund for employees in the construction industry, has taken over the position of director, global client group central Europe, at Nuveen.
In her new position, Leitzbach will advise institutional investors on strategic portfolio allocation and integration of ESG factors in investment processes, focusing primarily on pension funds, corporates and consultants. Based in Frankfurt, she will report directly to Romina Smith, Nuveen's managing director, head of central Europe global client group.
At Soka-Bau Leitzbach was responsible for strategic asset allocation in equities, fixed income, real estate and alternatives for assets totalling close to €13bn. She was also a member of the investment committee responsible for integrating ESG factors in the investment processes.
---
MFS Investment Management (MFS) – Kelly Tran has joind as managing director of UK and Ireland institutional sales at MFS. She was most recently at Newton Investment Management, where she served as head of UK institutional sales and sustainability commercial leader.
---
Preqin – The alternative assets data provider has named Christoph Knaack as its new CEO, effective 1 January. Knaack is currently Preqin's chief strategy and product officer, having joined the company in 2020 after previous roles at hedge fund Davidson Kempner, Kohlberg Kravis Roberts, and Morgan Stanley.
Preqin's founder and current CEO, Mark O'Hare, will remain a member of Preqin's board of directors, and as the company's principal shareholder, will support Preqin's executive team with strategic guidance, as well as engaging with customers, partners and other stakeholders in the market.
---
Universities Superannuation Scheme (USS) – The trustee of the UK's largest private pension scheme by way of assets has appointed Ellen Kelleher as a new trustee board director, as it announced the retirement of Rene Poisson from the USS board.
Kelleher has spent her career in the pensions industry and is currently chief pensions officer at Trafalgar House Pension Trust. Prior to this she spent five years at HSBC as chief operating officer of the HSBC Pension Trust (UK) Limited and over 22 years with PwC where she set up the PwC consultancy practice advising on pensions administration and systems, operational effectiveness and governance.
Kelleher has also, since 2015, been a member of the Judicial Pension Board and the Judicial Pension Scheme Advisory Board which are responsible for the governance of the judicial pension schemes.
Poisson retires from the USS board after nearly a decade with the scheme. Poisson joined the USS board in 2012 and was subsequently appointed chair of the remuneration committee and a member of the pensions committee.
To read the digital edition of IPE's latest magazine click here.