A new law aims to make collective retirement savings plans more attractive, writes Susanna Rust
At a glance
• Assets under management under collective workplace savings plans (PERCO) reached €12.2bn in 2015, up 18%.
• A new law approved last autumn, the loi Macron, includes measures designed to encourage more saving under the PERCO.
• The French asset manager association wants more to be done.
It is catching on. "Very encouraging" is how AFG, the French asset management association, described the 2015 development of PERCOs, France's employer-sponsored collective retirement savings plans.
For the first time since the plans d'épargne pour la retraite collectif were introduced in 2003, gross inflows surpassed €2bn, according to figures from AFG. Assets under management reached €12.2bn, an increase of 18%, on the back of net inflows of €1.5bn.
At €12.2bn, PERCO schemes represent 10% of total workplace savings, which reached €117.5bn at the end of December 2015, an increase of 7% on 2014. AFG attributed this to favourable market conditions in 2015.
The PERCO figures "remain very encouraging", said AFG, noting that these schemes "are an excellent means for employees to supplement basic and supplementary retirement regimes".
Such a positive perception may please the government, given that last year the economy minister Emmanuel Macron introduced a law that included measures to boost the appeal of workplace savings.
"With the deteriorating situation of the social security and Agirc-Arrco systems the government is aiming to make employee savings plans easier and more attractive," says Mourad Bentoumi, director of the retirement and benefits department at Willis Towers Watson France.
"And it's working. Slowly, but it is working," he adds.
There are four main measures in the Macron law that make PERCOs an attractive proposition, according to Bentoumi.
First, the number of vacation days that can be transferred to the savings plan was increased, from five to 10. These can then be cashed out upon reaching state pension age.
Second, the law allows employers to make additional contributions to the PERCO of up to 2% of the annual social security ceiling. This is on top of any payment matching the employee's contribution.
The third change was a reduction in taxes applied to employer contributions. The 'forfait social' rate was dropped from 20% to 16%, with a steeper cut for smaller companies. Some conditions apply – for example, in relation to the proposed investment options where the default investment fund must be the lifecycle management option, the so-called gestion piloté. Also, 7% of these funds need to be earmarked for financing of small and medium-sized enterprises (SMEs).
Lastly, implementation has been simplified, says Bentoumi, allowing companies to set up a PERCO without having to go through work councils if two-thirds of employees vote in favour.
"The government is giving employers a break that results in encouraging long-term savings for retirement and stimulating the economic recovery and encouraging entrepreneurship," says Bentoumi.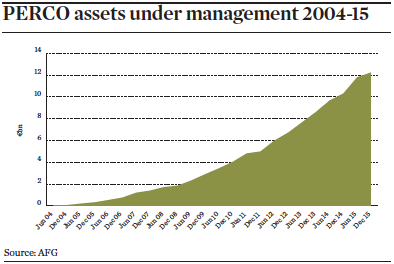 Attitudes towards the PERCO are changing, he says, although it is premature to know how much of this is down to the new law.
"More companies are looking to implement PERCOs and those that had them already are reviewing the structure to take advantage of the new regulation," he says. "Employers see it as a good start, although they feel there is still room for improvement."
A good start is looking at how the French asset management association (AFG) sees things.
When it announced the 2015 figures for workplace savings in March, it welcomed the measures contained in the Macron law as representing "encouraging signs for the development and simplification of workplace saving", in particular to the PERCO product.
But more needs to be done, said the AFG, which "encourages lawmakers to continue to give positive signals for long-term savings in 2016".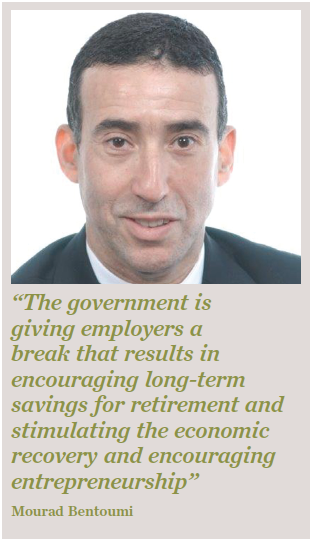 More specifically, this means lower taxes, says Laure Delahousse, deputy director general of AFG.
"For long-term savings to work they need tax incentives and in France they are not sufficient," she says. "Three to four years ago, the tax on the PERCO and workplace savings in general was increased a lot, and we believe this should be lowered to the level it was before."
The lowering of the tax – le forfait social – from 20% to 16%, is a positive step in the eyes of the association, but it is pushing for 8%, if not less, according to Delahousse.
Is this likely to happen? There are grounds for optimism, she says.
"The Macron law marks the first time that taxes were lowered, so we have an opportunity," she says. "There is a trade-off, in the sense that a certain percentage of the funds have to be invested in SMEs, but this is a very good first step.
"I don't know if this will happen and when, but everyone in the political arena understands our argument and that we need to invest in companies to fuel economic growth."
Also, saving for retirement has become culturally more accepted in France, according to Delahousse. "The PERCO is still not that well known and there needs to be more communication to increase awareness, but it has definitely become more established," she says. "Traditionally there used to be a lot of apprehension about pension funds and other schemes, but now that saving for your pension is seen as complementary to the pay-as-you-go system, and not competition, it has become more accepted."
More, maybe, but not fully. Pockets of resistance remain as can be seen from comments made by the Confédération Générale de Travail (CGT), a trade union, representing managerial staff and other personnel at RATP, the public transport company for greater Paris.
Writing in December about various end-of-year negotiations and the RATP's desire to create a collective retirement savings plan, the union said that "in matters of retirement, CGT defends the principle of pay-as-you-go".
Funded pension systems and products like the PERCO "cannot in the long term guarantee a given level of benefit, regardless of how they are conceived or the promises made", it said.
Pensions In France: Change of tack on pensions
1

2

3

4

Currently reading

PERCO brews a success