As he ends a six-year stint at the helm of Ontario Teachers' and prepares for retirement, Ron Mock reflects on the alignment of interests between the organisation and its stakeholders
Lots of pension fund executives would like to be in the shoes of Ron Mock as he sits in the London offices of Ontario Teachers' Pension Plan (OTPP), overlooking Portman Square. Ahead of his retirement as CEO at the end of the year, Mock oversees a fully funded pension plan with assets of over C$200bn (€137bn).
He has transitioned OTPP's management to a new benchmark aligned to the funding of the scheme. OTPP is sought the world over for its advice on how to implement it. It is the embodiment of what has become known as the "Canadian model".
"Pick 30 countries, the top 30 around the planet, and there isn't a week or month that goes by where they're not in our office asking us, 'how can we do this?'."
Yet Mock, modestly, describes himself as standing on the shoulders of giants. What is the Canadian pension fund model? Can it be emulated, and is it, indeed, a useful way of looking at the world?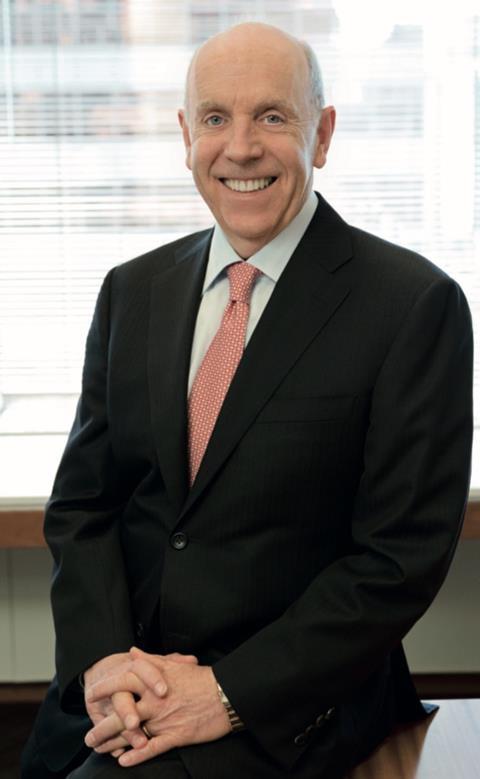 It may be thought of as having a high exposure to real or private assets. It may also be seen in terms of the high levels of compensation broadly necessary to attract and retain the required investment talent.
Indeed, many European pension funds look enviously at the higher compensation budgets that allow OTPP and its Canadian peers to recruit private market specialists, on the basis that it is better to pay them to work for you directly. Some 80% of OTPP's assets are managed in-house.
Yet for Keith Ambachtsheer, the renowned Canadian pension specialist and director emeritus of the Rotman International Centre for Pension Management, success drivers for OTPP have been "legal freedom for the organisation to succeed at its 1990 start, governance that is both representative and skilled, and entrepreneurial culture and management through 29 years".
Ambachtsheer's 1980s recommendation for autonomous-funded public pension institutions was taken up by the Ontario treasurer, Robert Nixon, in 1987 in his Task Force on the Investment of Public Sector Pension Funds. In Ambachtsheer's words, Nixon's report recommended that taxpayer-funded pension funds "should have a clear mission, have a strong independent governance function, and be able to attract and retain the requisite talent to be successful".
The most tangible outcome of this recommendation was the transformation of the old Teachers' Superannuation Fund – which invested entirely in non-marketable provincial bonds – into the OTPP of today.
Success was not predetermined: OTPP's first private equity investment was a total write-off. Employer and union stakeholders have stayed true to the model recommended by Ambachtsheer and Nixon more than three decades ago.
Today, Mock is happy to emphasise the bond between members and OTPP through "vertical alignment" between members, stakeholders and management.
In his tenure as CEO, Mock has spearheaded the OneTeachers strategy, which recognises that total fund returns and risk reduction are as important for plan sustainability as value-add returns. Aimed at increasing this "vertical alignment" with stakeholders, it has effectively meant recalibrating the fund's benchmark to orientate it to pension liabilities.
Effective from 2017, OneTeachers has also meant shifting pay structures "to better align compensation practices to this strategy's key performance indicators", according to the 2016 annual report. OneTeachers, which Mock describes as originating within management rather than from stakeholders, is currently in the final phase of implementation.
Mock describes the transition variously as difficult and time-consuming, but also exciting and important. "The new ideas, the new concepts, that started getting unleashed from this was one of the most rewarding things I got an opportunity to witness."
Teachers' in the news
OTPP regularly appears in financial news media globally as an acquirer of private market assets. Indeed, capturing long-term illiquidity premia is widely seen as a hallmark of the Canadian model; OTPP currently has 18% in non-publicly-traded equity, for instance, and 9% in infrastructure.
And as an investor in high-profile infrastructure assets globally – like Brussels or London City Airports, as an investor in projects such as Elon Musk's SpaceX, or as owner of smaller private companies like Burtons Foods in the UK, the maker of the decidedly homely Jammie Dodgers and Maryland Cookies brands – OTPP has a wide economic footprint that encompasses a broader set of risks than the traditional financial risk-return set-up.
Direct ownership of real assets brings a level of tangibility and connection to the real economy - but potentially also heightened questions around social responsibility and reputational risk. By OTPP's definition, stakeholder groups include both regional and national governments but also residents around airport holdings, for instance.
As Mock puts it: "You become very acutely aware that you are carrying a responsibility to interface with that group of stakeholders, because they have a voice. They have an interest. And if you're not taking care of that group, the governments that are actually giving you the privilege of investing in such assets, are going to have something to say about that."
OTPP's investment in water and sanitation in Chile – it supplies 30% of the water in the capital Santiago, where civil unrest started in mid-October – is a case in point. A rise in metro fares was the widely reported cause for the ongoing rioting and Mock makes a direct link between underlying issues of income inequality and OTPP's investments in emerging markets.
OTPP's investment, the CEO claims, has fundamentally improved water supply in the Chilean capital since the investment was made in the summer of 2011. "One of the benefits is, infant mortality dropped from a level that was third world country-like, down to the equivalent of G7 levels, because we invested the capital to deal with this kind of issue properly, where the Chilean government was not in a position to do so."
But 24-hour news media mean that such investments are under constant scrutiny. "Our teachers watch this very, very closely. And in one second, if they ever thought that we were putting returns over people's wellbeing, my phone and my emails will light up in the middle of the night like nobody's business."
A large organisation like OTPP can bring economies of scale to bear, but also a network effect of what Mock calls "horizontal connectivity", which broadly refers to alignment and value creation across the portfolio: "Probably 70% of the value we have as an organisation is our horizontal connectivity. Buying something, leveraging it up, and driving return on equity through excessive leverage, those days are long gone."
Few, like OTPP, can afford to acquire a team focused on airports, for instance or, indeed, can claim, as Mock does, to have at least some degree of diversification within their portfolio of airports. And few rub shoulders with the likes of Temesek or Carlos Slim's investment operations in international deals.
OTPP and its Canadian counterparts might even over-bid for key assets where other considerations are at play. London City Airport, acquired in early 2016 from Global Infrastructure Partners by a consortium that included OTPP, is often cited in this regard. Overbidding is a loaded term, of course. For OTPP, the ability to take a longer-term view to value creation than a traditional private-equity fund horizon is crucial to how it values prospective assets.
Capital is white paint
Mock says scale of capital is no great distinction for global investors today.
"I can identify 50, 60 massive pools of capital around the world. And so capital is no longer a differentiator. Quite frankly, if somebody's looking for capital, $500m cheques can easily be found. It's like selling white paint.
"You'd better start thinking about, how am I a little bit different? The quality of partnership, the integrity with which you are dealing with your partners, and going in knowing that as a long-term investor one of your goals is to grow and improve the business."
A key challenge – and opportunity to add value – is to leverage sector knowledge and transmit it between portfolio companies. Mock is keen to talk about how OTPP has helped the UK childcare company Busy Bees to expand in Asia, for instance. There are numerous other examples.
An important part of this has been the creation of a global strategic relationships unit within OTPP, which Mock describes as connecting between regions, companies and investors. "Global Strategic Relationships have made it their business to know all of our partners, all of our bankers, in all of our countries around the planet, in all of the companies that we own, and connect the dots," Mock explains.
"When we sit down with a company, we need to be able to bring not just a cheque. We need to be able to bring pretty leading-edge HR thinking." Indeed, Mock estimates that "maybe 40 to 50% of what we acquire, is because we are selected, even in a bidding process.
OTPP key data
● Assets: C$201bn (€137bn)
● 80% managed in house
● 104% funded as of January 2019
● Jo Taylor to succeed Ron Mock as CEO from January 2020
● Five-year annual return of 8% to end-2018
● Annual total fund net return since 1990 of 9.7%
● 2.5% return in 2018 (6.3% 1H 2019)
● Cumulative five-year net value add of C$14.2bn 1.5% above the policy benchmark
● Membership of 327,000 active and retired teachers
RON MOCK
● CEO, OTPP since January 2014
● Previously:
● Senior vice-president, fixed income and alternatives, OTPP
● CEO, Phoenix Research & Trading
● Electrical engineer at Ontario Hydro
"The management will often come and say 'we want Teachers'; you're long-term capital, patient capital'."
OTPP has also partnered with BCG Digital Ventures, the technology arm of Boston Consulting, to create an AI incubator. Named Koru, its objective is to interface with companies, and create new product lines through the use of AI and digital technology, for instance by devising efficiencies to drive EBITDA growth.
As part of the effort to boost "connectivity", conferences of senior management from OTPP portfolio companies take place regularly across the world, including one yearly three-day global conference with around 300 CEOs and other senior executives. "Whether it's high speed trains, airports, childcare companies, Jammie Dodger companies or lottery companies, we bring it all together.
"This is what's pretty unique about Teachers'. We have more of a direct investing model than almost anybody that I know in the pension industry. And that has worked very well for us, both in infrastructure, private equity and, frankly, in real estate."
Teaching and learning is a key to understanding how OTPP sees itself. This applies to both the organisation itself and the portfolio companies, and Mock describes the "knowledge equity" built up over the 29 years of OTPP's existence as a key resource.
"Think of a classroom, think of learning, think of teachers, and mostly about ongoing learning. When this plan was started, while there was brilliant governance and insight, defending the model and operationalising it, is something that has to be ongoing.
"Quite frankly, if somebody's looking for capital, $500m cheques can easily be found. It's like selling white paint"
"You have to maintain the independence of governance around this. You have to run it like a business. You have to have the freedom to create compensation structures that will attract the type of talent that you will need to handle the complexity of a global platform, and the kinds of businesses we invest in and operate."
Moats and models
Can others adopt OTPP's model? Along with other proponents of the Canadian model, has OTPP effectively built up a 'moat' or sizeable barriers to entry, around its operation? After all, it has built investment scale in private markets that few can rival, and can bid more effectively through its network, gaining opportunities that many other institutions don't see. "We are paid well to think in a very competitive context," as Mock puts it.
Mock denies that OTPP has built a moat – "that would suggest a level of protection, or even arrogance" – and advocates others adopt the kind of pay structures that his fund offers, even if he understands that political pressures and public scrutiny may make this very hard.
But he also cautions against glib assumptions that effective private market operations can be established in a short amount of time. "Replication of the model takes time," Mock explains. "And by that I mean, you can get a good part of the way there, but it'll take you a decade." Not for the first time in the conversation, he cites the need for the right governance structure and for management to have the freedom to execute investment decisions.
As an active pension plan with growing assets, OTPP will need to continue to build its international network of people to identify and maintain a cutting edge in identifying a continuing stream of investment opportunities. This is still a considerable challenge. "We have to continue to innovate our value proposition for the people with whom we're investing and the companies we're investing in and buying," as Mock puts it.
Mock has no ambition to have seats on multiple boards in his retirement. Instead, he wants to teach business, in Italian, and spend more time at his home in the Swiss-Italian lakes. What of his legacy at OTPP?
"We've built an organisation that is a learning organisation, that's intended to deliver value to our partnerships as we need to deliver value to our partnerships above and beyond cheque writing. That is critically important. So there's a long list of that kind of stuff but to me it's a point of differentiation. It has to be, going forward."