Political Risk: Anxiety to the fore
Investors are facing not just challenging markets but also increased political risk. Daniel Ben-Ami asks how they can tackle such uncertainty 
The world seems beset with political risk. At present, attention is focused on the possibility of Donald Trump winning the US presidency. But 2016, has also seen anxiety about the prospect of Brexit and the impeachment of Dilma Rousseff as Brazilian president. There was also the narrow defeat of a Freedom Party candidate in the Austrian presidential elections – which would have seen the appointment of the first far right European head of state since the Second World War – but this is being challenged in the courts.
Of course, the role of investors is to provide good risk-adjusted returns for clients rather than pondering potential geopolitical risks. But, this does not mean they can avoid thinking about such uncertainties. This is particularly true during times of actual or potential instability. In periods of flux, it is possible that low probability – but high impact – events will impact on investment performance.
A tricky question is how asset managers should employ their resources to handle this task. This raises challenges in relation to how they organise themselves and which geographical areas, if any, they should focus on. Then there is the matter of whether any particular themes should be pursued or approaches adopted.
The size and nature of asset managers are important determinants of how they tackle political risk. At its simplest, smaller asset managers have less resources to bring to bear in this area than large ones. Bottom-up fund managers, with their emphasis on individual companies, are likely to pay less attention than top-down ones. But even bottom-up investment boutiques claim to monitor the news for political developments.
Amy Zhang, a manager of US small- and mid-caps at Fred Alger & Company, says such risks are not important. "We don't see ourselves as exposed to geopolitical risk because we focus on companies' fundamentals," she says. In her view, competitive companies should be better able to weather problems as they arise.
However, this does not mean she ignores politics. For example, she takes the view that a Trump administration would be more pragmatic towards the markets than assumed. She also avoids commodity-driven firms which can be vulnerable to geopolitical shocks. 
Majedie Asset Management, a London-based investment boutique, says it monitors political risk. "We do look at those issues and always have done," says James de Uphaugh, the firm's CIO. "One does need to look at this more than one did 10 years ago".
Nevertheless, he recognises they only have limited resources. "We are not trying to set ourselves up as a mini Chatham House [foreign policy think tank]," he says.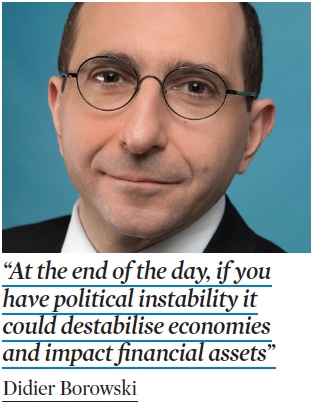 Larger groups, in contrast, have more resources to bring to bear on the question should they so choose. JP Morgan Asset Management, for example, employs economists and strategists considering the matter. "We definitely think about it," says Patrick Thomson, the head of international institutional clients. "One of the key takeaways for us is to understand the sources of risk and make sure we are diversified." Nevertheless, he says that economics is much more important than politics.
Amundi, the French asset manager, places significant emphasis on political risk. "It's a key input if you want to understand macroeconomic stability," says Didier Borowski, the group's head of macroeconomic research. "At the end of the day, if you have political instability it could destabilise economies and impact financial assets." Amundi has recently appointed a global advisory board including experts on economic and political issues.
One option for those who want to keep abreast of geopolitics is to work with specialist consultancies such as Arabia Monitor, the Economist Intelligence Unit, the Eurasia group and IHS. Such services tend to range from standard reports to tailor-made research on specific topics. 
One area that divides managers is the relative weight to attach to emerging versus developed market when considering political risk. For a long time, emerging markets were considered more risky than the advanced world. However, recent developments have brought this assumption into question.
Zhang, says she would devote more attention to political risk if she was investing in Chinese rather than US stocks. "If I was investing in China, I'd be a lot more worried," she says. "It's just a lot more complicated".
Similarly JP Morgan's Thomson is sanguine about the large developed economies as opposed to emerging markets. "Political risk in the G7 [industrialised countries] has historically had little impact on returns," he says.
In contrast, Amundi's Borowski emphasises the global character of political risk. "The problem with political risk is that you see it rising almost everywhere," he says.
Of course, there are some areas where geopolitical uncertainty is always a pervasive factor. "We think about political risk all the time", says Florence Eid-Oakden, the chief economist at Arabia Monitor. "It is unavoidable when you are looking at Middle Eastern countries."
However, there are other ways to divide the world up besides the dichotomy between emerging and developed markets. For William Priest, chief executive officer of Epoch Investment Partners: "the most important thing for an investor is to make sure that you are dealing with entities and geographies that have a rule of law." In this respect, he points to Russia and Turkey as areas in which he would be wary of investing.
The rise of populist movements is viewed as one of the key concerns about political risk. Although, there is no standard definition of this phenomenon it usually refers to movements that are both outside and critical of the mainstream. It can include parties that are more associated with the left (such as Podemos in Spain), the right (such as the United Kingdom Independence Party) or the far right (such as the France's National Front). 
Others do not easily fit into these categories. For example, Germany's Alternative für Deutschland started as a technocratic party, with economists and business leaders among its prominent supporters, before veering in a populist direction. Italy's Five Star Movement is populist but cannot be easily classified as left or right.
In the US, a populist trend has emerged within the established parties. Both the Democrat Bernie Sanders and the Republican Donald Trump in the presidential race share characteristics of populism. However, it is worth noting that both joined their respective parties only recently. 
Often rising populism is linked to rising inequality. Borowski says "rising inequalities have increased political risk".
Here too the reality is messier than assumed. For instance, those expressing the most concern about rising inequality are often technocratic organisations (such as the International Monetary Fund or the OECD) and what could be regarded as the wealthy elite themselves (the World Economic Forum). Contemporary populist movements certainly do not embody the traditional left wing preoccupation with 'CEN': confiscation, expropriation and nationalisation.
For those trying to grapple with political risk it is important to maintain the right balance. There are signs that the old order is unraveling but the threats this trend currently represents to global stability should not be overstated.
Pages in: Political Risk: Anxiety to the fore