Maria Teresa Cometto looks at the recent changes to the Italian pension system and asks what has been achieved as politicians pander to popular opinion seeking to reverse key reforms
At a glance
• If Italy's pension system is not reformed it risks undermining the country's financial stability.
• A generation nearing retirement is caught in limbo – unable to get a new job and ineligible for a retirement income for a while.
• The Italian pension funds industry is highly fragmented.
• There is a risk that the government's drive to encourage pension investment in national assets could run counter to the interests of pension fund members.
Italy is the land of reforms. Almost every year there is a reform of a previous reform. So nobody is ever sure about which rules will apply to their situation. This is particularly true for pensions.
In 2011, the technocratic government of Mario Monti introduced a radical reform of the pension system, the Fornero reform (see interview page 41). Among other things, it abolished the so-called pensione d'anzianità, a rule that allowed younger workers to retire if they had enough years of contributions into the public system. For retirees with benefits above €1,450 per month, former labour minister Elsa Fornero also froze inflationary indexation, saving billions.
Thanks to that reform, Italy overcame a financial crisis. Now, the Italian supreme court has judged the freezing of indexation unconstitutional, and the current administration has decided to return €500 to each penalised retiree. What happens next is unclear. The door is open to endless litigation by retirees. More importantly, the whole Fornero reform is under attack: most politicians, who are fighting to get votes at the next election, agree it is necessary to reintroduce "flexibility" in the system or allow workers to retire earlier if they give up a portion of benefits.
But flexibility is only a euphemism, warns pension expert Giuliano Cazzola: "The risk is reintroducing pensione d'anzianità, which is the real golden pension and the real problem for Italian financial stability. The supporters of flexibility are irresponsible because they don't care about the demographic time bomb, which will soon make Italy a country where those over 80 are more numerous than kids under 14."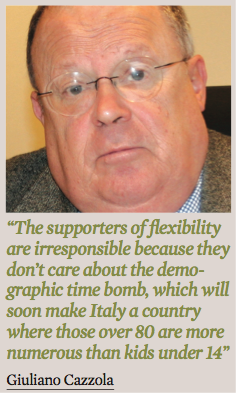 There is heated debate on this subject. The goal is, somehow, to help the remaining esodati, the workers who – before the Fornero reforms – agreed to leave their jobs (usually with financial incentives) thinking they could also take early retirement but instead got caught in limbo. Most of them are under or about 60 years old, while the new retirement age is 66 years for men and 62 for women. This unfortunate generation is not eligible to retire but they cannot get a new job. That means they have to stay without an income, either pension or salary, for a while.
The economist Tito Boeri, who is the new president of INPS, has made a proposal to tackle this problem. Workers willing to retire earlier should accept benefits based only on contributions rather than final salaries. In fact, older workers currently have their pensions calculated according to a mixed system, based in part on their final salaries (the old system) and their contributions (the new one). Younger workers get benefits based only on their contributions.
This October Matteo Renzi – assuming he is still the prime minister – could launch the reform of Fornero's reform in his annual budget.
Meanwhile, news from the private pension industry is disappointing. Out of 6.5m members of pension funds, 1.6m, or almost 25%, stopped making contributions, because of poor financial conditions. The number of 'silent' pension fund members, no longer saving for their retirement, also increased. In 2013, they were 1.4m or 22.5% of total. That is according to data released recently by the pension fund authority COVIP in its annual report.
Initially Renzi wanted to abolish Covip as an independent authority and incorporate it into Banca d'Italia, the central bank. That plan has not been implemented, but Covip's status is diminished. The previous chairman Rino Tarelli left last December and one of the authority's board members, 67-year-old Francesco Massicci, became the new chairman. Renzi's favorite to take over, the economist Carlotta de Franceschi, declined the position.
Before joining Covip, Massicci worked for the budget office at the Treasury and was in charge of the esodati problem. In his 2014 report he advocated a new paradigm to be adopted by Italian pension funds. They should be better organised, more capable of managing risks, more efficient at investing, and larger in order to get economies of scale.
In fact, one of the structural problems of Italian pension funds is their size: out of the existing 496 funds, only 11 have more than 100,000 members, and they manage almost 50% of the total assets, €131bn. For the rest, there are 268 funds with fewer than 1,000 members: in all they represent only 1% of the total number of membership.
The so-called closed funds – established by trade union negotiation and co-managed by employers and unions – have 1.9m members in 38 funds; the open funds (individual pension accounts managed by investment firms) have over 1m members in 56 funds; PIPs (individual retirement accounts) have 2.4m members in 78 funds; and the remaining 323 funds are old ones with 1.2m members.
The fastest growing category, in terms of members, is the PIPs because they are sold by brokers paid by commission. PIPs are also the most expensive products too, costing 1.5-3.5% compared with 0.2-0.9% for closed funds. Unsurprisingly, the average PIP's net return was the poorest in 2014: 6.8% against 7.3% and 7.5% for closed and open funds, respectively. In the same year, the alternative of TFR (Trattamento di Fine Rapporto, the money that employers put away and give as a lump sum to their employees when they leave) only returned 1.3%.
In the future, pension funds will be affected by higher taxes on their returns. The Renzi government increased the rate from 11.5% to 20% as a way to find new funds for the exhausted public finances. Renzi also favours pension funds investing in Italian companies, including startups, and in infrastructure projects to stimulate the economy. His Cabinet approved tax incentives for investments of up to €80m in securities issued by companies, and Covip's president has said that pension funds should better diversify their portfolios, which are 50% in Italian government bonds. Only 3% of total assets are invested in securities issued by Italian companies, mostly bonds, and less than 1% is in stocks. But if you consider equity portfolios, about 5% is invested domestically, more than the weight of the Italian stock market (1.5%) on the global market.
It is hard to avoid wondering whether forcing pension funds to invest in Italian companies for the sake of the national interest will also be in the interest of members.
Italy's Second-Pillar: Pension fund competition
1

2

3

4

5

Currently reading

Politics: The land of perpetual reform

6