Spanish occupational pension funds lost 3.2% over the course of 2018 largely because of markedly poor performance in the final quarter of the year, according to the country's Investment and Pension Fund Association (Inverco).
The return compared with a gain of 0.7% for the 12 months to end-September 2018, and a positive 3.2% for calendar 2017.
The 2018 figure brought the average annualised returns for Spanish occupational funds to 0.9% for the three years to end-2018, and 2.5% for the five-year period.
"This negative performance in Q4 was especially marked in December 2018," said Xavier Bellavista, principal at Mercer. "It is the worst since the 2008 financial crisis. Then, the median return for corporate pension funds in Spain was [negative] 10.3%, but no other year since then has shown a negative return."
Separate figures from Mercer's Pension Investment Performance Service (PIPS) showed that pension fund returns averaged a 3.8% loss for calendar 2018. The PIPS survey covered a large sample of pension funds, most of them occupational schemes.
Since there is no segmentation among corporate pension funds in Spain, it is difficult to compare the performance of these funds on a homogeneous basis. Mercer produces the only risk/return comparison among corporate pension funds in Spain.
According to Bellavista, almost all corporate pension funds incurred losses for 2018, with not even the most conservative able to escape.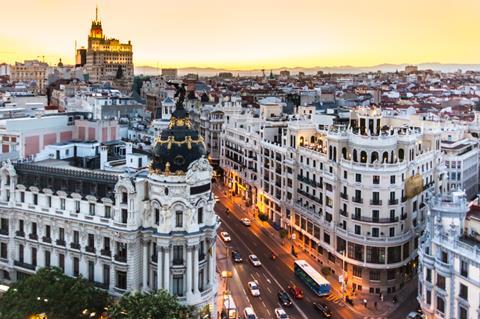 He said: "Comparing the change in shape of the risk/return profile of corporate pension funds between September and December 2018 leads to interesting results. As of September, funds with higher long-term allocations to equity or with a higher diversification and exposure to non-euro assets were still getting positive returns, while as of December 2018, the picture had changed completely because of the negative performance of equity markets during Q4, especially in December."
In the last quarter of the year, Bellavista said, the level of volatility in the markets increased significantly.
"This increased the risk level of the funds as well," he continued. "As opposed to September, those with higher allocations to equity suffered and their performance deteriorated, by around 8 [percentage points] – from positive returns of about 2% for the 12 months to September, to [negative] 6% for December."
Asset allocation
Inverco's figures showed that, for Spanish pension funds as a whole, the fixed income component rose slightly to 47.8% of portfolios, while equities fell slightly to 32.4%.
Spanish government bonds still made up the biggest single component of pension fund portfolios at 23%, with a 14.4% allocation to domestic corporate bonds. The average allocation to domestic securities at end-December was 53.9% of portfolios.
According to the PIPS survey, the total fixed income allocation was 53%, split between 37% in euro assets and 16% non-euro assets. Equity assets remained stable at around 35%, with an almost 50-50 split between euro and non-euro assets.
Inverco said that, at the end of September, total assets under management for the Spanish occupational pensions sector stood at €34bn, a fall of 5.3% over the past year. The number of participants in the occupational system fell slightly, to just under 2m.