Universal-Investment's Spezialfonds data shows how German institutional investors are navigating the current market environment
Key points
• Fixed income exposure fell to a low of 42% in 2017. Equity weightings reached a high point at the same time
• Fixed income allocations have edged up since in anticipation of quantitative tightening
• Investors are taking a selective approach to emerging market debt
• Covered bond allocations are increasing, while alternative allocations have risen exponentially
What will follow quantitative easing (QE)? Institutional investors are preparing for the end of low-interest rates in the euro-zone and are gradually increasing bond allocations. But, higher yielding asset classes also remain important. This is substantiated by the latest analysis of our Spezialfonds data.
While the US Federal Reserve instigated quantitative tightening in late 2015, the ECB has yet to do so. That it will is undisputed – the ECB's bond purchase programme will be phased out at the end of 2018 and the euro-zone's zero interest rates should be history by summer 2019. Many institutional investors are hoping for a return to normal conditions, with fixed-income investments again generating noteworthy returns.
There is, however, a long way to go until this happens. Over the past 10 years, bond yields have headed south, while the ECB's key policy interest rate also fell – almost continuously – from 4.25% in 2008 to 0%, where it has stubbornly remained since March 2016. Since the financial crisis, stock markets have been booming, with Germany's DAX index doubling since 2008.
This trend has left deep marks on the portfolios of institutional investors. The previous undisputed dominance of fixed-income instruments, notably Bunds, no longer exists. For this reason alone, the vast majority of investors has – to a certain extent, with fundamental strategy shifts – accomplished the feat of generating solid returns despite adverse conditions.
This has been achieved by increasing equity exposure and a tendency towards alternative asset classes in Spezialfonds – including real estate, private debt and equity – combined with a reduction in bond positions. This restructuring impacts portfolios' risk structures, which require additional management. It also raises the question as to whether investors will retain their new portfolio structures, or whether they will return to former allocations as monetary policy permits. This is interesting, not least because Spezialfonds have become more diversified – a development that could have positive spin-offs elsewhere in the market.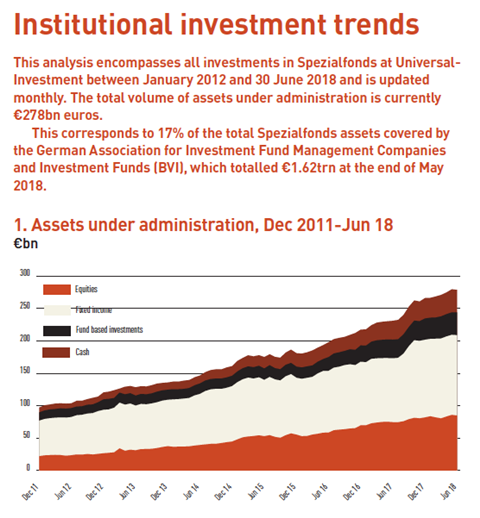 Resurgent interest in bonds
At first sight, it would appear that the clock is being turned back. Average weightings were 56% in bonds and 23% in equities when our data series began in2012, with alternative investments playing barely a role at all. By mid-2017, the exposure to bonds had fallen to 42% – an all-time low. This relative decline is striking when considering the total volume of analysed assets has more than doubled, while bond volumes rose (just) 80%. Around the same time, in April 2017, equity weightings reached their high point at 32%, with an almost 340% rise in the volume of equity investments. The exposure to alternative assets enjoyed even greater appeal, more than quintupling.
"In recent years, investors have been cutting their exposure to government bonds in response to non-existent returns, moving into corporate bonds. But over 2018 this has started to reverse"
Mid-2017 marked a turning point in the bond sector. Since then, fixed-income instruments account for about 45% of Spezialfonds investments. This is partially attributable to one effect, however, as a single prominent portfolio was transferred entirely to Universal-Investment.
Shifts in preference have also become apparent in the bond sector. In recent years, investors have been cutting their exposure to government bonds in response to non-existent returns, moving into corporate bonds – the mid-2017 allocations being 23.4% and 33.8% respectively. But over 2018 this has started to reverse – currently, corporate bonds account for only 29.0% of the bond portfolios, while government bonds have risen to 26.4%.
Bund investments have also increased, even though the current yield for 10-year bonds remains barely above zero. In recent years, however, Bunds in particular have lost ground. Their once-dominant position fell from 7.2% of the total Spezialfonds volume to just 2.3% in mid-2017, and is currently at 3.4%. French government bonds experienced a similar trend, although at a lower level; these account for just under 1.0% of the invested assets, compared with over 3% in 2012.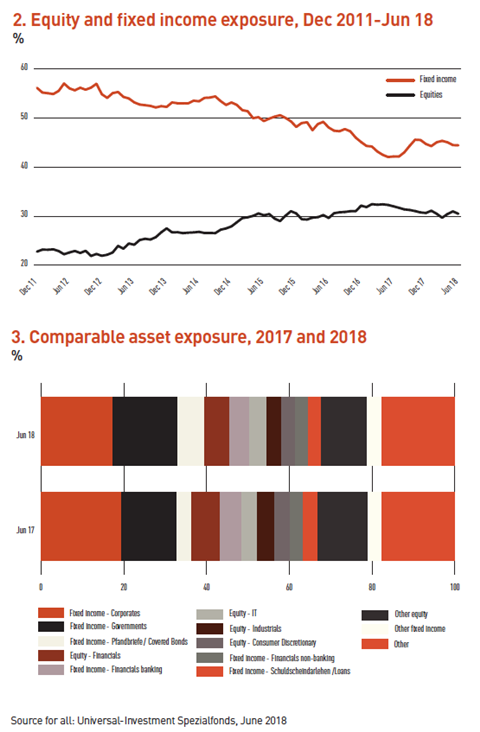 US Treasuries, by contrast, have become attractive to German investors – doubtless thanks to the Fed's help – and their weightings have almost tripled in recent years, notching up to second place (along with emerging market debt) in the sovereign-issuer ranking. Nevertheless, the world's most important bond market remains a side issue for German institutional investors, accounting for 1.4% of Spezialfonds investments, compared with 0.4% at the start of 2012.
Ranking directly behind Bunds, and alongside US Treasuries, is emerging market debt (EMD) at 1.4% in total. The volume of these assets has risen from €1bn at the start of 2012 to €4.2bn. The allocations to individual nations, however, are minimal compared with the total €278bn currently invested, which serves as a diversifying addition. Mexico, with the highest EMD weighting in German portfolios (currently totalling about €569m), is followed by Indonesia (€453m), Poland (€389m), Columbia (€386m), Brazil (€322m) and Russia with €288m exposure.
Our analysis also shows that, over the past five-and-a-half years, investors have taken an increasingly selective stance towards EMD: while exposure to individual countries was relatively homogenous at the start of 2012, they are now more discerning. Then, as now, peripheral EU countries and China remain inconsequential.
Another trend in the fixed-income segment is a return to the Pfandbrief, where allocations have risen from 6.5% to 11.1% of overall bond allocations over the past 12 months. At the start of 2012, Pfandbriefe and covered bonds still enjoyed the third-highest weighting – at 15.8% – in the bond sector, but this dwindled to a third of the weighting over the course of the ECB's bond purchase programme.
Increasing alternative exposure
In contrast to bonds, investors appear to be maintaining equity allocations – or, if not, the monetary policy turnaround has yet to impact them. Since the start of 2015, equity exposure has fluctuated between 29% and 32%, and is currently at 30.5%. Apart from in 2016, investors have been exploiting the stock market's strong gains, with equities contributing heavily to their overall performance.
But high equity and low bond allocations , by historic standards, pose challenges – prescribed or planned volatility and risk-performance targets cannot be achieved with the new allocations without further work. Investors are therefore turning to value-preserving strategies – such as overlay management – to maintain a grip on new risk structures.
"What is conspicuous is that all investor groups across the board – including traditionally conservative ones – have been diversifying into alternative assets"
Another development is a diversification into alternative assets which, given their low correlation with traditional asset classes, help to mitigate risk. In contrast to equity and bond allocations, neither a reversal nor a stagnation in this trend is perceptible. Rather, investor appetite for alternatives has remained constant throughout 2017 and during the first half of 2018.
Against this background, the volume of alternative assets on the Universal-Investment platform has exploded over the past years – five years ago, these asset classes only accounted for around €5bn; at the end of June 2018, this had sextupled to €30.9bn. What is conspicuous is that investor groups across the board – including traditionally conservative ones – have been diversifying into alternative assets.
The highest demand is for equity structures – primarily private equity and infrastructure – these account for 42% of alternative investment products. These are followed by securitisation and debt structures, each accounting for slightly over a quarter of the alternatives – primarily relating to corporate financing, as well as infrastructure and renewable energies, for example. Hedge funds (still) account for small allocations.
Long-term prospects are good
An investment strategy demonstrates its worth in unsettled markets. Up to now, the institutional investors on the Universal-Investment platform have successfully navigated the low-interest-rate ravine and are now tackling the onerous ascent.
At mid-2018, the long-term performance prospects not only exceeded the 4% mark, but even improved year on year. At present, the current average annual return over a 10-year period is 4.3%, compared with 3.8% in mid-2017. Time will tell whether cautious restructuring can hone the portfolios in time for impending changes – namely, the turning point in interest rates which has been partially heralded. In the past, institutional investors' steady-handed policies have in all events served them well – also helping them master a variety of market crises thus far.
Markus Neubauer is managing director at Universal-Investment
German Asset Management: A larger appetite for ESG
1

2

Currently reading

Portfolio Analysis: Back to the old world

3