The regulatory reshaping of banks' balance sheet requirements is transforming the private capital markets
Key points
• Market structure, regulatory incentives and yield hunger are more important than economic trends
• Private credit strategies can offer protection from adversity through tight covenants
• Most investment managers use bottom-up research rather than top-down thinking to value private credit opportunities
• Aside from distressed specialists, private credit managers favour growth-oriented sector
Investors interested in positioning their credit portfolios for what seems to be an extended period of volatility have plenty to consider.
As the global economic recovery matures, central banks are unwinding quantitative easing (QE) policies, equity valuations are stretched, and market volatility is rising. At the same time, some industries are undergoing a transformation that makes them a no-go zone for all but distress-focused lenders, and EU banks still hold inventories of underperforming assets that need to be sold off.
But, just as there was "one ring to rule them all" in Tolkien's Lord of the Rings, there is one ring that binds together all the disparate strands of evolution in credit markets: the provision of credit is being reshaped by banking regulation regarding balance sheet requirements as a buffer against adverse credit events.
This is creating both opportunities and risks for investors looking to allocate capital to private credit markets. Changes in the way credit is provided have ushered in a world of complexity, bolstering the need for bottom-up research, placing a premium on teams on the ground and monitoring of borrowers to ensure that risk is appropriately priced.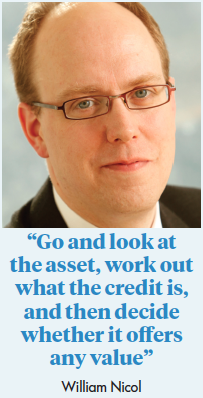 The structure of the European credit markets is also limiting opportunities to deploy private capital. National markets in which a few local institutions lend to the higher-quality borrowers make it hard for managers to justify in-depth research, limiting the ability of investors to efficiently deploy capital.
Despite limits, investors are allocating capital to credit as they seek yield in a QE-driven world that is seeing official interest rates increase only slowly.
While the market for large syndicated loans can absorb significant capital, returns on loan-backed securities are being compressed as managers report that covenants are being relaxed in order to put high inflows to work. Better opportunities, managers report, are to be found in less-liquid niches – which by nature absorb less capital – and tech-enabled middle market sectors that offer growth potential rather than obsolescence risk. Those opportunities are mainly in private markets, where loan maintenance covenants provide managers with an early warning of difficulties before they turn into a liquidity crisis.
"We see lending, which was fully bank-dominated, becoming more broad-based, and I think that trumps any sort of discussion on European recovery," says William Nicoll, co-head of alternative credit at M&G Investments. Similarly, he adds, "the hunt for yield that comes from investors looking to do better than standard public debt, I think, again, has very little to do with Europe's recovery and much more to do with QE."
Change in the balance
Goldman Sachs Asset Management (GSAM) views the EU credit opportunity as a matter of investing in private secured finance as banks retreat from lending to reduce their balance sheets. GSAM estimates European banks hold €2trn of loans that they want to divest and "at the current rate, it could take years for that to happen", says David Curtis, GSAM's UK head of institutional business. With about half those loans classified non-performing, this represents a book of non-core assets, he adds. "They want to free up capital and concentrate on their strategic businesses."
By selling a substantial volume of these non-core assets to private equity firms, banks have "changed the balance in the asset financing market", says Curtis. "Investors who can step in where the banks are stepping out have an opportunity to achieve attractive risk-adjusted returns on floating rate instruments," he says. "You've got to have some awareness for what's happening at an industry level, but to be successful you've actually got to be very bottom up," he adds. "You've got to analyse the collateral itself, because you're providing a loan against that collateral."
It is such deep dives that can unlock the potential of value in a credit. "Complexity creates the opportunity because if there was no complexity, the wall of money chasing a higher return would just arbitrage the higher return away," Curtis says. "The complexity is key," he adds. "Being able to look at that complexity in the right lens is critical."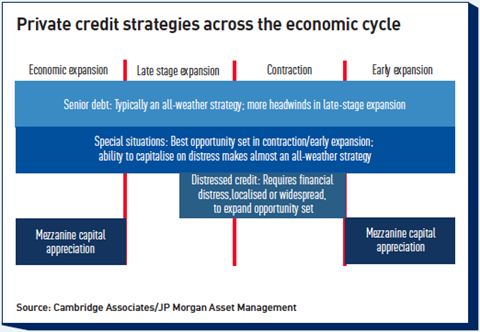 Several opportunities in the GSAM credit lens include European non-performing loan financing, mortgage warehousing, and mezzanine credit, which offer higher returns than public-market baselines with similar levels of risk. Senior financing on European non-performing loans, for instance, can offer LIBOR plus 3% to 4%. Says Curtis: "Those come with some complexity, they come with some illiquidity, and if you can do the work on the underlying loans and ensure you're comfortable with the collateral that's there to support your financing, you can then capture those higher levels of return."
"The European private debt market is part way through quite a long journey, because we are still behind the States in terms of depth and breadth of markets," says Nicoll. "The European credit market consists of a large number of quite discrete markets," he says. The European leveraged loan market is a deep market with liquidity, for example, but most other credit segments are "quite local, normally with a local buyer base", he adds. "It's difficult to do, but the only generalisation I would make," Nicoll says, "is that at the asset allocator level there's clearly a view among investors saying 'there isn't much value left in corporate debt, therefore we will go to private debt in order to be able to get that value'."
That could be easier said than done. "It comes down to small, separate markets," Nicoll says. "For example, in some countries a small group of pension schemes will happily lend to household names in those countries at rates that people outside those countries wouldn't lend at," he explains. "I don't think it's bad lending, it's just that the amount of work somebody would have to do coming in from outside probably doesn't justify the size of the loan and the margin."
The main solution at M&G: allocate to multi-asset private debt strategies which access a wide range of opportunities that would be hard to deliver in single-strategy format. "We have found the diversification benefits of investing across the credit range to be quite useful," Nicoll says. But it is a time-intensive approach, requiring up to 18 months to develop local relationships. Credit niches like leasing or trade receivables "aren't markets yet", Nicoll says. "There are single deals being done," he adds, "so there are still interesting returns to be had, but at present you can't actually allocate to them."
These conditions favour bottom-up credit analysis – and large investment shops that can afford to conduct research and still decline to make certain loans if some aspect of the credit do not pass muster. "You have to be able to walk away with illiquid private assets even after doing a lot of work," Nicoll says. "It is important to remember that if something goes wrong you have to sit through a restructuring, you can't just sell the asset."
Despite positive economic news, some see clouds forming. In recently published research, Leander Christofides and Brad Demong, the co-chief investment officers for global special situations at JP Morgan Asset Management note that global credit markets have expanded by over $4trn (€3.25trn) since the last cycle, lending standards are being loosened, and covenant-lite lending is increasing. Their conclusion: "the seeds of a traditional distressed market are being sown".
The emerging environment of increased volatility "is precisely one in which special situations strategies can thrive", they wrote. While strategies targeting distressed credit and event-driven/stressed debt involve more risk, Christofides and Demong note they can offer fund-level returns of 15% to 20% – at the high end of the private credit return spectrum. A wide remit is in order: "they are inherently opportunistic strategies that offer flexibility across geographies, industries and all levels of the debt capital stack".
BlackRock positions its private credit capabilities as a financing solution for companies whose operational complexity require a loan more crafted than a high-yield bond, yet not so detailed as to fall within the purview of distressed debt managers. To what it calls "story credits", BlackRock offers a "relationship-based" approach that echoes the parlance of a previous era of commercial banking: a credit investment manager "willing to build a partnership with a company over time and to offer a variety of credit solutions as the company evolves". In this model, each credit is secured by a claim on a company's finances or control structure that corresponds to the risk an investor accepts.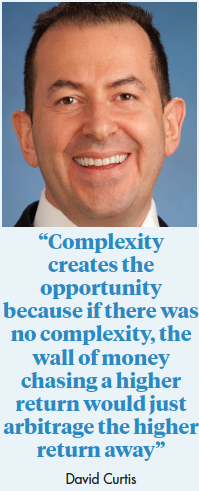 A global view prevails at the private debt group of Barings. Investors in the group's strategies are seeking a premium relative to the syndicated loan market, as compensation for the liquidity associated with financing mid-sized companies compared to investing in a portfolio of traded syndicated loans. The yield spreads of private credit strategies "relative to the liquid market are as attractive as we've seen in a long time," says Terry Harris, head of portfolio management, global private finance, at Barings. The most conservatively structured, private loans Barings offer in the US are yielding 150bps or more above the liquid market, as represented by the single-B component of the Credit Suisse leveraged loan index, he says.
European loans are "generating an even wider spread", Harris says. Conservative loans there are being priced at a premium of about 200bps or more above the Western Europe Credit Suisse index, he says. While interest rate spreads in Europe are "fairly commensurate with those in the US, we benefit from bigger upfront fees in Europe compared to the US", he adds. In terms of risk-adjusted return, Harris explains, a senior loan in the US almost always has a strip of mezzanine debt behind it, while in Europe, it is more common to have only senior debt. That means equity can approach 55% of a typical capital structure in a European financing, compared to 40-45% in the US. "Interest coverage in Europe is stronger than what we're seeing in the US, because US borrowers have to service senior and mezzanine debt."
Broadly comparable
Although the syndicated loan market is larger in the US than Europe – more than $1trn compared with about $250bn – the two are "fairly comparable" from a spread perspective, says Scott Baskind, head of global senior loans and CIO at Invesco Senior Secured Management and head of its $44bn global loan group. While Europe offers about a 50bps premium over the US, returns can be equalised because of higher base rates in the US, he adds. "There is a very strong relative value argument that Europe is an attractive opportunity," he says. While European economies are performing well, the US is further along in its recovery – and for credit investors, that differential suggests the European default rate will fall below the US, where defaults are starting to tick higher after several years of record lows. But tax reform in the US is likely to support earnings, "so there will be a balancing act", Baskind says.
Two features of private credit offer investors a cushion against adversity, Harris says. Private loans have maintenance covenants, an early warning system that monitor borrowers' financial condition, he says. Private debt lenders tend to concentrate on growth industries rather than capital intensive manufacturing businesses with large physical plants. Barings tends to lend to service companies and precision manufacturers serving niches, both of which often utilise technology to create barriers to competitors.
Even with today's global loan markets, there is still no substitute for bottom-up research and a sharp pencil. "Go and look at the asset, work out what the credit is, and then decide whether it offers any value," says Nicoll. "Over time you're going to be buying better value assets, which works well if you've got a long time horizon."
Private Credit: One ring to rule them all
1

Currently reading

Private Credit: One ring to rule them all

2

3

4