After years of strong performance the sector could be due a shake-out
KEY POINTS
The success of private debt could mean the sector is due or a shake-out.
Strong demand for yield has made private debt an attractive asset class for investors.
Fund managers in many areas of the market are finding it increasingly difficult to deploy capital.
Investors will need to be increasingly selective.
There has been something of a gold rush in European private debt investing since the start of the decade. The sector occupies the more illiquid space of alternative credit, and includes direct lending to corporates, distressed debt and other niche lending opportunities. Restricted bank lending combined with on-going business need for capital combined to produce a massive supply-and-demand mismatch in this sector in the wake of the global financial crisis.
Providers of private debt in this environment were able to make enhanced risk-adjusted returns as a result of this trend – attractive to institutional investors having to contend with suppressed yields in the post-crisis world. As a result, managers and assets began to snowball in the early part of the decade, and have been on an upward trajectory since.
Private debt is a diverse asset class covering a broad range of risk levels. Christian Fritsch, senior managing director at private debt provider ESO Capital, explains: "When people talk about private debt, that's a broad category encompassing many different yield buckets, from senior at about 4% through to distressed at about 16%." Other private debt categories between these two poles include mezzanine, unitranche and special situations.
But the success of private debt could mean that the sector is due for a shake-out. Competition in European debt markets is increasing. One reason is that, over the past five years, banks have returned – to a degree. The British Bankers Association claims that its data "consistently shows that banks say 'yes' to eight in 10 applications for finance". However, this re-entry is not uniform. Basel III regulations restrict both quality and quantity of the debt that banks hold on their books, and an EU Commission report last year found that small and medium-sized firms were "not receiving most of the amount of bank loan requested". Banks are lending in particular areas of the market and not others. Higher complexity and higher risk are two areas that traditional lenders in Europe are leaving well enough alone.
Companies lower down the cap spectrum continue to find it difficult to access bank finance. Private debt remains a necessary option for these businesses. For borrowers, it has the further benefits of being faster than bank approvals for loans and more capable of dealing with complexity.
ESO's Fritsch reports: "We're not seeing any pressure at all from banks. They are still very restricted by regulations. Anything above 5.5-6% yield, and a bank's credit committee will reject it as being too risky."
The thirst for yield has made this an attractive asset class for investors. "Everyone is chasing yield in this market," says Fritsch. "Pension funds and others are definitely interested in deploying capital here, given the lack of yield generated from the more traditional asset classes. If I'm an asset manager in the insurance space I have to turn to private debt today in order to match my liabilities."
This broadening interest is attracting new money, new funds and so increased competition within the private debt sector. In June 2016, there were $595bn (€536bn) assets under management globally, of which $264bn was 'dry powder' (capital that has been raised but not yet committed), according to Preqin, a specialist information provider. Ten years previously, those figures were $147bn and $72bn respectively. This is arguably having a greater effect on returns than the return of banks. Kate Hollis, senior investment consultant at Willis Towers Watson, says: "There has definitely been some compression in sterling yields as a result of high demand."
But, again, the effects are not being evenly felt. Hollis adds: "As a rule of thumb, the more plain vanilla the area of the market, the more prices have increased. For example, standard infrastructure debt is less attractive than it was, as is real estate. But there are pockets where you can still find value."
Crowded market
Institutional investors' requirement for long-dated assets is also leading to crowding in this area of the market. John Dewey, head of investment strategy for Global Investment Solutions at Aviva Investors, explains: "Appetite for long-dated prime assets has compressed long-term returns, particularly in the UK. Demand by annuity funds for long-dated property income has sent spreads below 200 basis points for government-type risk. Competition at longer maturities means spreads are lower than for shorter dated assets."
There is, therefore, pressure for investors to increase their risk in pursuance of yield. And, indeed, market analyst Preqin reports that distressed debt funds – at the highest end of the risk spectrum – raised more than any other private debt strategy in 2016.
Fund managers in many areas of the market are finding it increasingly difficult to deploy capital. A Preqin survey found that 31% of fund managers say it is more difficult to find attractive investment opportunities than 12 months ago.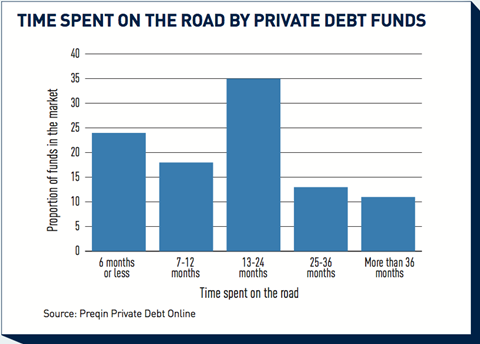 The same survey claimed that 62% of investors are planning to increase allocations to private debt, so pressure on capital deployment will likely increase.
Debt markets have, so far, been benign. But a downturn could well produce a shake-out. Fritsch says: "Three or four years ago, lots of debt funds opened up, promising 12% yields on relatively low-risk, larger loans. Most haven't delivered, but if their investors are receiving 8-10%, they are still going to be pretty happy in today's interest rate environment.
"However, there is too much money chasing too few deals in this area of the market, so we will see more yield compression, possibly to below 6%, alongside reduced security packages. Some could even be underwater."
Three-quarters of funds have track records of less than two years (see chart). Lack of experience will increasingly act as a barrier to entry to new entrants. Six or seven years ago, in contrast to the more mature US market, where the asset class has long been a feature of how corporates access capital, few in Europe could boast a track record in private debt. That is changing, and first movers – or at least those with good track records – do have an advantage.
Investors will need to be increasingly picky. One pension fund strategist highlighted the need for strong due diligence: identifying "where the debt sits in the capital structure, along with portfolio construction. Many funds simply package the loans, but don't have the necessary processes – such as workout capability – should a loan default."
Fritsch agrees: "You need strong work-out capabilities – you need to know what to do when the lights turn to orange before they even get to red." Dewey adds: "Experience and 'market clout' are vital in determining the investment outcome."
Scale is increasingly a feature of the market, with the larger funds taking an ever-greater share of the capital. However, Hollis is not alone in highlighting the "more esoteric areas of the market, where the opportunity needs more knowledge".
The asset class continues to present a variety of options, many attractively priced. Dewey at Aviva sees opportunities in renewables led by industry consolidation as subsidies reduce; UK medium-term commercial mortgages, driven by reduced bank competition, and swap repack and acquisition, as the capital cost of long-dated derivatives increases for banks. The market is still evolving, and the landscape of private debt is ever-shifting.
Credit: Opportunities despite challenges?
1

2

3

4

5

6

Currently reading

Private debt: Time to get picky

7