Private equity investment in European companies hit a 10-year high last year, with pension funds accounting for nearly a third of all capital raised, according to Invest Europe.
Investment amounted to €71.7bn, a 29% year-on-year increase, according to the industry association. Private equity fundraising reached €91.9bn, the highest amount since 2008 and 12% more than 2016 levels.
Pension funds provided 29% of all capital raised, followed by funds of funds (20%), family offices and private individuals (15%), sovereign wealth funds (9%), and insurance companies (8%).
In 2016 pension funds accounted for nearly 35% of private equity capital fundraising, and in 2015 they made up 20%.
In 2017, institutional investors from outside Europe contributed more than 40% to the €91.9bn raised. Investors from Asia made their highest contribution to date with a 15% share, although North American investors continued to represent the highest share of non-European capital put to work in the region.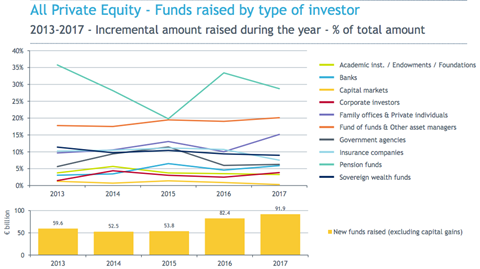 Private equity divestments – measured at cost – were at their third-highest level in the past 10 years, increasing by 7% to €42.7bn. Roughly 3,800 European companies were sold in 2017.
Almost 7,000 companies received investment, 87% of which were small and medium-sized enterprises.
France and Benelux-based companies received 27% of the private equity investments made in 2017, followed by companies in the UK and Ireland (26%), the 'DACH' region of Germany, Austria and Switzerland (20%), southern Europe (13%), the Nordic region (9%), and central and eastern Europe (5%).
According to data firm Preqin, private markets fund managers were seeking a record high of nearly $1.4trn (€1.1trn) in capital from investors at the end of March, with private equity strategies accounting for two-thirds of the more than 3,800 funds in the market. However, the data firm said data for the first quarter of this year indicated a slowdown relative to 2016 and 2017.
The European Commission recently launched a venture capital programme aimed at enticing investors such as pension funds and insurers to the asset class in Europe.