Gail Moss investigates how the UK Railways Pension Scheme transformed its investment strategies to cope with the low-return environment that has followed the global financial crisis
Railways Pension Scheme
• Location: London
• Founded: 1965
• Type: Defined benefit
• Assets: £22bn
Members:
• Active: 91,000
• Retirees: 148,000
• Deferred: 106,000
The UK Railways Pension Scheme (RPS) embraced alternative risk premia strategies as part of its investment transformation programme (ITP), completed just over a year ago.
One of the largest defined benefit pension schemes in the UK, the RPS serves close to 350,000 members and pensioners, from over 100 employers in the UK rail industry. Its £22bn (€28bn)-worth of assets are managed by RPMI Railpen Investments (Railpen) and invested through a range of pooled funds made available to all employers.
The ITP resulted from the scheme trustees' view that, following the global financial crisis, financial markets had entered a period of returns lower than the historical norm. In meeting this challenge to its sustainability, it is therefore important for the scheme to become a world-class asset owner and maximise available returns.
To achieve this goal, the scheme carried out the ITP as a way of transforming governance, internal investment teams and, ultimately, the investment arrangements themselves.
The programme ran from 2013 to the end of 2014. During this period, scheme governance structures were overhauled, replacing the existing trustee investment committee with the Railpen Investment Board (RIB), which has fully-delegated investment powers. This structure is complemented with an investment leadership team and investment office which oversees day-to-day investment, and makes recommendations on portfolios to the RIB.
The ITP consolidated the scheme's pooled funds from 14 to five. This made the pooled structure far less complex to manage, allowing the investment team to focus on accessing different risk premia for different sections of the scheme, as well as focus on implementing a more optimal approach to investing.
The scheme had already been investing in low-volatility equities for some time, as part of its overall equity investing. However, the ITP significantly advanced its approach to risk premia.
This was because of three main benefits: higher returns; greater control over scheme investments; and lower costs. The RPS adopted this approach after carrying out research that led it to a better understanding of the underlying drivers of risk and return in different asset classes.
Ciaran Barr, investment director at Railpen, says: "Managing costs is a significant factor in maximising net returns, and our approach focuses on accessing these return drivers in the most cost-efficient way. While we are certainly not dismissing the use of traditional active managers in our portfolio, cost-efficiency is critical, and therefore active managers would have to demonstrate that the extra returns they may generate cannot be easily replicated."
The RPS prefers to distinguish between investing in alternative risk premia, and in traditional or bulk risk premia. Traditional risk premia include returns from an asset class or market, whereas alternative risk premia involve segmentation.
Barr says: "In particular, we believe that risk-adjusted returns can be improved by allocating to equities in a manner that is different from passive weighting, according to market capitalisation."
The scheme's alternative risk premia approach now involves the use of investment strategies that allocate using a rules-based methodology, focusing on five identified premia (or factors) – value, momentum, low volatility, income and quality.
Barr says: "Our ultimate objective is to secure the best equity returns we can using a combination of these factors. We do not try to market-time these strategies, as we believe a blend works best on average, but we do rebalance the portfolio."
About 65% of Railpen's flagship growth pooled fund – the Growth fund – is invested in public equities, and three-quarters of this is invested in systematic alternative risk premia strategies.
But, in addition to the alternative risk premia investing in its equity portfolio, the scheme also models the overall portfolios through a risk premia 'lens'.
It identifies the available risk premia, such as credit, duration, equity and carry, and considers whether the expected risk/return is attractive. This helps it to choose between competing portfolios.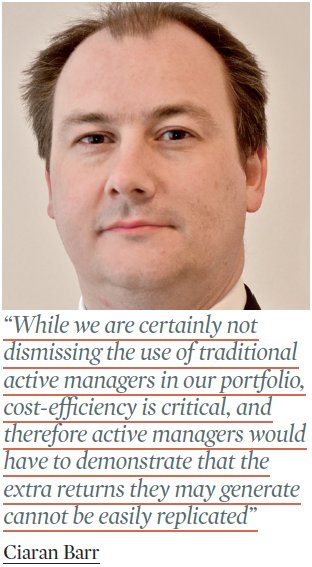 Partly as a result of this work, the scheme's hedge fund programme has been dismantled, except where a fund offers a risk premium that cannot be efficiently accessed elsewhere.
The new arrangements were set up in two broad steps.
First, the existing investment team was reorganised, with some new staff recruited.
A dedicated alternative risk premia team for equities constructed that part of the portfolio. The team liaises with external managers as required, and also conducts further research into improving the way in which work is carried out.
Second, Railpen set up a modelling team working across portfolios, to model the return drivers of risk premia and provide information on expected returns.
Putting these plans into practice meant that Railpen had to manage complicated transitions from the existing equity arrangements to the new alternative risk premia portfolios without undue cost and complications. This demanded close co-operation across teams within the investment office.
Disinvesting from hedge funds needed considerable advance planning and co-operation both internally and outside the organisation.
Barr says the key to a successful outcome, as with all investing, is to carry out proper research to ensure a thorough understanding of the decisions to be made.
And he expects substantial long-term benefits from the changes.
"With much of the investment decision-making and execution control coming back under the responsibility of Railpen's in-house team, we have greater control over risk," he says. "Within our governance structure, the in-house investment team has been delegated authority from the RIB to make day-to-day decisions, giving us the flexibility to address any emerging issues promptly and effectively. We also regularly update our risk premia models to take account of changing valuations and the wider market environment."
But Barr says with that many sections of the scheme open to new members and Railpen's intentions of being long-term investors, it is still too early to determine what the main effects have been.
"However, the alternative risk premia portfolio in equities has broadly performed in line with expectations, and its behaviour during the market cycle has also been as anticipated," he says. "More generally, with our new, streamlined structure, and the fresh investment approach, and with a considered re-evaluation of our external manager relationships, we estimate that we can achieve significant reductions in costs over the next five years. This will minimise the dilution of returns and achieve material benefits for our members."