The misery index reached a new low in Australia this summer as the mining slump continued to bite. But, as Christopher O'Dea reports, a new round of investment is looming as leading emerging-market producers target a bigger share of revenue from their mineral resources and mining companies cut unprofitable projects
Just as mining transforms the earth on the surface and below ground, the slump in industrial metals prices in the past several years is transforming the global mining industry from top to bottom.
At a glance
• After an investment splurge during the boom years, the mining industry is now cutting back spending to face the new, slower-growth reality.
• Further disruption is coming from some governments' protectionist measures – particularly Indonesia's.
• After mining stocks were punished by investors, heads have rolled and a new generation on management comes with a focus on reducing debt and returning cash. to shareholders.
The industrialisation of China during the past 10 years fuelled an unparalleled boom in demand for raw materials that, while it lasted, brought ample funds to the national accounts of commodity-rich nations and fuelled a bull market in the shares of mining companies. Those companies eagerly expanded capacity in light of rosy forecasts.
But when China's growth rate slowed and the global economy sputtered, the commodity bubble burst. Miners with robust stocks of metals and ores found buyers scarce and, since 2011, the sector has gone through a process of shutting down unprofitable projects, cutting investment and jobs, slashing dividends and rebuilding balance sheets. The belt-tightening hasn't been enough to overcome the fundamental supply-and-demand imbalance. The cutbacks helped reduce inventories, but China's slower pace of growth continues to weigh on copper and iron ore prices, while Indonesia's recent move to impose export controls on materials mined there has caused price spikes and spurred a search for new sources of supply.
Intense
From 2003 to the highs reached in 2011, the Euromoney Mining, Gold & Energy index rose close to 500%, observes James Sutton, client portfolio manager on the JPMorgan Asset Management natural resources strategy. The move reflected revenue increases driven by higher prices and higher production volumes. Seaborne iron, for example, saw volumes double and prices more than quadruple, says Sutton, leading to revenue growth of almost 900%. Then the music stopped. Since April 2011, the Mining Gold & Energy index has lost a quarter of its value, while MSCI World has soared by 40%.
"It has been a painful period for the industry and ultimately for investors supplying the capital," Sutton says. "Many have simply given up."
The investment implications became clear in the latest round of results announcements in August. Diversified mining companies moved into a new and more intense phase of adjustment, characterised by strategic realignment, divestitures and surprise cuts in capex. Much of the effort was for naught, as analysts and investors said mining stocks remain exposed to metals prices – in some cases tied almost exclusively to one commodity – and concluded that the measures, some of which look drastic, won't turn cash flow positive until at least 2016. That has led to speculation that stronger players, as well as experienced mining executives sidelined in big mergers during the boom, may soon move to take over weakened companies.
While the miners continue to struggle, metal and mineral exporting countries are feeling the fiscal pain of sharply lower prices for virtually all raw materials, and some are moving to gain more control over their own destiny, most notably Indonesia, whose export restrictions are aimed at boosting local players' share of downstream processing business. It's a risky policy move. Mining and mineral processing are distinct industries requiring different capabilities, and while miners may not have the financial mettle or political will to fund costly new processing ventures, the export ban is already affecting global prices – and could reshape the strategic opportunity set as China seeks new sources of supply for nickel and iron ore. Whichever companies emerge as winners from the restructuring period will face a very different landscape.
There's no doubt the mining boom is over. In May, the Australian Bureau of Resources and Energy Economics (BREE) reported that spending on Australian mining projects fell 14.8% over the year to April, a decline that shows the "peak of the [mining] investment boom has passed". The "global rush" to sell coal, iron ore and other materials to China has caused an international oversupply of commodities, the agency says.
Current market conditions are not supportive for new projects, the BREE says, and despite Australian government policies to reduce project approval times, the short-term outlook for resources investment remains "subdued". The long-term outlook is no better. The Australian Bureau of Statistics says expectations for mining capex investment in 2014-15 are 25.2% below what the first expectation for such investment was in 2013-14. That's the biggest annual drop in mining capex expectations since 2000, and the second-biggest fall since the ABS began compiling the figures in 1988.
Raw materials prices are in a similar swoon, despite some isolated upticks based on transitory conditions for specific minerals. Goldman Sachs' commodity team recently revised its price outlook for a number of metals and while it's a mixed picture, there's clearly no return to boom times in store. Goldman expects the price of copper to trend lower over the next two years, falling 3% in 2015 and 6% in 2016, while aluminum prices will moderate from a 9% gain in 2015 to only 1% in 2016. Nickel is the bright spot, expected to rise 29% in 2015 and 20% in 2016.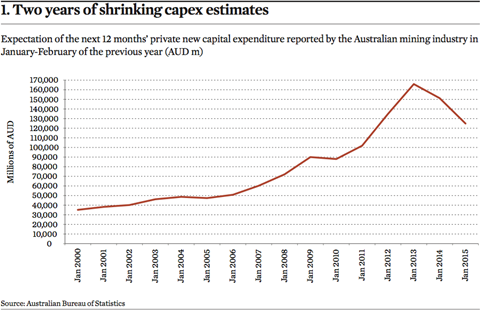 The firm expects companies exposed to nickel to post strong increases: Western Areas revenue is projected to rise more than 46% in 2015 and 146% in 2016, while Independence Group could post revenue gains of 25% in 2015 and 47% in 2016. For copper producers, modest revenue gains in 2014 will give way to declines in 2015 and sharp drops of nearly 30% for most companies in 2016. "Revisions to medium-term commodity forecasts has had a material impact on EPS," according to a Goldman report on Australian metals and mining stocks.
Echoing the critical linkage to commodity prices, JP Morgan's Sutton notes that when nickel prices raced ahead from around $18,500 per million tonnes to over $19,000 in May, nickel producers such as Norilsk Nickel, Western Areas, Sirius Resources and Lundin Mining were notable outperformers in his clients' portfolios.
Disruptions
While there are some positive events in specific markets, mining companies overall are taking aggressive measures to reduce capital expenditures, shutter unprofitable projects, and reduce debt. Rio Tinto, for example, surprised investors by reporting a capex figure $2bn below its guidance number, says Goldman, leading to a reduction net debt. Despite the capital management discipline, however, the bank still projects that Rio Tinto will post negative cash flow in the second half of 2014 and 2015. "RIO remains predominantly an iron ore stock – 74% of EBITDA for the half – and given our view of falling iron ore prices in 2015, we retain our neutral recommendation," it said.
The impetus for that pendulum swing will be cuts in production that bring supply back in line with demand. That's happening in iron ore and zinc, says Sutton, as companies shutter projects in both metals that are no longer profitable at today's prices. In iron ore, for instance, Chinese miners cut production by nearly 20% year-over-year in the quarter ended in June to the lowest level since 2009, while in zinc, Glencore has closed Xstrata's Brunswick Mine in Canada, while Minmetal's is about to shutter its Century Mine in Australia and Vedanta Resources' Lisheen Mine in Ireland will soon sport a 'closed' sign, removing 15% of global zinc supply.
Production cuts highlight the major challenge producers now face: balancing growth capex for new projects against sustaining capex (the outlays required to keep existing projects running).
"Sustaining capex was probably cut too hard at some companies in response to the downturn," says Jeff Largey, head of EMEA metals and mining research at Macquarie in London. "Maybe that pendulum will start to swing back."
Before mining management teams can form a view on real supply and demand, however, they have to deal with some government-induced disruptions. In January, Indonesia introduced a mineral ore export ban and an escalating tax on metal concentrate shipments in a bid to force mining companies to process raw materials in Indonesia to up their value and spur local job creation. The measures backfired. Miners such as Freeport and Newmont Mining Corp said the rules breached their contracts, and exports stopped.
"The strategy of using export restrictions and export taxes to increase domestic mineral processing has been tried in many countries, including Australia and South Africa. However, increasing downstream processing for primary commodities in general has had limited impact in helping a country to move to a higher value-added export basket," says Angelo Richiello, a partner at Zhu+Rich, a strategy consultancy based in Lugano, Italy.
By August, local news reports said the ban had already cost Indonesia's economy more than $1bn and put thousands of jobs at risk. "Mining and mineral processing are distinct industries requiring different capabilities," says Richiello. "The development of mineral processing capabilities in a country has historically been linked to comparative advantages in other factors, such as energy rather than access to raw mineral ore."
Nevertheless, the decision was "far-reaching" because Indonesia is among the world's largest suppliers of numerous natural resources, ranking in the top 10 countries in the world for proven reserves of copper, nickel, tin, bauxite and gold. Over the last decade, Indonesia has more than tripled its mineral export value from $3bn to $11.2bn, raising mineral exports to 6.2% of total exports in 2013. By value, says Richiello, approximately 40% of total mineral exports are currently processed: all tin exports are processed, while most copper, nickel and bauxite exports are unprocessed.
By mid-year, Freeport agreed to a $115m downpayment for a smelter, to pay higher royalties and divest more of its Indonesian unit. Indonesia, in return, substantially cut the concentrate export tax for Freeport and other miners building smelters. The company had refused to pay the tax and invest in a copper smelter unless the government provided assurances it would be allowed to continue operating after its contract expires in 2021. Freeport wanted certainty to spend more than $15bn to build what would be the world's biggest underground mine, while the government said it could not renegotiate until 2019, two years before the contract expired. The impasse was broken after Indonesia appointed a new economics minister with experience in the private sector.
Rewarding shareholders will be a prime goal for new mining CEOs, of which there are plenty. Sutton notes that many CEOs "have paid the price for the hubris exhibited" during 2003-11. "Acquisitions made when commodity prices were 20% higher have been written down and in some cases abandoned altogether," he says. Within the last 18 months, he adds, "we have said good night and God bless" to numerous mining executives, including Tom Albanese at Rio Tinto, Marius Kloppers at BHP Billiton, Cynthia Carroll at Anglo American, Mick Davis at Xstrata, and Richard O'Brien at Newmont Mining. Crucially, Sutton says, their replacements are more focused than ever on delivering shareholder return.
"There is a new religion in mining, with management teams extolling the virtues of greater free-cash-flow generation through rigorous cost control and a reduction in capital expenditure," he says. This, in turn, will pave the way for higher dividends and increased share buyback activity, he adds, while also pointing out that much of Rio Tinto and BHP Billiton's capex over the past few years has been directed to their world-class iron-ore assets in the Pilbara region. This investment, the sustaining capex noted by Macquarie's Largey, has secured their status as the world's lowest-cost iron-ore producers. These operations should underpin free-cash flow for many years to come.
Largey believes the Indonesian ore export ban will drive more investment from other metal companies, notably Chinese consumers of those raw materials, and he doesn't predict that UK listed mining companies will invest downstream in Indonesia or other countries. For diversified miners such as Rio Tinto and BHP Billiton, the financial results to come in February 2015 will be crucial, says Largey. While it's not a foregone conclusion, he says "there is a strong likelihood both companies will announce share buybacks early next year".
Sutton believes that a new landscape is emerging behind all the dust. "The dislocation and despair witnessed within the resource sector has sowed the seeds for another cyclical upturn," he says. "This might be exactly the right time to reallocate."
Real Assets: Material changes
1

2

Currently reading

Real Assets: Digging a way out of the hole

3

4

5

6

7