New rules for BaFin-regulated institutional investors in Germany might appear cap-free, but costs could restrict movement, according to Barbara Ottawa
At a glance
• The financial services regulator, BaFin, has amended regulation for smaller insurers, Pensionskassen and Pensionsfonds.
• New investment guidelines could limit alternative investments.
• Greater due diligences are set to increase costs.
• Consultancies are pushing cost transparency.
The financial services regulator BaFin had not yet decided on how to amend its proposals to update investment regulations for certain institutional investors by early March this year. But it was clear when the regulator issued a new circular for consultation that it will lead to higher costs for these investors.
"On a general note it can be said that more responsibility will be transferred from the regulator to the investor," says Andreas Kopfmüller, senior consultant responsible for BaFin regulated investors at Mercer in Germany.
In Germany, Pensionskassen and smaller insurers fall under the so-called Anlageverordnung. Similar investment regulations apply to Pensionsfonds (see Updating Germany's investment ordinance).
"Until now investors falling under the Anlageverordnung have often asked BaFin whether or not an investment would be permitted under the investment directive. Now BaFin wants investors to be fully responsible for the eligibility of their investments," he adds.
The amended circular referring to this ordinance demands investors increase their due diligence and risk management in the wake of the rise of alternative asset classes in institutional portfolios.
Kopfmüller says: "For pension funds this brings additional effort and demands for more resources, which might be problematic for smaller entities. The decree does not state explicitly whether these competences can be outsourced. And even if this is possible, it costs money."
Some proposed changes to the investment regulations would increase costs for investors and possibly in addition their associated asset managers and other service providers.
• In paragraph 13 of the circular, covering private equity, BaFin has included a clearer delimitation of equity investments. Kopfmüller explains: "For such investments to fall under paragraph 13 it has to be proved that securities are not just held to maturity but that investors are actually taking entrepreneurial risk with proper due diligence up front and ongoing monitoring."
• Paragraph 14 on real estate contains a new provision that every direct property purchase must be checked against an up-to-date price valuation. The purchase price must not be more than 10% above the valuation. This might restrict some investors given the current market environment where real estate is very sought after, according to Kopfmüller.
• Paragraph 17 combines previous regulations on hedge funds and commodities in a new alternative investment fund (AIF) category as a catch-all for investments not fitting in another category. The quota for these investments is 7.5%. But while hedge funds may be opaque in themselves, the circular intends each investment in this category to be eligible, which means they must transparent. Specifically this means that no investments may be made in fixed-income instruments rated below B-, which again would be impossible to ensure in opaque fund-of-fund structures.
New obligations
Further, the BaFin also wants to apply this "rating security" to Pensionsfonds, which have so far been exempt from any quantitative investment restrictions. Another cost factor is that investors falling under the Anlageverordnung must undertake ALM studies every three to five years. "Further they have to update these analyses annually to ensure that the long-term orientation of their assets matches liabilities," explains Kopfmüller.
On a quarterly basis investors now not only have to file risk reports but should also undertake stress tests tailored to their specific situations. "This also might be a hurdle for smaller entities and some might need a third-party service provider, again increasing costs."
However, BaFin has included a "proportionality principle" in all its circulars. In other words, smaller pension funds or insurers can simplify the requirements according to their assets and resources. Kopfmüller adds: "The tailored stress tests make sense because the quarterly BaFin stress test is simplified and might not fit an individual company's profile."
The circular also sets down the conditions for the credit risk assessment introduced to fulfil the EU's Credit Rating Analysis directive. Rating reports have to be validated by the investors annually. They can also issue their own ratings to improve the rating of an investment or add ratings to securities without any external rating.
"In this case the qualitative documentation has to be complemented with quantitative analysis," says Kopfmüller. Again, this would be too much effort for smaller investors but it can be outsourced.
BaFin has also proposed to limit the use of master funds. Investors often pool their assets in these constructs to simplify accounting and reporting. The regulator wanted to prevent such constructs from including closed-end funds. "This would not make sense because investors then would have to set up different vehicles for each type of fund, increasing administration costs," says Kopfmüller.
"Overall the new regulations will certainly mean more effort and expense for investors in alternative assets as more reporting and documentation is demanded as well as internal resources and expertise," notes Kopfmüller. "Smaller investors could be deterred from alternative investments which is counterproductive in the current market environment."
Truth about costs
Although these requirements can be tailored and outsourced, this will of course add to service fees. And various studies have shown that these are not transparent.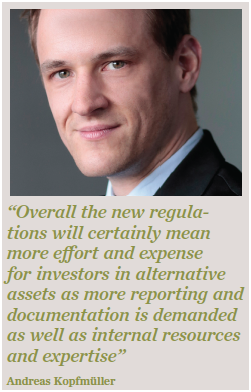 According to a study on master KVGs, the service providers for German institutions, by the Wiesbaden-based consultancy Telos, over half of investors say fees in this segment are too high.
The report says standard fees, which are then topped up for extra services, "do not help transparency" in the master-KVG market. In 2016 the average fee for a master-KVG mandate stood at 4.25bps, roughly the same level as in 2015 but higher than in 2014 (3.9bps). Fees ranged from 3bps to 6bps. This is already considerably lower than a decade ago, when the fees averaged 10bps.
But the Frankfurt-based consultancy Faros recommends renegotiating fees with asset managers rather than KVG providers because the potential for savings is much greater. In the first book on cost transparency ever to be published for the German institutional market, Kostentransparenz im institutionellen Asset Management, the consultancy emphasised: "There is no statistically proven connection between costs and good performance."
Its research shows that the spread between fees for an institutional mandate for European corporates today can be up to 20bps. "Contracts that were negotiated a long time ago with an asset manager for institutional mandates for liquid asset classes are almost certainly too expensive for today's standards, explains Uwe Rieken, managing director at Faros Cost Advisory.
He also points to the substantial inflows to the Spezialfonds market over the last years. "The economies of scale asset managers can generate from these amounts are huge," says Rieken.
Updating Germany's investment ordinance
In Germany, the investment ordinance (Anlageverordnung) applies to Pensionskassen, some Versorgungswerke and smaller insurers. Insurance companies in receipt of more than €5m in annual contributions fall under Solvency II.
Most of the Anlageverordnung has been copied to the directive governing Pensionsfonds (Pensionsfonds-Kapitalanlageverordnung).
The ordinance covers investment guidelines and is complemented by circulars (Rundschreiben) issued by the German financial supervisor BaFin. These clarify investment caps and other details.
In 2015, the Anlageverordnung was amended to accommodate the Kapitalanlagegesetzbuch (KAGB) with which Germany implemented the EU's AIFM directive.
The amendment also included new alternative assets like infrastructure. In updating the circulars referring to the Anlageverordnung, BaFin took its time to clarify some disputed points and increase the scope of new alternative investments (such as debt funds).
All changes were condensed into one circular, the Kapitalanlagerundschreiben (16/2016), issued in December last year.
Pensions In Germany: Draft law under discussion
1

2

3

4

5

6

Currently reading

Regulation: Costs not caps